I've always wanted to be at Churchill Downs during the Kentucky Derby, and this year is no exception — especially since the Top Chef crew will be there, cooking up a storm. But if you're like me and will only be able to watch the races from the comfort of your home this weekend, get into the spirit by making a Louisville, KY, classic: the hot brown. In case you're not familiar with it, the hot brown is a creamy, rich, hot sandwich that's made of sliced turkey, bacon, toast points, and a cheesy Mornay sauce. Many aspects of the hot brown are up for debate, from the original creator of the sandwich and the year it was conceptualized to what type of cheese ought to go on the sandwich. But what's indisputable about this sandwich is that it's insanely indulgent, and a quintessential part of Kentucky cuisine.
For a version that's easy from start to finish, employ the use of sliced, roasted turkey. Or, impress your friends by going all out with an elaborate recipe that calls for making the turkey from scratch. See both versions of the sandwich when you
.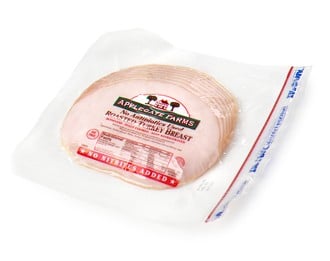 Ingredients
4 slices of bacon
2 tablespoons unsalted butter
3 tablespoons all-purpose flour
1 3/4 cups milk
4 tablespoons freshly grated Parmesan cheese, plus extra for topping
1/8 teaspoon freshly ground white pepper, or to taste
4 slices of toasted white bread, crusts trimmed
1/2 pound thinly sliced roast turkey
Salt
Directions
In a small skillet, cook the bacon until crisp; drain on paper towels.
In a large skillet, melt the butter over medium heat and whisk in the flour. Cook, stirring, until the flour turns amber brown, 3 to 4 minutes. Whisk in the milk and continue cooking, whisking constantly, until the sauce thickens, about 5 minutes. Remove the pan from the heat, whisk in the 4 tablespoons of Parmesan and season with salt and the pepper. Taste the sauce and add more pepper if desired.
Preheat the broiler. For each sandwich, place 2 slices of toast in 2 ovenproof dishes. Cover the 4 slices of toast with the turkey slices and top generously with cheese sauce and grated Parmesan. Place the sandwiches under the broiler and cook until the sauce bubbles and begins browning, 2 to 3 minutes. Remove from the oven and arrange 2 pieces of bacon in an X across the top of each open-faced sandwich.
Serves 2.
Information
Category

Main Dishes, Pork

Cuisine

North American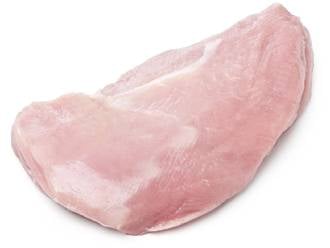 Ingredients
Turkey:
1 turkey breast, about 4 to 5 pounds
4 tablespoons unsalted soft butter
Salt and freshly ground black pepper
Sauce:
2 tablespoons unsalted butter
2 tablespoons all-purpose flour
2 1/2 cups whole milk
2 cups grated sharp white Cheddar
1/4 cup grated Parmesan
Pinch freshly ground nutmeg
Salt and freshly ground black pepper
Egg Bread:
4 large eggs
1/4 cup milk
Salt
8 (1/2-inch) thick slices good day old white bread (recommended: Pullman or Pain de mie)
4 tablespoons butter
4 tablespoons vegetable oil
For assembling
3 ripe beefsteak tomatoes, cut into 1/2-inch thick slices and griddled until slightly charred and just cooked through
1 1/2 cups grated sharp white Cheddar
1/2 cup freshly grated Parmesan
16 thick slices slab bacon, cooked until crisp
Finely chopped fresh chives
Finely chopped fresh flat-leaf parsley
Directions
Make the turkey: Preheat oven to 425ºF. Rub entire breast with butter and season with salt and pepper. Place in a small roasting pan and roast for 15 minutes. Reduce the heat to 350ºF and continue roasting until an instant-read thermometer inserted into the center registers 155ºF, about 1 to 1-1/2 hours. Remove from the oven, loosely tent with foil and let rest 10 minutes before slicing. Slice into 1/4-inch thick slices.
Meanwhile, make the sauce: Melt butter over medium heat in a medium saucepan. Whisk in the flour and cook for 1 minute. Whisk in the milk, bring to a boil and cook, whisking constantly, until thickened and the flour has cooked out, about 4 to 5 minutes. Whisk in cheese and cook until the cheese has melted. Season with nutmeg and salt and pepper, to taste.
Make the egg bread: Whisk together the eggs, milk and salt in a medium bowl. Dip each slice of bread in the mixture and let sit about 30 seconds, or until completely soaked through.
Heat 2 tablespoons of butter and 2 tablespoons of oil in a large nonstick saute pan over medium-high heat. Cook 4 slices of the bread at a time until golden brown on both sides. Remove and place on a baking sheet. Repeat with the remaining bread.
Assemble the hot brown: Preheat broiler. Place the egg bread on a baking sheet, place under the broiler and heat on both sides for 20 seconds just to warm through.
Top each slice of bread with 2 to 3 slices of turkey and 2 slices of tomato, ladle sauce over the top and divide the cheddar cheese and Parmesan over the top of each slice.
Place under the broiler and cook until bubbly and the top is golden brown. Remove from the oven, top each slice with 2 slices of bacon and sprinkle each slice with chives and parsley.
Serves 4.
Information
Category

Main Dishes, Pork