Easy and Expert Recipes For Manhattan Clam Chowder
Manhattan Clam Chowder Two Ways — Beginner and Expert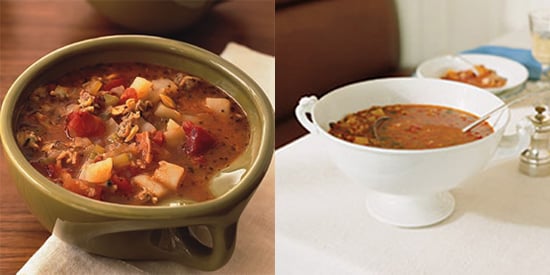 Summer or Winter, I'll never say no to a piping-hot tureen of New England clam chowder. But lately, I've been trying to reduce my calorie intake by steering myself toward lighter, broth-based soups, like lentil vegetable soup. It's time, I've decided, to try my hand at making Manhattan clam chowder, a totally different yet irrefutably delicious take on shellfish stew.
While I love white chowder for its luscious, velvety texture, my palate flips for the tart, slightly spicy tang of the tomato-based red version. On a weeknight, I'll bust out the shortcut version, which calls for canned, pre-cooked clams. But on my next Friday night in, I'll scrub fresh clams for a slow-simmered soup made from scratch. Which rendition suits you best? Find out when you read more.
Beginner Manhattan Clam Chowder
Ingredients
6 slices thick-cut bacon, cut crosswise 1/4 inch thick
3 tablespoons extra-virgin olive oil
6 cloves garlic, chopped
1 onion, finely chopped
2 ribs celery with leafy greens, stalks and leaves finely chopped separately
1 large baking potato, peeled and chopped
One 28-ounce can diced fire-roasted tomatoes
One 14.5-ounce can chicken broth
Two 10-ounce cans baby clams or chopped clams packed in water, liquid reserved
Salt and pepper
Directions
In a large saucepan over medium heat, cook the bacon, stirring occasionally, until the fat renders, about 6 minutes; discard the fat. Add the olive oil and garlic and cook, stirring, until golden, 2 to 3 minutes. Add the onion and celery stalks and cook, stirring, until softened, about 6 minutes. Stir in the potato, the tomatoes and their juice and the chicken broth and bring to a boil. Reduce the heat and simmer until the potato is tender, 15 to 20 minutes.
Stir in the clams with their liquid and cook to warm through. Stir in the chopped celery leaves and season with salt and pepper.
serves 6.
Information
Category

Soups/Stews, Chowder

Cuisine

North American
Expert Manhattan Clam Chowder
Ingredients
3 cups water
2 dozen cherrystone or littleneck clams, scrubbed (2 cups clam meat)
2 tablespoons extra-virgin olive oil
3 ounces pancetta, sliced 1/2 inch thick and cut into 1/4-inch dice
1/2 red onion, finely chopped
2 celery stalks, finely chopped
2 large garlic cloves, minced (1 tablespoon)
1/4 teaspoon red-pepper flakes
1 1/2 tablespoons Marsala wine (optional)
1 can (28 ounces) whole plum tomatoes, strained, juices reserved, tomatoes finely chopped
1 potato, preferably Yukon Gold, peeled and cut into 1/2-inch dice
2 tablespoons chopped fresh flat-leaf parsley
1 tablespoon chopped fresh oregano
Coarse salt and freshly ground pepper
Directions
Bring water to a boil in a large pot. Add clams, cover, and cook until shells open, about 10 minutes. Transfer clams to a large bowl, reserving cooking liquid. Discard any clams that do not open. Remove meat from shells, and return to bowl. Discard shells. Pour reserved liquid through a fine sieve lined with cheesecloth into a large bowl (you should have 2 1/2 cups). Sprinkle a few tablespoons liquid over clams to keep them moist.
Heat 1 tablespoon oil in a large pot over medium-high heat. Add pancetta, and cook, stirring occasionally, until golden brown, about 7 minutes. Remove pancetta with a slotted spoon, and drain on paper towels. Pour off excess drippings, leaving just enough to coat bottom of pot. Add remaining 1 tablespoon oil, and reduce heat to medium. Add onion, celery, garlic, and red-pepper flakes, and cook, scraping bottom of pot, until vegetables are light gold, about 7 minutes.
Raise heat to high, and stir in Marsala if desired. Add tomatoes, 1 cup reserved tomato juice, 2 1/2 cups reserved clam broth, and the potato. Reduce heat, and simmer until potato is tender, 8 to 10 minutes.
Cut large clams in half. Stir clams, pancetta, parsley, and oregano into broth, and heat until warmed through, about 30 seconds. Season with salt and pepper, and serve immediately.
Serves 8 to 10.
Information
Category

Soups/Stews, Chowder

Cuisine

North American