Easy and Expert Recipes For Red Beans and Rice
Red Beans and Rice Two Ways — Beginner and Expert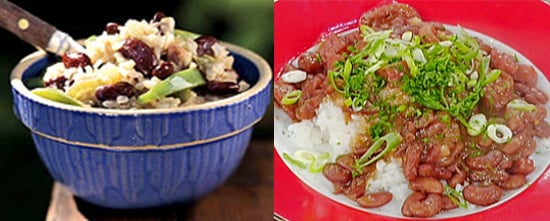 For true mid-Winter comfort food, look no further than the wallet-friendly pairing of red beans and rice. The Louisiana specialty starts with "the holy trinity" of chopped celery, bell pepper, and onions then combines the veggie medley with red kidney beans and pork to be served over steaming hot rice.
You can follow a recipe that calls for canned beans and is easy on the time, number of kitchen steps, and ingredients. Or stick to the classic version, simmered low and slow with ham, sausage, and bay leaves for added flavor and body. Decide which one when you keep reading.
Beginner Red Beans and Rice
Ingredients
1 slice bacon, chopped
1 cup chopped onion
1 14-ounce can reduced-sodium chicken broth
3/4 cup regular brown rice
3/4 cup sliced celery
1/4 teaspoon salt
1/4 teaspoon bottled hot pepper sauce
1/8 teaspoon ground black pepper
1 15-1/2-ounce can dark red kidney beans
1 small green sweet pepper, cut into bite-size strips
Directions
In a 10-inch skillet cook and stir bacon over medium heat until bacon is crisp. Reserve 1 teaspoon of the drippings in the pan. (If necessary, add cooking oil to skillet to make 1 teaspoon drippings.) Drain bacon on paper towels.
Cook onion in reserved drippings until tender but not brown. Add bacon, broth, uncooked rice, celery, salt, hot pepper sauce, and pepper. Bring to boiling; reduce heat. Cover and simmer for 40 minutes.
Add the undrained beans and sweet pepper strips. Simmer, covered, for 5 minutes more. Serve immediately.
Makes 4 main-dish or 6 side-dish servings.


Nutritional information per serving: Calories 281, Total Fat 4g, Saturated Fat 1g, Cholesterol 2mg, Sodium 702mg, Carbohydrate 52g, Fiber 7g, Protein 12g
Information
Category

Main Dishes, Beans

Cuisine

Cajun/Creole
Ingredients
2 tablespoons vegetable oil
1 cup chopped onions
1/2 cup chopped bell peppers
1/2 cup chopped celery
1 teaspoon salt
1/2 teaspoon cayenne pepper
1/4 teaspoon freshly ground black pepper
1 teaspoon dried thyme
2 bay leaves
1 pound boiled ham cut, into 1/2-inch cubes
6 ounces smoked sausage, cut crosswise into 1/4-inch slices (1 cup)
1 pound dried red beans, rinsed and sorted through, soaked overnight and drained
3 tablespoons chopped garlic
8 to 10 cups water
Steamed rice
Directions
Heat the oil in a large saucepan over medium-high heat. Saute the onions, bell peppers, celery, salt, cayenne, black pepper, and thyme for about 5 minutes.
Add the bay leaves, ham, and sausage and saute for 5 to 6 minutes.
Add the beans, garlic, and enough water to cover the contents in the pot.
Bring to a boil, reduce the heat to medium, and simmer uncovered, stirring occasionally for about 2 hours. Add more water if the mixture becomes dry and thick.
Use a wooden spoon to mash about half of the mixture against the side of the pot. Continue to cook, stirring occasionally, for about 1 1/2 hours, or until the mixture is creamy and the beans are soft. Add more water if it becomes too thick. The mixture should be soupy but not watery.
Remove the bay leaves and serve with steamed white rice.
Serves 8.
Information
Category

Main Dishes, Beans

Cuisine

Cajun/Creole