Easy and Expert Recipes For Seafood Gumbo
Seafood Gumbo Two Ways — Beginner and Expert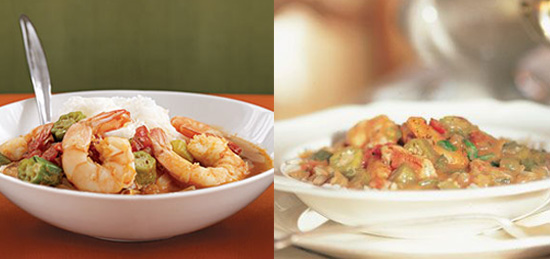 The Saints' first Super Bowl victory and Mardi Gras in less than a week gives Southerners and Northerners an excuse to celebrate the eclectic Creole culture that is so unique to New Orleans. Want to get crazy? Simmer up a steaming pot of seafood gumbo. Keep things basic with canned chicken broth, frozen okra, and two simple shellfish elements — crab and shrimp. Or, if you're feeling more elaborate, peel your own shrimp, saving the shells for a flavorful stock, and throw in the works, from andouille sausage to fresh oysters. Either way, you'll wind up with a gumbo worth getting jazzed up about. For the recipes, read more.
Ingredients
1/2 pound sliced bacon, diced
2 stalks celery, sliced (1 1/2 cups)
1 medium onion, sliced (1 cup)
1 green pepper, chopped (1 1/2 cups)
2 garlic cloves, minced
2 cups chicken broth
1 14-ounce can diced tomatoes
2 tablespoons Worcestershire sauce
2 teaspoons kosher salt
1 teaspoon dried thyme leaves
1 pound large raw shrimp, cleaned
1 pound fresh or frozen crabmeat
1 10-ounce box frozen okra, thawed and sliced crosswise into 1/2-inch pieces
Directions
Cook the bacon over medium heat in a heavy saucepan until crisp, stirring frequently. Remove with a slotted spoon and drain on a paper towel.
Discard all but 2 tablespoons of the fat, then add the vegetables (except the okra), 4 cups of broth, Worcestershire, salt, and thyme. Cover and simmer over medium heat for 1 hour, stirring occasionally.
Add the okra and cook 10 minutes longer.
Stir in the shellfish and cook 5 minutes more, or until the shrimp curl and turn pink.
Serves 6.
Nutritional information per serving: Calories 273, Carbohydrate 11g, Cholesterol 204mg, Fat 8g, Fiber 2g, Sat Fat 2g, Sodium 1757mg
Information
Category

Soups/Stews, Stew

Cuisine

North American
Ingredients
For the stock:
2-1/2 lb. shrimp, with heads attached
1 yellow onion, roughly chopped
1 garlic clove, roughly chopped
1 celery stalk, roughly chopped
8 cups water
For the gumbo:
1/2 cup corn or vegetable oil
1/2 cup all-purpose flour
2 yellow onions, cut into 1/2-inch pieces
2 celery stalks, cut into 1/2-inch pieces
1 green bell pepper, seeded and cut into 1/2-inch pieces
Salt and freshly ground black pepper, to taste
3/4 lb. andouille sausage, cut into 1/2-inch rounds
5 garlic cloves, finely minced
1/4 tsp. cayenne pepper, plus more, to taste
1/2 tsp. dried thyme
3 cups peeled, seeded and diced tomatoes
1 lb. okra, trimmed and cut into 1/2-inch rounds
3 bay leaves
12 oysters, shucked with their liquor (optional)
1/2 lb. lump crabmeat
6 green onions, white and green portions, chopped
Steamed white rice for serving
Directions
To make the stock, peel and devein the shrimp and remove the heads; reserve the shells and heads. Place the shrimp in a small bowl and refrigerate until ready to use. Rinse the shells and heads with cold water, drain in a colander and transfer to a large stockpot. Add the onion, garlic, celery and water. Bring to a boil over high heat, reduce the heat to low and simmer, uncovered, for 2 hours. Strain the stock through a fine-mesh sieve, discarding the solids. You will need 6 cups stock; add more water, if needed. Return the stock to the pot and keep warm until ready to use.
To make the gumbo, in a large Dutch oven over medium-high heat, warm the oil. Slowly whisk in the flour and cook, whisking constantly, until the roux turns a deep brown, 2 to 3 minutes; do not allow it to burn. Add the onions, celery, bell pepper, salt and black pepper and stir to coat evenly. Cook, stirring constantly, until the vegetables are tender and lightly browned, 5 to 7 minutes. Add the sausage and cook until lightly browned and warmed through, 3 to 4 minutes. Add the garlic, the 1/4 tsp. cayenne and the thyme and cook for 1 minute. Add the tomatoes, okra and bay leaves and stir to combine.
Slowly add the stock, stirring constantly and scraping up the browned bits from the pan bottom. Bring to a boil, then reduce the heat to medium-low, partially cover the pan and simmer for 30 minutes. Skim the stock occasionally to remove any excess oil.
Add the shrimp and oysters and cook until they turn opaque throughout, 2 to 3 minutes. Add the crabmeat and green onions and cook for 2 minutes. Remove the bay leaves and discard. Adjust the seasonings with salt, black pepper and cayenne. Spoon the steamed rice into individual bowls and ladle the gumbo on top.
Serves 8 to 12.
Information
Category

Soups/Stews, Stew

Cuisine

North American