Easy & Expert Super Bowl Recipes For Potato Skins
Potato Skins Two Ways — Beginner and Expert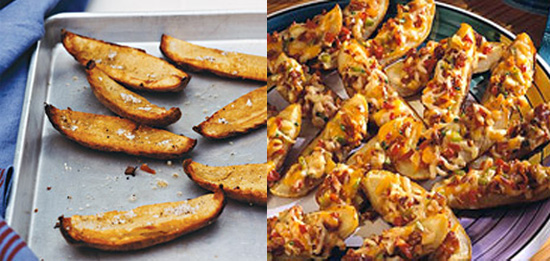 For those of you who are planning a Super Bowl bash this year, ditch the pretzels and chips in favor of some homemade potato skins. If you're worried about it all coming together, stick to the simple and sweet: nothing but meaty russet potato skins, olive oil, salt, and pepper. Or, win over fans with a fully-loaded version, topped off with crisp-cooked bacon, sautéed peppers and onions, and oozing cheddar cheese. Craving either (or both) renditions? Then get your potato skin game on.
Ingredients
4 medium russet potatoes (about 2 pounds)
1/4 cup extra-virgin olive oil
Coarse salt and freshly ground pepper, to taste
Directions
Adjust oven racks to highest and middle positions. Preheat oven to 450 degrees. Pierce each potato 8 times with a fork. Place directly on middle oven rack, and bake until tender when pierced with a fork, about 40 minutes. Let stand until cool enough to handle, about 5 minutes.
Cut each potato in half lengthwise, and use a small spoon to scoop out insides, leaving about 1/4-inch shell all around. Reserve insides for another use. Slice each potato shell in half again lengthwise to make 16 wedges, and place them on a baking sheet.
Combine oil, salt, and pepper in a small bowl, and brush on all sides of potato wedges. Bake on highest rack until crisp and edges are golden, about 20 minutes. Season with salt.
Serves 4.
Information
Category

Appetizers, Finger Foods

Cuisine

North American
Ingredients
6 medium baking potatoes (2 pounds)
1/4 cup margarine or butter, melted
2/3 cup finely chopped red or green sweet pepper
1 medium onion, chopped (1/2 cup)
1/4 cup coarsely chopped pecans
2 cloves garlic, minced
1 tablespoon olive oil or cooking oil
1 cup shredded processed Gruyere cheese or shredded cheddar cheese (4 ounces)
4 slices bacon, crisp-cooked, drained, and crumbled
2 tablespoons snipped fresh chives
Directions
For potato skins, prick baking potatoes with a fork. Bake in a 425ºF oven for 40 to 50 minutes or until tender. Cut into quarters.
Scoop out the insides (reserve for another use), leaving 1/4-inch-thick shells. Brush both sides of potato skins with melted margarine or butter. Place cut side up on a large baking sheet. Bake in a 425ºF oven for 10 to 15 minutes or until crisp.
Meanwhile, for topping, in a medium saucepan cook the red or green sweet pepper, onion, pecans, and garlic in hot oil until onion is tender but not brown. Remove saucepan from heat and cool slightly. Stir in the cheese, crumbled bacon, and chives. Spoon onto potato skins.
Return to oven and bake about 2 minutes more or until cheese melts.
Makes 24.

Nutritional information per serving: Calories 171, Total Fat (g) 11, Saturated Fat (g) 3, Cholesterol (mg) 12, Sodium (mg) 115, Carbohydrate (g) 15, Protein (g) 5
Information
Category

Appetizers, Finger Foods

Cuisine

North American