Easy Fava Bean Pasta Recipe
Fast Fava Bean Pasta For All Summer Long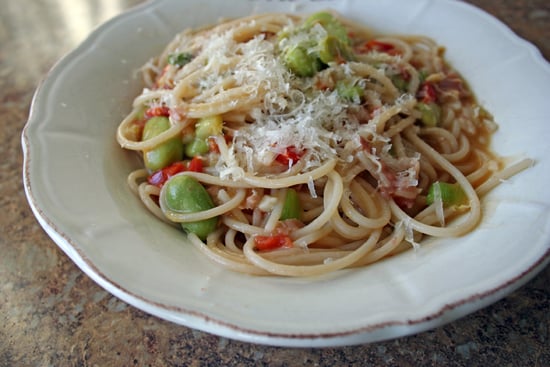 This spaghetti recipe highlights the fava bean, a veggie that requires a somewhat fussy preparation to shell and skin but is revered in the food world for its fresh, slightly nutty flavor. Plan to cook and shell the beans the night before to make this pasta a quick fix for family, friends, or yourself.
The simple ingredient list actually contains a complex range of flavors: saltiness of the pancetta; acidity from the wine, lemon, and tomatoes; and buttery flavor from the fava beans. Take a look at the recipe now.
Pancetta and Fava Bean Pasta
From Anna Monette Roberts, POPSUGAR Food
Ingredients
4 tablespoons extra-virgin olive oil, divided
4 ounces pancetta, thinly sliced
3 cloves garlic, minced
1 pound dried spaghetti
24 fresh fava beans, shelled and peeled
1/2 cup white wine
1/2 cup vegetable broth
1 lemon, juice and zest divided
1 bunch chopped green onion
2 chopped tomatoes
Salt to taste
Black pepper
1/2 cup grated Parmesan, plus more for the table
Directions
In a large pot, bring salted water to a boil.
In a large sauté pan, heat 2 tablespoons of the olive oil over medium-high heat. Add pancetta, and cook until slightly crispy, about 7 minutes. Add garlic, and cook for 1 minute.
Place spaghetti noodles in salted water pot and cook for 5 minutes, or until pasta is al dente.
In a sauté pan, add fava beans, white wine, and broth to sauté pan, and cook for 3 minutes, or until beans become tender.
Drain spaghetti, reserving 1/2 cup of the pasta water. Toss spaghetti in remaining 2 tablespoons olive oil.
Add spaghetti, green onion, lemon zest, lemon juice, and tomatoes to sauté pan, tossing to mix thoroughly. Add pasta water if pasta begins to stick to the bottom of the pan. Cook until heated through.
Season with salt and pepper to taste. Divide spaghetti into four bowls, and garnish with grated Parmesan.
Serves 4.
Information
Category

Pasta, Main Dishes

Cuisine

North American