Easy Fondue Recipe
Snuggle Up With Your Sweetheart Over a Pot of Fondue
Gooey and rich, this Swiss dish is meant to be lingered over with friends or a loved one, and is especially apropos during the chilly Winter months. Better yet, fondue is one of those seemingly fussy dishes that's extremely easy to re-create at home, provided one has the requisite equipment.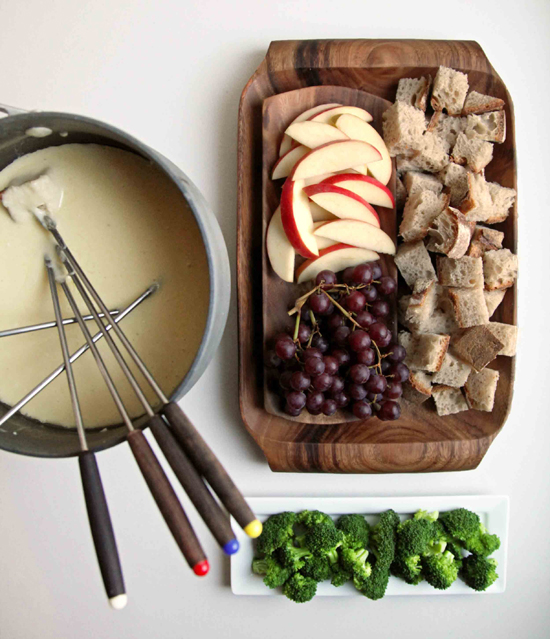 Here I'm using a vintage fondue stand and a standard saucepan, but if I were to invest in another set-up it'd be this ingenious set-up from Trudeau ($80) that comes highly recommended by the fine folk at Cook's Country. Other than that it's just a bit of minor prep work (cubing bread, assembling other accoutrement, shredding cheese) and a quick turn in a pot and you're good to go. Just don't forget to pair it with good company and a glass (or two) of crisp white wine!
Ingredients
1-1/2 to 2 cups (375ml-500ml) dry white wine
3 cloves garlic, peeled and minced
2 teaspoons potato starch or cornstarch
1-1/2 pounds mixed grated cheese, such as Gruyère, Comté, and Emmenthal
1-2 teaspoons kirsch
A pinch of freshly grated nutmeg
Accoutrements, such as cubed crusty bread, grapes, cherry tomatoes, sliced apples, steamed broccoli, or cornichons, for dipping
Directions
In a medium saucepan or fondue pot, heat 1-1/2 cups of the wine, garlic, and starch until steaming over medium-high heat.
Add the cheese in large handfuls, whisking until melted. Cook, stirring frequently, until smooth and all of the cheese has melted. Add the kirsch and nutmeg; thin out with additional wine if necessary.
Serve warm with the accoutrements, preferably in a fondue pot set over a heat source.
Information
Category

Main Dishes, Dairy

Cuisine

North American

Yield

Serves 4