Easy Goat Cheese Appetizer Recipe
Killer App: Marinated Goat Cheese and Olives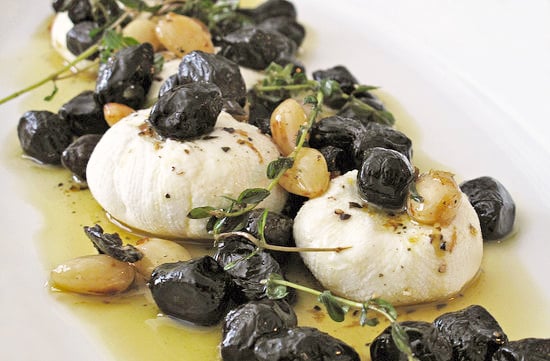 What do you do when you're entertaining for a crowd, don't have a lot of time, can't spend a boatload of money, and still want to impress everyone? If you're me, then you pull the oldest trick in the culinary book: a simple appetizer of fresh goat cheese and cured olives, bathed in an olive oil marinade of thyme, lemon zest, and freshly-ground pepper.
It's literally the easiest hors d'oeurve in the world, but the thing is, guests always go nuts for it — and then they proceed to ask how it's made. Honestly, I usually hesitate to divulge the answer, for fear that I'll be busted for being the laziest host ever, but now the secret's out. Keep reading so I can share the recipe with you.
Goat Cheese With Olives, Lemon, and Thyme
From Gourmet Quick Kitchen
Ingredients
1/2 cup assorted olives (I used a mix of dry-cured gaeta olives and marcona almonds)
3 fresh thyme sprigs
3 tablespoons extra-virgin olive oil
1/2 teaspoon grated lemon zest
Freshly ground pepper
1 (4- to 5-ounce) fresh goat cheese medallion, or 2 (2-ounce) goat cheese buttons
Crackers, flatbread, or baguette slices, for serving
Directions
Heat olives, thyme, oil, zest, and 1/4 teaspoon pepper in a small skillet or saucepan over low heat until fragrant; do not simmer. Cool to room temperature.
Pour olive mixture over goat cheese, and serve with crackers, flatbread, or baguette slices.
Serves 4.
Information
Category

Other, Appetizers

Cuisine

North American