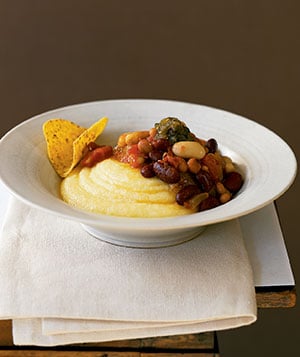 BellaSugar recently asked me to recommend a few polenta recipes that are simple, affordable, and healthy. Although I often serve this dinner basic as a creamy side with with meatballs and tomato sauce or sliced into squares with vegetables, I've recently discovered a new pairing: polenta with chili.
I never tire of the bold spices that go into chili, but I like to play around with its accompaniments. Sometimes I'll reach for a hunk of white bread, and other times I'll ladle chili over a plate of pasta, Cincinnati-style. For a soothing meal, try the stew over an ultracreamy bowl of quick-cooking polenta. For the recipe, read more.

Ingredients
3 tablespoons olive oil
1 large onion, finely chopped
2 garlic cloves, minced
2 tablespoons chili powder
1 1/2 teaspoons ground cumin
1 (14.5-ounce) can diced tomatoes with juice
1 (15.5-ounce) can red kidney beans, rinsed and drained
1 (15.5-ounce) can cannellini or great northern beans, rinsed and drained
1 (8-ounce) can vegetarian beans
1 tablespoon red wine vinegar
1/2 cup quick-cooking polenta
1 tablespoon butter
Green chili or jalapeno salsa, optional
Directions
Heat the oil in a large skillet over medium heat. Add the onion, garlic, chili powder, and cumin and saute until onions are soft.
Add the tomatoes and 1 cup of water. Bring to a simmer, partially cover with a lid, and cook 10 minutes.
Add the beans and return to a simmer; continue cooking, uncovered, 20 minutes, until the chili is thick. Remove from heat and stir in the vinegar. Season to taste with salt and freshly ground pepper.
While the chili cooks, prepare the polenta according to package directions (5 to 8 minutes), and stir in the butter. Season to taste with salt and freshly ground pepper. Divide between 4 bowls and ladle chili over top. Spoon a little salsa on top, if desired.
Serves 4.
Information
Category

Main Dishes, Beans