Easy Holiday Appetizer Recipes
Come Party With Me: Holiday Pub Crawl — Menu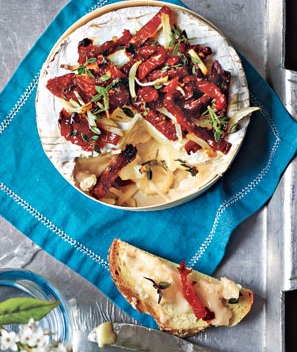 Last December, my family started a new tradition: a holiday pub crawl! We met for heavy hors d'oeuvres at a cousin's house, then afterward took a tour of the neighborhood's best bars. It's a casual but festive style of soirée, and since everyone always has lots of parties to attend, friends and family members can stop by for one drink or take part in the entire crawl. When planning the first leg, offer a good quantity of appetizers with an assortment of textures and flavors: serve something cheesy, something meaty, and something seafood. Baked camembert is sophisticated and colorful when topped with sun-dried tomatoes; pair with crackers and bread.
Meatballs are a classic holiday bite, but update them by using ground lamb and exotic spices rather than the same old pork-beef mixture. Tuna tartar on thick-cut potato chips is addictive and irresistible. Head to the store for the rest of the menu; pick up your favorite crudités with ranch dip, charcuterie, nuts, or olives. To check out the suggested recipes, keep reading.
Baked Camembert With Sun-Dried Tomatoes
From Real Simple
Ingredients
1 8-ounce round of Camembert (sold in a wooden box)
1/4 cup sun-dried tomatoes (packed in oil), drained and sliced
2 cloves garlic, sliced
1 tablespoon fresh thyme leaves
1 tablespoon olive oil
bread or crackers, for serving
Directions
Heat oven to 375º F. Remove the Camembert from its paper or plastic wrapping, return it to the wooden box (discard the lid), and place on a baking sheet.
Top with the sun-dried tomatoes, garlic, and thyme. Drizzle with the oil and bake until soft, 10 to 12 minutes. Serve immediately with the bread or crackers.
Serves 8.
Information
Category

Dips, Appetizers

Cuisine

North American
Ingredients
1 pound ground lamb
1/4 cup finely chopped scallions
1/2 teaspoon ground cinnamon
1 teaspoon ground cumin
1 teaspoon ground allspice
1 teaspoon salt
3 tablespoons semolina
1 egg
Vegetable oil, for frying
Directions
Put the lamb into a bowl and add the scallions. Sprinkle over the spices, salt, and semolina, and then beat the egg adding to the bowl. Work everything together thoroughly with your hands, and then cover with plastic wrap and leave in the refrigerator for half an hour.
Line a baking sheet with plastic wrap and scoop out a scant teaspoon of the mixture. Roll in your hands to form the meatball and place on the lined baking sheet. Have a bowl of cold water beside you to dampen your hands with; this helps them not get too sticky for rolling the meatballs.
When you are ready to cook them, heat about 1/2-inch of oil in a frying pan. Line another baking sheet with kitchen towel, and when the oil is hot, fry the meatballs in batches without overcrowding the pan. Cook them for about a minute a side, or until golden brown all over.
Makes about 78 meatballs.
Information
Category

Meats, Appetizers

Cuisine

Mediterranean/Middle Eastern
Ingredients
1 tablespoon mayonnaise
3/4 teaspoon soy sauce
1/2 teaspoon Sriracha (Asian chili sauce)
8 ounces fresh tuna, cut into 1/4-inch dice
1 tablespoon thinly sliced fresh chives, plus 1-inch pieces for garnish
Gaufrettes or waffle-cut potato chips, for serving
Directions
In a medium bowl, combine the mayonnaise, soy sauce, and Sriracha.
Add tuna and chives, and gently combine with a fork. (Tartare can be refrigerated in an airtight container for up to 4 hours.)
Top each gaufrette with 1 tablespoon tuna tartare, and garnish with chives.
Serves 12.
Information
Category

Seafood, Appetizers

Cuisine

North American