Easy Homemade Holiday Gift: Hot Fudge Sauce
12 Days of Edible Gifts: Hot Fudge Sauce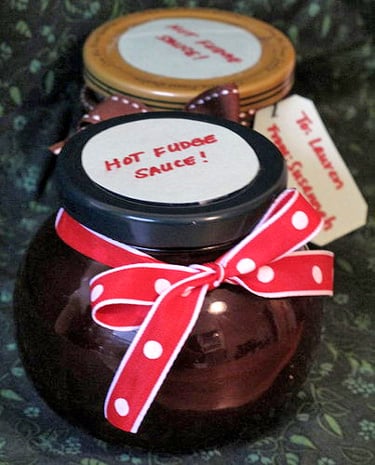 Even if time or money (or both) are tight this holiday season, you can still indulge food-loving friends in a major way. Make your own homemade hot fudge sauce, then package it nicely in a recycled glass jar and gift it to all the chocoholics you know. The key to this recipe is to use high-quality chocolate; I melted down leftover Guittard blocks I had in the pantry. Once you've got the basic proportions down, you can really start experimenting with variations: Use milk chocolate in place of dark or add cayenne for kick. Want the extremely fast recipe? Then read more.
Ingredients
1/4 cup unsweetened cocoa powder (either natural or Dutch-processed)
2/3 cup heavy cream
16 fluid oz. (2 cups) light corn syrup
1 lb. semisweet chocolate, coarsely chopped
2-1/2 oz. (5 Tbs.) unsalted butter
Pinch table salt
Directions
Put the cocoa in a heavy-based saucepan. Slowly pour in the cream and whisk until smooth. Add the corn syrup, chopped chocolate, butter, and salt. Set the pan over medium heat, stirring occasionally to combine. When the chocolate is melted and the mixture comes to a boil, reduce the heat and let boil gently until slightly thickened, about 5 minutes.
Let the sauce cool until it's just warm (steam should no longer rise from the sauce when it's stirred) before stirring in one of the flavor variations below (if using) or pouring into jars.
Makes about 5 cups.


Nutrition information (per serving): Size: per 1 Tbs.; Calories (kcal): 80; Fat (g): 6; Fat Calories (kcal): 60; Saturated Fat (g): 4; Protein (g): 1; Monounsaturated Fat (g): 2; Carbohydrates (g): 8; Polyunsaturated Fat (g): 0.2; Sodium (mg): 5; Cholesterol (mg): 10; Fiber (g): 1.


Hot Fudge Sauce Variations:
Make mint hot fudge sauce by stirring in 1-1/2 teaspoons pure peppermint extract into the warm sauce.
Take a nod from Mexico with cinnamon hot fudge sauce. Whisk 1/2 tablespoon ground cinnamon into the warm sauce. Taste and add more if you'd like.
Information
Category

Other, Condiments/Sauces

Cuisine

North American