Double-Lemon Bars
Adapted from Joy of Cooking [2] by Irma S. Rombauer, Marion Rombauer Becker, and Ethan Becker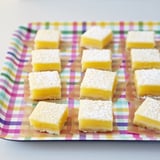 Ingredients
3/4 cup (3 3/4 ounces) all-purpose flour
2 tablespoons powdered sugar
1/4 teaspoon kosher salt
Zest of 2 lemons, finely grated
6 tablespoons unsalted butter, chilled and cubed
3 large eggs
1 1/4 cups (8 3/4 ounces) granulated sugar
1/2 cup plus 1 tablespoon lemon juice
1/4 cup all-purpose flour, sifted
Sifted powdered sugar, for garnish
Directions
Preheat the oven to 325°F.
In a large mixing bowl, whisk together the flour, powdered sugar, salt, and lemon zest. Cut the butter in using a pastry cutter or the tines of a fork until it is in roughly pea-sized pieces and a very loose, shaggy dough has formed. Transfer to an ungreased 8-inch square baking dish. Spread it out evenly over the dish and press it in firmly. Bake for 25 to 30 minutes, or until light golden brown and fragrant.
Meanwhile, whisk together the eggs and sugar in a medium mixing bowl until smooth and streak-free. Whisk in the lemon juice. Add the flour and whisk till frothy and completely smooth. Pour over the shortbread base as soon as it is taken out of the oven, and return to the oven, reducing the temperature to 300°F. Bake for 30 to 35 minutes, or until the top has just set up.
Allow to cool completely before cutting. For a neater appearance, trim away the edges before cutting into 16 squares. Generously sift powdered sugar on top just before serving.
Information
Category

Desserts, Cookies

Yield

16 bars