Easy Lemon Lamb Chops Recipe With Mint Garbanzo Couscous
Fast & Easy Dinner: Lamb Chops With Couscous Pilaf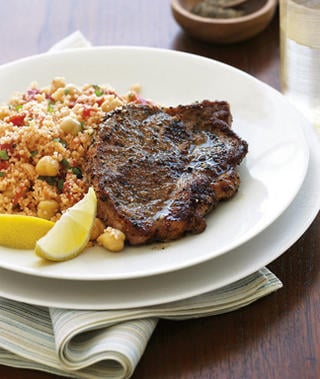 Couscous has recently become one of my favorite pantry staples. It's wonderfully quick-cooking and can be seasoned with just about anything. In this recipe, canned tomatoes, garbanzo beans, and fresh mint give the couscous a Mediterranean feel. The couscous is paired with a lemon-peppery lamb chop that's succulent to eat and simple to make. Don't feel limited by the recipe; it's actually highly adaptable. Substitute chicken for the lamb, black beans for the garbanzos, and cilantro for the mint, and you've got a totally different dish. To learn the versatile technique,
.


Ingredients
2 tsp salt-free lemon and pepper seasoning (McCormick)
2 1⁄2 tsp ground cumin
4 shoulder lamb chops, 3⁄4 in. thick
2 tsp olive oil
1 can (15.5 oz) chickpeas, rinsed
1 can (14.5 oz) diced tomatoes with sweet onion
1 cup water
1 box (5.8 oz) roasted garlic & olive oil couscous mix
2 Tbsp chopped fresh mint
Directions
Mix lemon pepper seasoning and 2 tsp ground cumin in small cup; rub on both sides of lamb chops.
Heat oil in nonstick skillet over medium-high heat. Brown chops 3 minutes per side for medium doneness.
Meanwhile, heat chickpeas, tomatoes, water, couscous spice packet and remaining 1⁄2 tsp cumin in 2-qt saucepan until boiling. Stir in couscous, cover and remove from heat. Let stand 5 minutes; stir in mint.
Serve the chops along side the couscous.
Serves 4.
Information
Category

Main Dishes, Lamb

Cuisine

Mediterranean/Middle Eastern