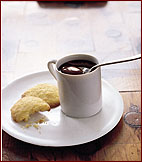 No romantic dinner is complete without a sweet finish and an occasion like Valentine's Day requires chocolate. Select a dish that's decadent, but can be made in advance. I recommend these creamy chocolate pots. They are rich and chocolatey, but most importantly, the recipe is super simple and fast! For an extra special treat, enjoy with cookies from your favorite bakery. Get the easy chocolate pot recipe when you
.


Ingredients
2 cups heavy cream
3/4 pound semisweet or bittersweet chocolate, at room temperature, coarsely chopped
4 large egg yolks
3 tablespoons dark rum
3 tablespoons unsalted butter
Directions
In a medium saucepan, heat the cream until bubbles appear around the edge. Remove the pan from the heat, add the chocolate and let stand for 1 minute, then stir until smooth.
Whisk the egg yolks in a small bowl, then whisk in 1/2 cup of the hot chocolate cream.
Scrape this mixture into the saucepan and whisk constantly until smooth. Stir in the rum and butter.
Pour the custard into eight 1/2-cup ramekins or espresso cups and refrigerate until chilled, at least 4 hours.
Serves 8.


Make Ahead: The chocolate pots can be refrigerated overnight.
Information
Category

Desserts, Chocolate

Cuisine

North American