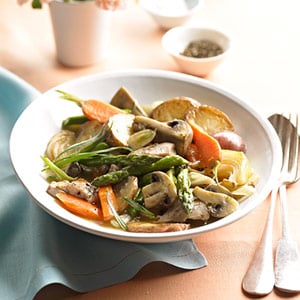 This weekend we change the clocks! That means the days will be lighter and longer. To celebrate the upcoming arrival of Spring, make this uncomplicated meal, chock-full of tender vegetables. Crisp potatoes, baby carrots, and meaty mushrooms are combined with March's most beloved veggie, asparagus. Seared boneless chicken thighs provide heft and make this single-pot dinner one that's sure to become a family favorite. Check out the recipe when you
.


Tender-Crisp Spring Braise
Ingredients
3 Tbsp. olive oil
8 oz. new potatoes, cut into 1/2-inch thick slices
4 small carrots with tops, trimmed and diagonally cut into 1-inch pieces
cups mushrooms, halved (12 oz.)
1 large onion, cut in thin wedges
3 cloves garlic, peeled and sliced
1 lb. asparagus, trimmed and cut in 1-1/2-inch pieces
2 skinless, boneless chicken thighs, cut into strips
1/2 tsp. salt
1/4 tsp. pepper
3/4 cup reduced-sodium chicken broth
1 Tbsp. snipped fresh tarragon
Directions
In extra-large nonstick skillet heat 2 tablespoons oil over medium-high heat. Evenly layer potatoes and carrots in skillet. Cook, uncovered, 5 minutes, until potatoes are golden, turning once.
Add mushrooms and onions. Cook 5 to 6 minutes, until vegetables are crisp-tender, stirring often.
Add garlic and asparagus; cook 3 minutes. Transfer vegetables to bowl; set aside.
In the same skillet heat remaining oil. Sprinkle chicken with half the salt and pepper. Cook chicken in hot oil about 3 minutes, until lightly browned, stirring occasionally. Add broth; bring to boiling. Reduce heat. Simmer, covered, about 3 minutes or until no pink remains. Increase heat to medium-high. Stir in cooked vegetables; heat through. Stir in snipped tarragon and remaining salt and pepper.
Serves 4.
Information
Category

Poultry, Main Dishes

Cuisine

North American