Easy Oscars Party Decorations
Get Jeff Leatham's Look For the Ultimate Oscar Party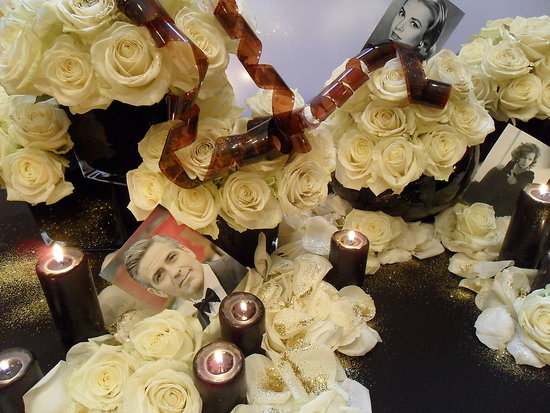 If you're hosting an Oscars viewing party this Sunday, chances are you've already thought about the food and drinks. Thus, it's time to figure out the decorations! With a few simple steps you can transform your everyday living room into a set worthy of the stars. I asked celebrity floral designer Jeff Leatham for his tips on creating the ultimate Oscars look. Jeff is the artistic director of the Four Seasons Hotel George V in Paris and stars on TLC's Flowers Uncut. He's arranged flowers for everyone from Eva Longoria to Kylie Minogue, and now I've got his secrets to share with you, after the break.
Let movies be the inspiration for your theme and use black, white, and gold for colors.
Buy unused rolls of film and pull the film out. Drape over the tables.
Fill black vases with white flowers.
Print out black and white photos of your favorite classic and current movie stars. Place amongst the flowers.
Sprinkle gold glitter everywhere!
Float white rose petals in glasses of Champagne.
Cut out black or gold paper in the shape of the Oscar and put up around your house.
Line a red carpet down your front walkway and when guests arrive snap a photo of them on the carpet. They will feel like an actress entering a movie premiere.
Are you having an Oscars celebration? How will you decorate?