Easy Pomegranate Vodka Cocktail Recipe
Happy Hour: Ginger, Mint, and Pomegranate Vodka Cocktail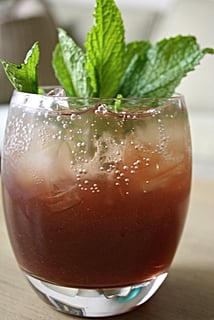 Spicy ginger, cool mint, and tart pomegranate combine for a perfect Winter cocktail that is especially festive for upcoming holiday parties.
The ginger and spearmint simple syrup is so easy to make, yet the flavor combination will totally wow your party guests. Topping the drink with sparkling water adds just enough fizz to complete the zing factor.
See cocktail recipe.
Ginger, Mint, and Pomegranate Vodka Cocktail
From Anna Monette Roberts
Ingredients
1/4 cup granulated sugar
1-inch piece ginger, thinly sliced
1 bunch spearmint
1/4 cup pomegranate juice
1 ounce vodka
1/4 cup sparkling water
Directions
To make simple syrup: In a sauce pot, combine sugar, 1/4 cup water, sliced ginger, and a handful of spearmint leaves. Cook on medium-high heat, allowing sugar to dissolve. Bring to a boil, then turn off heat and let ginger and spearmint steep in liquid until cooled to room temperature. Strain cooled liquid into measuring cup, and discard solids.
To make cocktail: Fill a lowball glass with ice. Fill with 2 tablespoons of ginger/spearmint syrup, 1/4 cup pomegranate juice, and 1 ounce of vodka. Top with sparkling water, and garnish with a spearmint sprig.
Information
Category

Drinks, Cocktails

Cuisine

North American