Easy, Portable, and Healthy Picnic Lunch Menu and Recipes
Come Party With Me: Beach Cleanup — Menu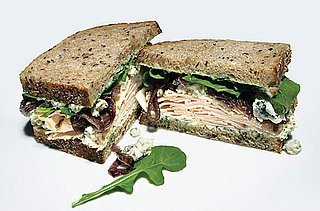 My friend's birthday is this weekend, and instead of having a party, she's asked all of her loved ones to spend an afternoon volunteering and helping to clean up a local beach.
Because it's almost Earth Day and I'm getting in the spirit of things, I've offered to pack a hearty and healthful lunch for the volunteers.
On the menu? Asparagus salad with mushrooms, shallots, and peas. It's delicious at room temperature, so I'll simply store in individual serving containers in a picnic basket. Then I'll wrap halves of smoked turkey, blue cheese, and red onion sandwiches in parchment paper. People can enjoy as many halves as they'd like. These easy, make-ahead recipes are great for any sort of picnic, so check them out after the break.
Asparagus With Shiitakes, Shallots, and Peas
From Whole Living
Ingredients
2 teaspoons olive oil
5 shallots, halved and thinly sliced lengthwise
8 ounces shiitake mushrooms, stems removed
Coarse salt
Ground pepper
1 1/2 teaspoons grated lemon zest
1 1/2 teaspoons chopped fresh tarragon
2 medium thick asparagus bunches, tough ends removed, cut on diagonal into 2-inch lengths (2 pounds total)
1 cup frozen peas
2 teaspoon fresh lemon juice
Directions
In a large nonstick skillet with a lid, heat oil over medium. Add shallots and cook until they begin to color, about 3 minutes. Add mushrooms, season with salt and pepper, and cook, tossing occasionally, until mushrooms and shallots are tender, 3 to 5 minutes. Transfer to a bowl. Add lemon zest and tarragon; toss to combine.
In the same skillet, bring 2 inches of water to a boil. Add asparagus, season with salt, cover, and cook until asparagus is bright green and tender, 3 to 4 minutes (timing will vary depending upon thickness of asparagus). Add peas to skillet, and then drain.
Transfer to bowl with the shallots and mushrooms, add lemon juice, and toss to combine.
Serves 6.
Information
Category

Vegetables, Salads

Cuisine

North American
Smoked Turkey, Blue Cheese, and Red Onion Sandwiches
From Bon Appétit
Ingredients
1 1/2 tablespoons olive oil
2 8- to 10-ounce red onions, cut into 1/3-inch-thick rounds
3 1/2 tablespoons red wine vinegar
6 cups trimmed large arugula leaves (about 4 ounces), divided
3/4 cup mayonnaise
8 1/3-inch-thick slices seeded wheat bread (such as La Brea Bakery) or four ciabatta rolls, cut horizontally in half
12 ounces thinly sliced smoked turkey
3/4 cup coarsely crumbled blue cheese (such as Maytag; about 3 ounces)
Directions
Heat oil in large nonstick skillet over medium-high heat. Add onions and sauté until soft and lightly browned, breaking up onion rings, about 8 minutes. Remove from heat; stir in vinegar and season to taste with salt and pepper.
Chop enough arugula to measure 1 cup; place in medium bowl. Mix in mayonnaise. Season with salt and pepper. Spread about 11/2 tablespoons arugula mayonnaise over each cut side of bread. Divide turkey slices among 4 bread slices. Top with crumbled blue cheese, dividing equally. Top with red onions, then whole arugula leaves and bread.
Makes 4 sandwiches.
Information
Category

Main Dishes, Sandwiches

Cuisine

North American