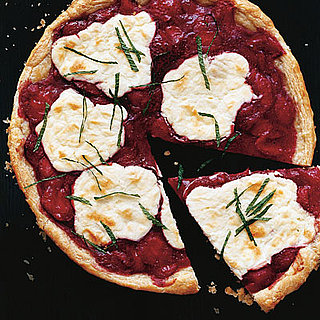 When hosting a holiday celebration like Easter that involves planning an elaborate several-course meal, don't be afraid to cut some corners. Instead of making a time-consuming dessert, put together a simple, but special, puff pastry tart. This one is topped with fresh strawberries, creamy mascarpone, and sweet honey. It's a light and fruity finish that's the perfect way to end your Easter meal. To make in advance, roll out the dough and keep the cooked strawberries in an airtight container. Top the dough just before baking. Read more for the easy recipe.
Ingredients
1 pound strawberries, sliced
3 tablespoons sugar
2 tablespoons cornstarch
2 tablespoons lemon juice
1/2 teaspoon balsamic vinegar
1 sheet (9-inch square) frozen puff pastry, thawed
1 tablespoon butter, melted
1/4 cup mascarpone cheese
1 tablespoon honey
8 large mint leaves, thinly sliced
Directions
Position a rack in the lower third of the oven and preheat to 400°.
In a large saucepan, cook the strawberries, sugar, cornstarch, lemon juice and vinegar over medium heat, stirring, until syrupy, about 7 minutes. Lower the heat and simmer, stirring, until reduced to about 1-1/4 cups, 10 to 15 minutes; let cool.
Meanwhile, on a lightly floured work surface, roll out the puff pastry into a 13-by-14-inch rectangle. Cut into a 12-inch round, using a 12-inch plate as a guide; transfer to a parchment-paper-lined baking sheet.
Fold the edges of the pastry inward to form a half-inch rim and brush with the butter.
Spread the strawberry mixture within the rim.
In a small bowl, combine the mascarpone and honey and dollop over the jam. Bake until the crust is golden, 22 to 25 minutes. Let cool, then sprinkle with the mint.
Serves 8.
Information
Category

Desserts, Pies/Tarts

Cuisine

North American