Easy Pumpkin Casserole
The Lazy Person's Solution to Enchiladas: Mexican Lasagna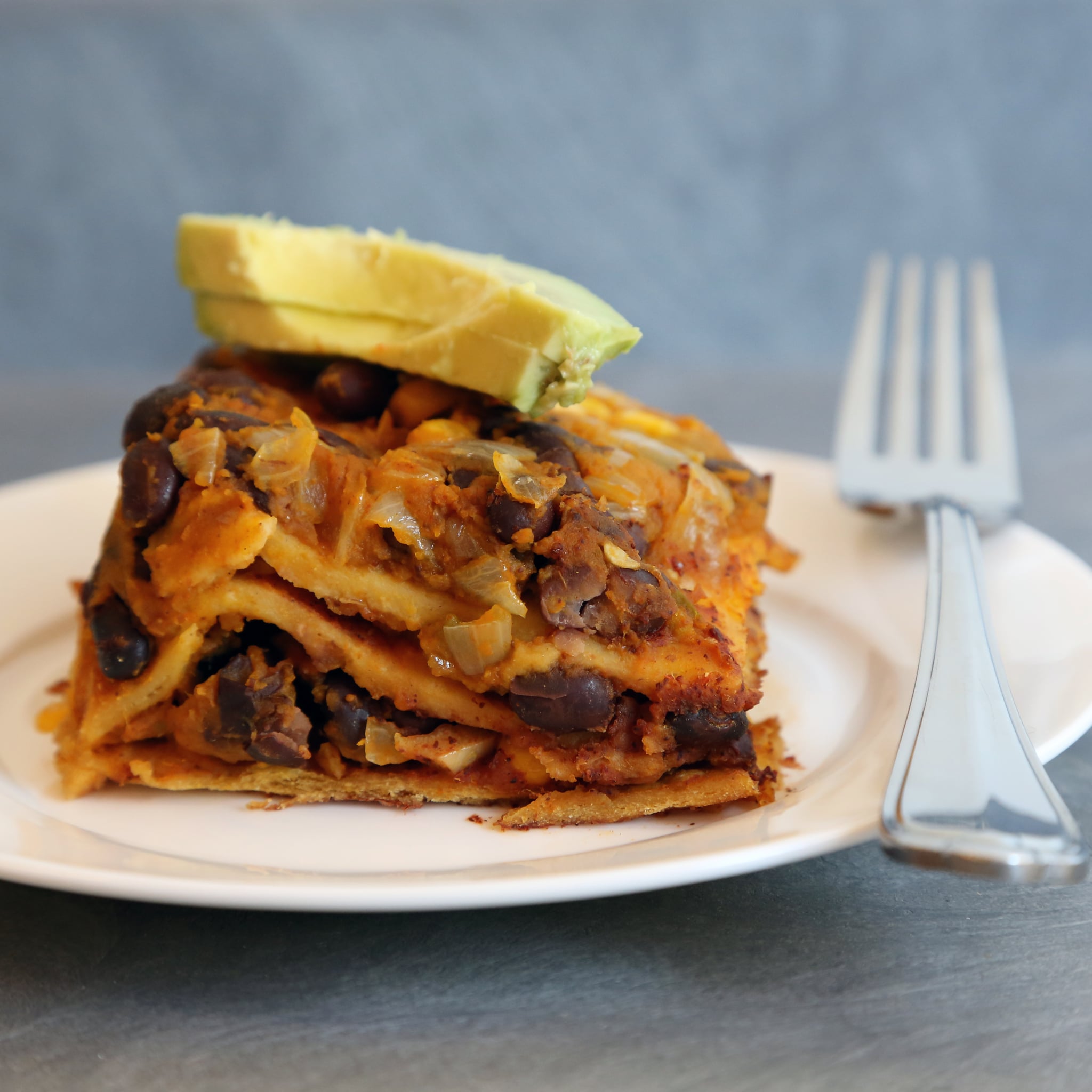 Image Source: POPSUGAR Photography / Anna Monette Roberts
Mexican lasagna is more like enchiladas minus the stuffing and rolling part, but who wants to do that if you are planning for a party anyway?! The pumpkin-stuffed recipe comes from the latest cookbook of Thug Kitchen, who through a sh*tload of curse words and nooch (aka nutritional yeast) effortlessly convince their readers that eating veggies, reading recipes, and actually cooking doesn't have to suck the life out of a person. In fact, it can be a ball!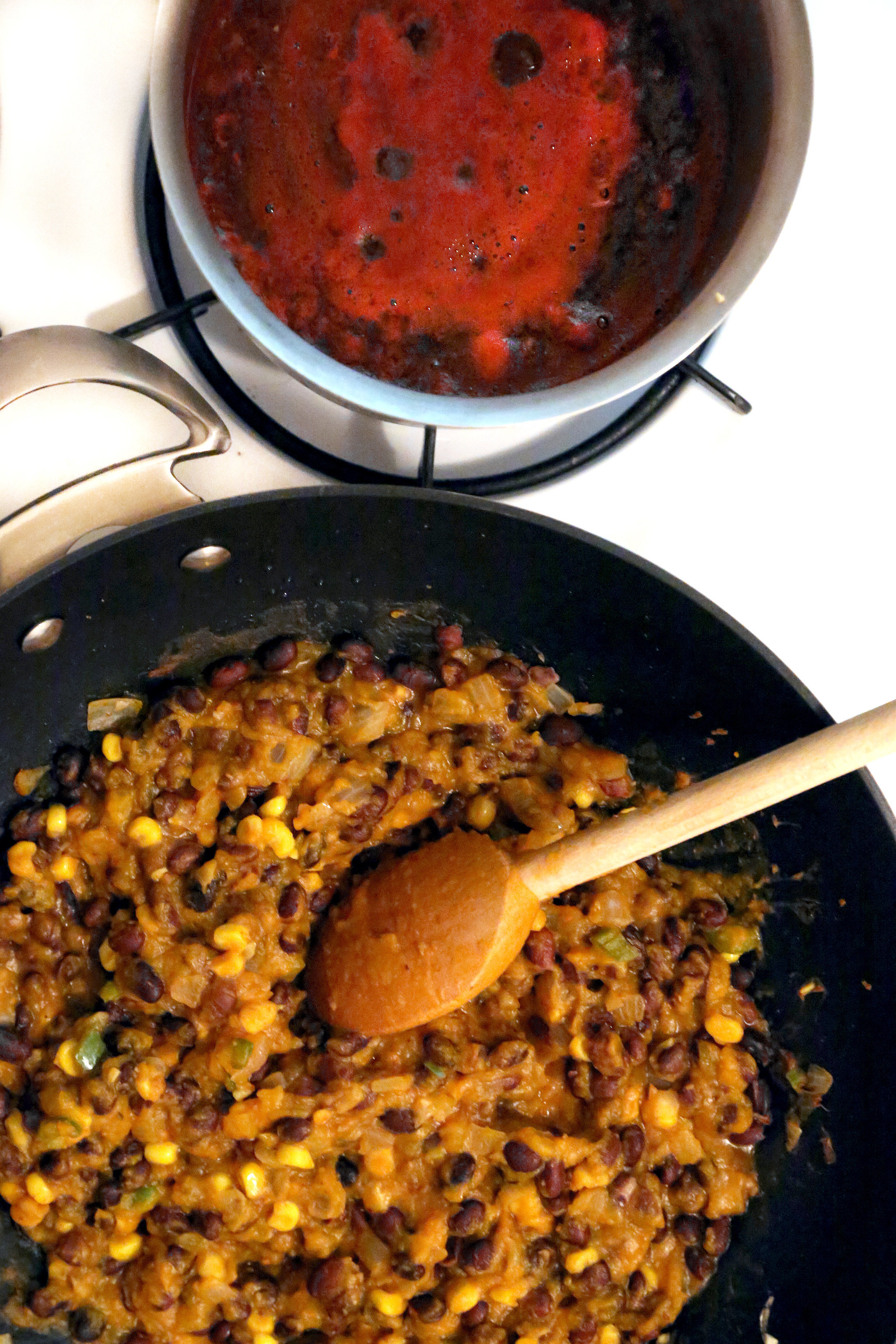 Image Source: POPSUGAR Photography / Anna Monette Roberts
And that's exactly what my experience has been like with Thug Kitchen's second cookbook to date, titled Thug Kitchen Party Grub: For Social Motherf*ckers. If you haven't flipped through it yet, let me inform you, it's awesome. It'll make you nostalgic for your less-classy college days, drinking punch out of a kiddie pool and the like.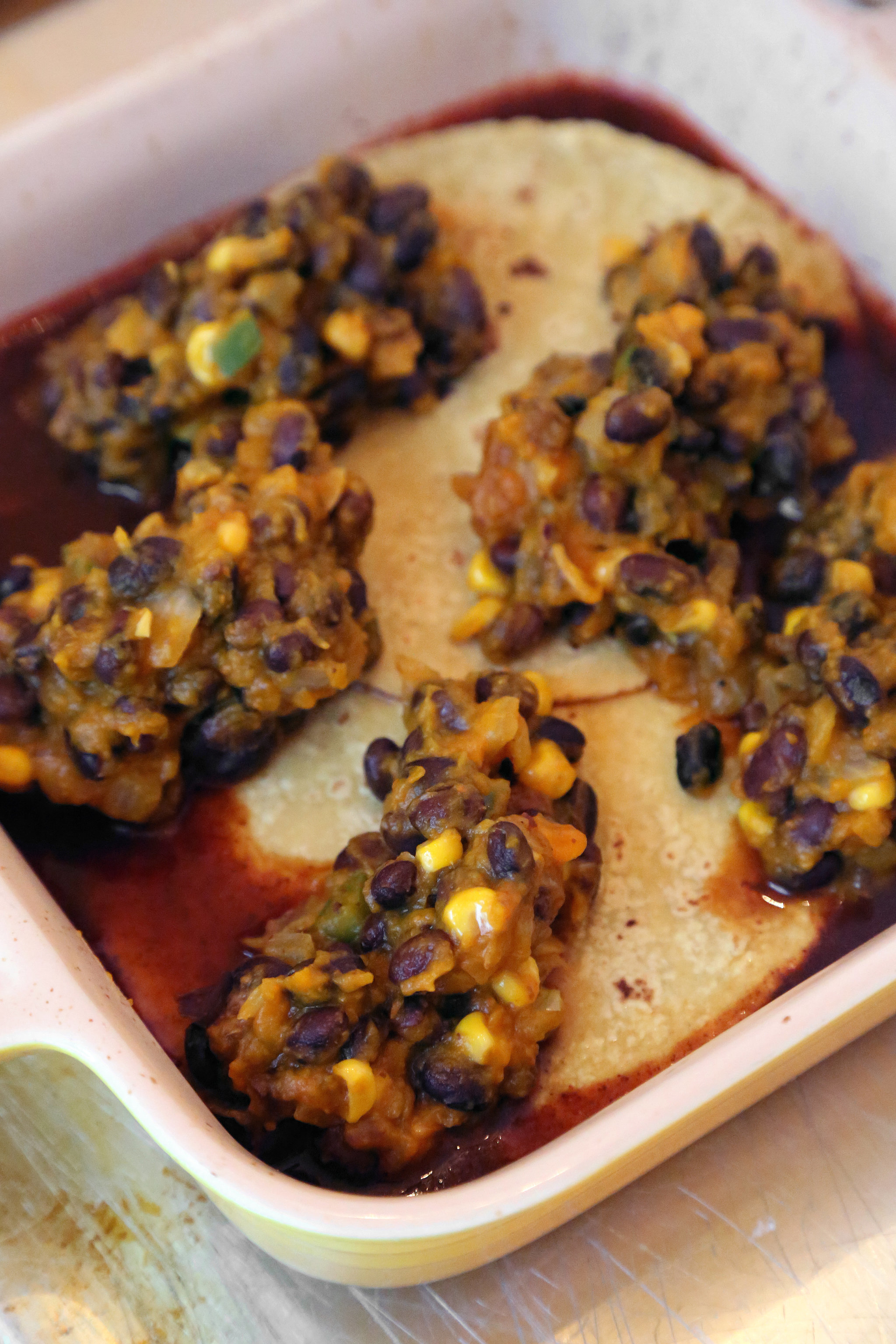 Image Source: POPSUGAR Photography / Anna Monette Roberts
If you make one of these recipes, don't be surprised if you spontaneously invite four other people over to feast, like I accidentally did after recipe testing. Beyond the killer crowd-pleasing recipes, the cookbook will just leave you high-spirited with its plethora of red Solo cups (including little Solo cup icons at the bottom of each page) and memorable quotes like "Come together to tear sh*t apart." Now go forth, cook vegan grub so good it'll make you cuss, and prepare to par-tay.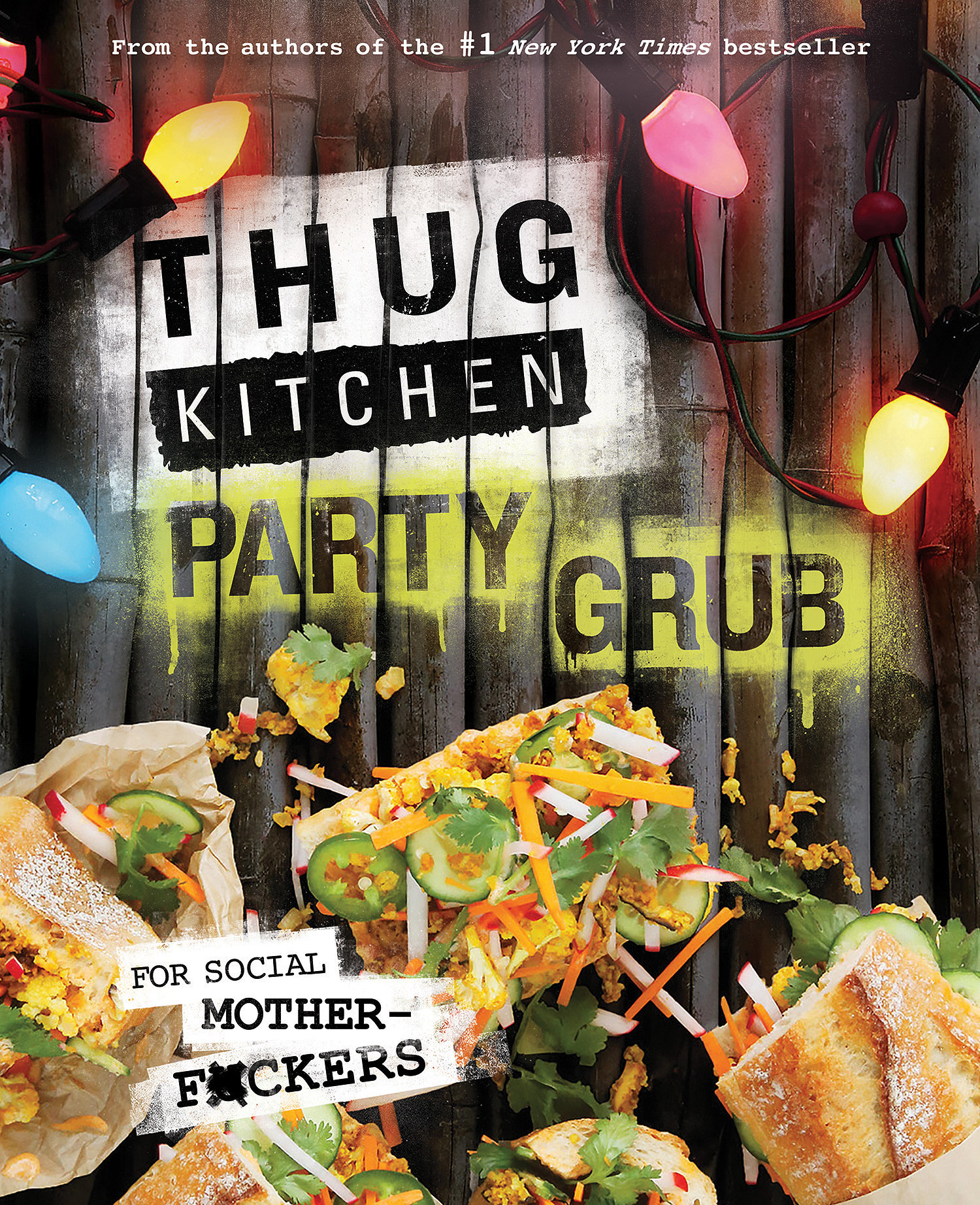 Black-Bean-and-Pumpkin Mexican Lasagna
Ingredients
Enchilada-ish Sauce
1 1/2 cups vegetable broth
1 1/2 cups plain tomato sauce*
2 cloves garlic, minced
3 tablespoons mild chili powder
2 tablespoons lime juice
1 tablespoon soy sauce or tamari
1/2 teaspoon ground cumin
1/2 teaspoon dried oregano
Filling
2 teaspoons olive oil
1 medium yellow onion, chopped (the size of black beans)
1 red bell pepper, chopped (the size of black beans)
3 cloves garlic, minced
1 jalapeno, minced
3 cups cooked black beans**
1 cup fresh or frozen corn kernels
1 1/2 teaspoons chili powder
1/2 teaspoon ground cumin
1/2 teaspoon smoked paprika
1/2 teaspoon salt
1 1/2 cups canned pumpkin puree***
1 tablespoon lime juice
2 teaspoons maple syrup or agave syrup
12 flour tortillas or whatever you usually buy for burritos
Salsa (any of the sh*t from our first book would be legit)
Avocado
*Not marinara, just canned, no-seasoning tomato sauce. Simple sh*t. Grab a low-sodium one if you can find it.
**You can use two 15-ounces cans of beans, drained and rinsed, because we know you are about the dump-and-stir life.
***Don't accidentally grab pumpkin pie filling at the store and think that sh*t will still work because it f*cking won't.
Directions
First, make the enchilada-ish sauce: Pour everything together in a medium saucepan and bring it to a gentle simmer — not a boil, a godd*mn simmer — and cook for about 15 minutes to give the sauce a chance to thicken up a little. Turn off the heat and get making the filling. You should have about 2 1/2 cups.
Make the filling: In a large skillet or wok, heat the olive oil over medium heat. Add the onion and saute until it starts to get golden, about 5 minutes. Add the bell pepper and keep cooking for about 2 minutes. Add the garlic, jalapeno, black beans, and corn. Stir that all up and let everything in the pan warm back up, about 2 minutes. Add the chili powder, cumin, smoked paprika, and salt and keep cooking until the spices get all warm and start making your kitchen smell legit, about 1 minute. Fold in the pumpkin, lime juice, and maple syrup and cook for another minute so the pumpkin gets mixed up and warm. Turn off the heat.
Heat up your oven to 375°F. Grab a 9 x 13-inch baking dish.
Now it's time to assemble this sh*t. Pour about 3/4 cup of the enchilada-ish sauce all over the bottom of the baking dish. Cover that up with a single layer of tortillas. Yeah there will be some holes but just do your f*cking best. Smear on a layer of the filling and try to keep that sh*t at an even thickness so you don't have a lopsided dish. Cover that with another layer of tortillas and 1/2 cup sauce. Repeat. Cover with the remaining sauce.
Cover that sh*t in foil and bake for 15 minutes. Uncover it and bake for 10 more.
Serve warm with some salsa and avocado on the side.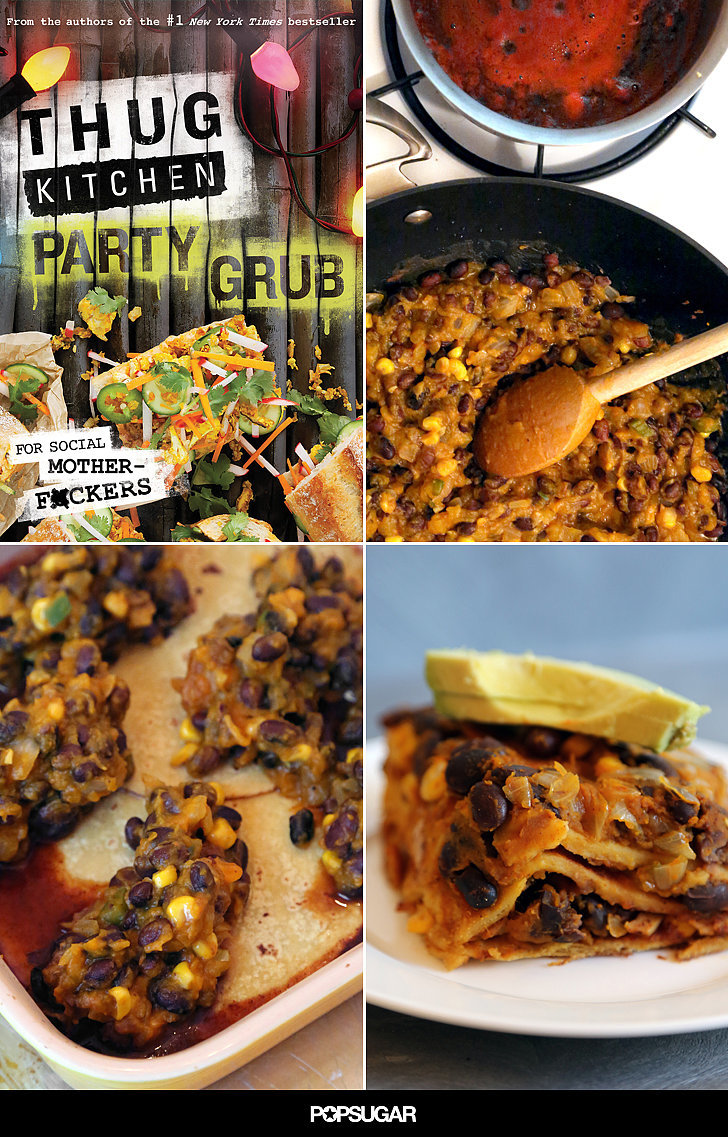 Information
Category

Main Dishes, Beans

Cuisine

Mexican

Yield

Serves enough for 6-8 people