Easy Quinoa Salad With Avocado, Nuts, and Dried Fruit
Fresh and Fruity Red Quinoa Salad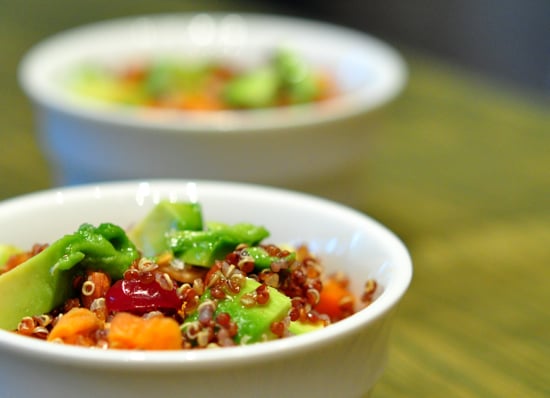 Only a couple weeks ago, Party made a delicious black bean quinoa, and ever since then I've had a hankering for quinoa salad. Recently, I found red quinoa which is very similar to regular quinoa, but with a stunning color.
This uncomplicated recipe combines quinoa, avocado, dried fruit, and nuts dressed in a tart lemon vinaigrette. I didn't have raisins on hand, so I used cranberries and they proved to be a perfect substitute.
This protein-packed dish is a great side or an easy lunch. The salad is nutty, fruity, creamy, and full of satisfying texture. If you want to experiment with quinoa, keep reading for the recipe.
Quinoa Salad With Avocado, Dried Fruit and Nuts
Ingredients
3 Tbs. cranberries
2 Tbs. dried apricots, thinly sliced
1 cup red or white quinoa, rinsed well
Kosher salt
1 large lemon
3 Tbs. extra-virgin olive oil
1/4 tsp. ground coriander
1/4 tsp. ground cumin
1/4 tsp. sweet paprika
2 medium firm-ripe avocados (6 to 7 oz. each), pitted, peeled, and cut into 1/2-inch chunks
2 medium scallions, white and light green parts only, thinly sliced
2 to 3 Tbs. coarsely chopped toasted almonds
Freshly ground black pepper
Directions
In a medium bowl, soak the cranberries and apricots in hot water for 5 minutes. Drain and set aside.
In a 2-quart saucepan, bring 2 cups water, the quinoa, and 1/2 tsp. salt to a boil over high heat. Cover, reduce the heat to medium low, and simmer until the water is absorbed and the quinoa is translucent and tender, 10 to 15 minutes. (The outer germ rings of the grain will remain chewy and white. Some germ rings may separate from the grain and will look like white squiggles.) Immediately fluff the quinoa with a fork and turn it out onto a baking sheet to cool to room temperature.
Finely grate the zest from the lemon and then squeeze 1 Tbs. juice. In a small bowl, whisk the lemon zest and juice with the olive oil, coriander, cumin, paprika, and 1/4 tsp. salt. In a large bowl, toss the vinaigrette with the quinoa, cranberries, apricots, avocado, scallions, and almonds. Season to taste with salt and pepper and serve.
Serves 4.
Information
Category

Grains , Salads

Cuisine

North American