Easy Recipe For Grilled Steak With Sauce Vierge
Sunday BBQ: Grilled Steak With Sauce Vierge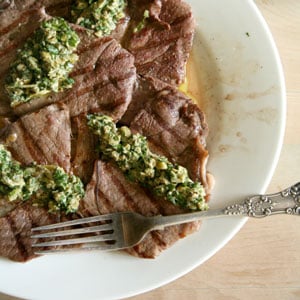 For an elegant but relaxed approach to tonight's dinner, serve grilled steaks with a sauce vierge.
This light and pungent sauce, which literally translates to "virgin sauce," is the Frenchman's rendition of Italy's salsa verde. Although the traditional elements, like capers, parsley, olive oil, and garlic still play a starring role, so do Provençal ingredients such as cornichons and Dijon mustard. As you allow all of the elements of the sauce to commingle, start heating up the grill to work on the steaks.
If you need to accommodate pescetarians, serve the fresh sauce on top of seared tuna or swordfish steaks for an equally tasty supper. Ready for the recipe? Then keep reading.
Grilled Steak with Sauce Vierge
From Saveur
Ingredients
1⁄4 cup roughly chopped flat-leaf parsley
1 tbsp. capers
12 large green olives, such as cerignola, pitted and roughly chopped
6 oil-packed anchovy filets, drained and finely chopped
4 cornichons, roughly chopped
1 shallot, finely chopped
1 clove garlic, finely chopped
1 jalapeño, stemmed and finely chopped
1⁄2 cup extra-virgin olive oil
1 tbsp. dijon mustard
Kosher salt and freshly ground black pepper, to taste
4 1⁄2 "-thick top sirloin steaks (about 2 lbs.)
Directions
On a cutting board, pile together the parsley, capers, olives, anchovies, cornichons, shallots, garlic, and jalapeño. With a large knife, finely chop and scrape the ingredients to combine.
Transfer the parsley mixture to a large bowl and stir in 6 tbsp. of the olive oil and the mustard with a fork to make a thick and chunky sauce. (Drizzle in more olive oil for a thinner consistency, if you like.) Season with salt and pepper. Set the sauce aside at room temperature to let rest for 30 minutes, to allow the flavors to mingle.
Build a hot charcoal fire in a grill or heat a gas grill to high heat. Rub steaks with the remaining olive oil and season lightly with salt and pepper. Grill steaks, turning once, until lightly browned and medium rare, about 2–3 minutes per side. Transfer steaks to a platter and let rest for 3 minutes. Stir the sauce (it will begin to separate slightly as it sits) and spoon it over the steaks. Serve hot or at room temperature.
Serves 4.
Information
Category

Main Dishes, Beef

Cuisine

French