Easy Recipe For Hawaiian Coconut Pineapple Ceviche
Missing the Tropics? Hawaiian Ceviche Will Help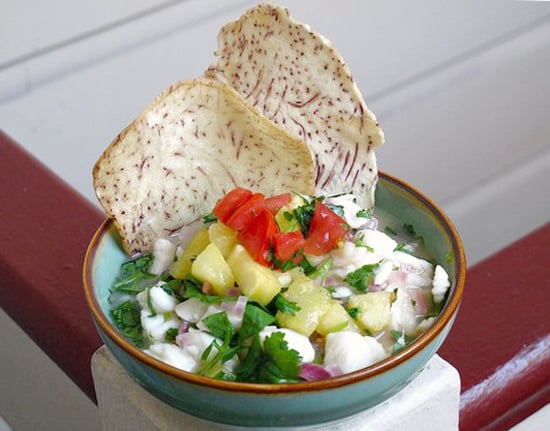 I'm fresh off the plane from Maui, and my first visit was so fantastic that I'm already plotting my return. There, the fruits of the sea were so abundant that I had fish at virtually every single meal, in fresh preparations from spicy tuna poke to seared, sesame-encrusted steaks. One of my favorite ways to enjoy local catch like ono was in a Hawaiian-style ceviche with a tropical coconut marinade. I missed the dish so much that when my sunburned self returned to overcast San Francisco, it was the first meal I prepared for myself at home.
Incidentally, this recipe is from The Ritz-Carlton Kapalua, the resort that I called home for an all-too-brief period of time. It's been the best stand-in for a beachside vacation — that is, until I find my way back to the island. For the recipe, read more.
Hawaiian Ceviche with Pineapple Salsa
Adapted from Sunset
Ingredients
1 pound boned, skinned halibut
1/2 cup lime juice
1 cup pineapple juice
1/2 cup light coconut milk
1 cup minced red onion
1 tablespoon minced garlic
1/4 cup chopped fresh cilantro
1-1/2 teaspoons hot sauce, such as Sriracha
Salt
Pineapple salsa (see below)
Taro chips, for serving
Pineapple salsa:
1 cup 1/2-inch chunks peeled fresh pineapple
1/2 cup 1/2-inch chunks firm-ripe tomato
1/4 cup chopped fresh cilantro
1 to 1-1/2 teaspoons minced fresh jalapeño chili
Salt
Directions
Prepare fish: Rinse fish and pat dry; cut lengthwise into 1/4-inch-thick strips, then stack two or three at a time and cut into pieces 1 to 1 1/2 inches long. Place in a bowl. Pour lime juice over fish and mix.
In a 1 1/2- to 2-quart pan over high heat, bring pineapple juice, coconut milk, onion, and garlic to a boil; cook 2 minutes. Stir in fish mixture and remove from heat. Let cool about 5 minutes, stirring occasionally, then chill until cold, at least 40 minutes, or up to 4 hours, stirring occasionally.
Meanwhile, prepare the pineapple salsa: In a bowl, mix pineapple, tomato, and cilantro. Add jalapeño chili and salt to taste. Makes about 1-1/4 cups salsa; chill.
Finish and serve: Return to ceviche mixture, and stir in cilantro and add hot sauce and salt to taste. Spoon equal portions into martini glasses or small bowls. Garnish with a generous spoonful of pineapple salsa. Serve with taro chips.
Serves 6 to 8 as a first course.


Like the recipe above? Try out some of these:
Information
Category

Seafood, Appetizers

Cuisine

Other