Easy Recipe For Pomegranate Chicken With Walnuts
Fast & Easy Dinner: Pomegranate Chicken With Walnuts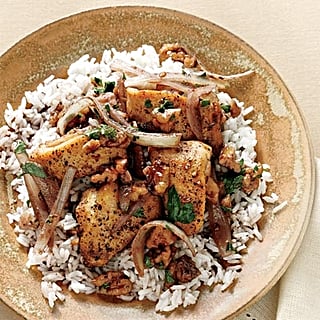 Although I'm a fan of interesting vinegars and exotic sauces, it can be pricey to purchase a bottle of something you may only use once. That's why it's nice to look toward the juice aisle. Juice is an incredibly affordable flavoring agent — and you can drink it after you cook with it. In this recipe, cranberry pomegranate juice is used to season savory chicken thighs. It's an effortless dish that's also elegant enough to serve friends without breaking the bank. Check out the technique and read more.


Pomegranate Chicken With Walnuts
Ingredients
2 cups rice
5 skinless, boneless chicken thighs (about 1 pound), cut into quarters
Salt and pepper
1/4 cup vegetable oil
1 large onion, halved and sliced
1 clove garlic, smashed
3/4 cup walnuts, coarsely chopped
1 teaspoon ground cinnamon
1 1/2 cups cranberry-pomegranate juice
2 tablespoons chopped flat-leaf parsley
Directions
In a medium saucepan, bring the rice and 2 1/4 cups water to a simmer. Cover and cook over medium-low heat until the water has evaporated and the rice is tender, about 20 minutes.
Meanwhile, season the chicken with salt and pepper. In a large nonstick skillet, heat the oil over medium-high heat. Add the chicken and cook, turning once, until browned, about 7 minutes; transfer to a plate.
Add the onion, garlic and walnuts to the skillet and cook, stirring often, until the onion is softened, about 5 minutes.
Stir in the cinnamon, scraping up any browned bits. Return the chicken and any juices to the pan, add the cranberry-pomegranate juice and simmer until the chicken is cooked through, 3 to 4 minutes; transfer the chicken to a serving platter.
Cook the sauce, stirring occasionally, until thickened slightly, about 3 minutes; stir in the parsley and pour over the chicken. Serve on top of the rice.
Serves 4.
Information
Category

Poultry, Main Dishes

Cuisine

Mediterranean/Middle Eastern