Easy Recipe For Strawberry Chiffon Layer Cake
Charm Loved Ones With a Strawberry Layer Cake My guy's favorite dessert of all time is strawberry shortcake, and for weeks now, he's been begging me to make it. Since the beloved berries are starting to turn up at the farmers market, I finally decided to win him over with a luxuriously creamy strawberry layer cake.
Unfortunately, the day I baked this cake, the city of San Francisco had record-high temperatures, something that my cool, whipped cake wasn't so thrilled about — it wound up being a classic case of theirs versus mine.
While I wouldn't suggest making this layer cake during a heat wave with no A/C and a hot oven, I would otherwise highly recommend this sweet, satisfying, crowd-pleaser of a dessert. It's a perfect use for Spring strawberries. To see the recipe,
.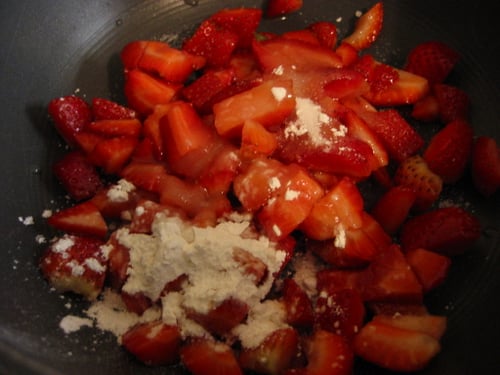 Strawberries and Cream Cake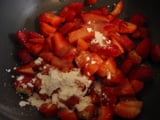 Ingredients
2 sticks (8 ounces) unsalted butter, at room temperature
2 cups plus 6 tablespoons sugar
4 large eggs, at room temperature
1 tablespoon baking powder
1 1/2 teaspoons pure vanilla extract
1 teaspoon baking soda
1/4 teaspoon salt
2 cups low-fat buttermilk
3 cups flour
2 pints strawberries, hulled (I would recommend 3 pints)
1 1/2 teaspoons cornstarch
1 teaspoon fresh lemon juice
8 ounces mascarpone cheese
1 pint heavy cream
Directions
Preheat the oven to 350°. Grease a large rimmed baking sheet and line with parchment that extends an inch above the rim on all sides. Grease the parchment and set aside.
Using an electric mixer, beat the butter and 2 cups sugar at high speed, scraping down the sides occasionally, until fluffy, about 5 minutes. Add the eggs 1 at a time, beating after each addition. Mix in the baking powder, vanilla, baking soda and salt at medium speed. Add half each of the buttermilk and flour and mix at low speed just until smooth. Repeat with the remaining buttermilk and flour.
Pour the batter into the prepared pan and spread evenly. Bake until a toothpick inserted comes out clean, 25 to 30 minutes. Transfer to a large rack to cool, then invert and discard the parchment.
Chop half the berries and place in a small saucepan with 2 tablespoons sugar, the cornstarch and lemon juice, simmering over low heat. Cook, stirring often, until thickened, about 5 minutes. Let cool.
Using an electric mixer, whisk the mascarpone with the remaining 1/4 cup sugar on low speed, then add the cream until combined. Increase the speed to medium-high and whisk until stiff peaks form, 3 to 4 minutes.
Using a serrated knife, cut the cake crosswise into thirds. Set 1 layer on a serving platter and spread half the strawberry puree on top, followed by 1 1/2 cups frosting. set the second layer on top of the frosting and press lightly into place. Spread the remaining puree on top, then another 1 1/2 cups frosting. Place the third layer on top and press lightly. Coat with the remaining frosting. Slice the remaining berries and scatter on top.
Serves 10.
Information
Category

Desserts, Cake

Cuisine

North American