Easy Recipe For White Bean and Sausage Stew
Sunday Dinner: White Bean and Sausage Stew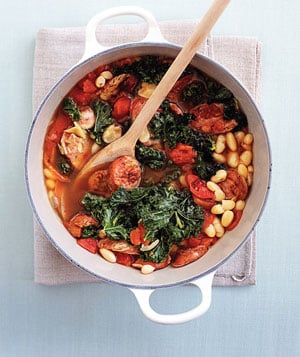 When the temperatures drop, there's nothing more satisfying than a warm, hearty stew. But you don't need to have an entire afternoon at your disposal to brew up a batch of flavorful soup — all you need is 15 spare minutes.
This stew utilizes canned cannellini beans and precooked chicken sausage to whip up a meal in minimal time. Diced tomatoes add acidity, and fresh kale adds texture and earthiness. If you've got more time on your hands, use dried beans or uncooked sausage. Whatever you choose, pair it with a crusty baguette and a glass of Pinot for the perfect Fall dinner.
For the no-fuss recipe, keep reading.
Ingredients
1 tablespoon olive oil
1 12-ounce package fully cooked chicken sausage links, sliced
2 cloves garlic, thinly sliced
1 19-ounce can cannellini beans, rinsed
1 14½-ounce can low-sodium chicken broth
1 14½-ounce can diced tomatoes
1 bunch kale leaves, torn into 2-inch pieces
1/4 teaspoon Kosher salt and black pepper
1 loaf country bread (optional)
Directions
Heat the oil in a large saucepan or Dutch oven over medium heat.
Add the sausage and cook, stirring once, until browned, 2 to 3 minutes. Stir in the garlic and cook for 2 minutes more.
Add the beans, broth, and tomatoes and their liquid and bring to a boil. Add the kale and ¼ teaspoon each salt and pepper and simmer, stirring occasionally, until wilted, 2 to 3 minutes. Serve with the bread, if using.
Serves 4.
Information
Category

Soups/Stews, Bean

Cuisine

North American