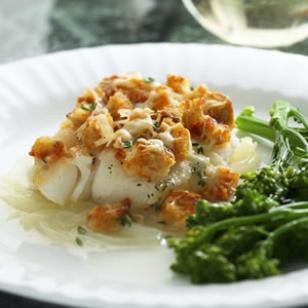 If you're looking for a way to introduce your children to the wonderful world of fish, I highly recommend starting with this simple recipe. It takes a mild, firm white fish, such as cod, and coats it in a delectable topping of sautéed onions, wheat bread, and cheese. It's sort of like a fish gratin and is lightly seasoned with garlic powder and paprika. The resulting dish is far from "fishy" — instead it's succulent and delicious. Serve with a green salad, buttered pasta, or roasted veggies. Get the recipe and
.


Ingredients
2 tablespoons extra-virgin olive oil, divided
2 medium onions, very thinly sliced
1 cup dry white wine
1 1/4 pounds cod, cut into 4 pieces
2 teaspoons chopped fresh thyme
1/2 teaspoon kosher salt
1/2 teaspoon black pepper
1 1/2 cups finely chopped whole-wheat country bread (about 2 slices)
1/2 teaspoon paprika
1/2 teaspoon garlic powder
1 cup finely shredded Gruyere, or Swiss cheese
Directions
Preheat oven to 400°F.
Heat 1 tablespoon oil in a large ovenproof skillet over medium-high heat. Add onions and cook, stirring often, until just starting to soften, 5 to 7 minutes.
Add wine, increase heat to high and cook, stirring often, until the wine is slightly reduced, 2 to 4 minutes.
Place cod on the onions and sprinkle with thyme, salt and pepper. Cover the pan tightly with foil; transfer to the oven and bake for 12 minutes.
Toss bread with the remaining 1 tablespoon oil, paprika and garlic powder in a medium bowl. Spread the bread mixture over the fish and top with cheese. Bake, uncovered, until the fish is opaque in the center, about 10 minutes more.
Serves 4.
Information
Category

Main Dishes, Fish

Cuisine

North American