Easy St Patrick's Day Brunch Menu
Come Party With Me: St. Patrick's Day — Menu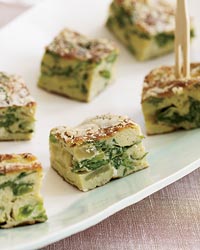 I'm of Irish descent, and St. Patrick's Day is one of my favorite holidays. Every March I do something different: last year I hosted a cocktail party with green appetizers; in 2008, I helped cook Irish-inspired snacks; and in 2007 I threw a special dinner with blarney stone cottage pie. This weekend, I'm putting together an early lunch with friends and family.
We'll be going to the parade in downtown San Francisco, but before, we'll meet at Danny Coyle's, an Irish pub on Haight Street that lets patrons bring in their own food. I'm serving a simple, festive, and portable menu of mustard green and sweet onion frittata bites and smoked salmon sandwiches.
The sandwiches are served on homemade biscuits, and although the recipe calls for parmesan cheese, I'll substitute a good Irish cheddar. Interested in the recipes? Read more.
Mustard Green and Sweet Onion Frittata
From Food & Wine
Ingredients
3 tablespoons extra-virgin olive oil
1 large sweet onion, diced
1 1/2 pounds mustard greens, stems discarded and leaves coarsely chopped
16 large eggs, beaten
Kosher salt and freshly ground pepper
1/3 cup grated Parmigiano-Reggiano
Directions
Preheat the oven to 350°.
In a large ovenproof nonstick skillet, heat 1 tablespoon of the oil. Add the onion and cook over moderately high heat until golden brown, 10 minutes. Add the greens and cook until wilted.
Season the eggs with salt and pepper and whisk in the remaining 2 tablespoons of oil. Pour the eggs into the skillet and cook over moderate heat until the bottom and sides begin to set. Lift the sides of the frittata to allow the uncooked eggs to seep under. Continue cooking until the bottom is set and the top is still runny, 3 minutes. Sprinkle the Parmigiano-Reggiano on top.
Transfer the skillet to the oven and bake for about 8 minutes, until the center of the frittata is set.
Slide the frittata onto a cutting board. Cut into 1 1/2-inch squares and serve hot, warm or at room temperature.
Serves 8.
Information
Category

Appetizers, Finger Foods

Cuisine

Italian
Ingredients
1 1/2 cups all-purpose flour
1/2 cup stone-ground cornmeal
1/2 teaspoon fine sea salt
2 teaspoons baking powder
1 teaspoon baking soda
2 ounces (1/2 stick) unsalted butter, cut into 1/2-inch cubes
2 cups (5 1/2 ounces) grated Parmesan
1/2 cup finely chopped green onions
3/4 cup buttermilk
1/3 cup olive oil
1/2 cup Lemon Butter, at room temperature, recipe follows
3 cups baby arugula
10 ounces smoked salmon or prosciutto
Directions
Place an oven rack in the center of the oven. Preheat the oven to 400 degrees F. Line a baking sheet with parchment paper. Set aside.
In a medium bowl, combine the flour, cornmeal, salt, baking powder, and baking soda.
Add the butter. Using fingertips or a pastry blender, work the butter into the flour until the mixture resembles a coarse meal.
Stir in the Parmesan and green onions. Add the buttermilk and olive oil. Stir until the mixture forms a dough.
Drop the dough onto the prepared baking sheet in 12 equal-sized pieces. Bake for 18 to 20 minutes until golden. Cool the biscuits for 10 minutes then transfer to a rack to cool completely.
Slice each biscuit in half and spread the bottom half with 1 teaspoon of lemon butter. Add some arugula leaves and place a small slice of smoked salmon on top. Add the top half of the biscuit and serve.
Makes 12 sandwiches.


Lemon Butter

1/2 cup (1 stick) unsalted butter, at room temperature
1 lemon, zested

In a small bowl, mash the butter and lemon zest together using a fork. Refrigerate until ready to use.

Makes 1/2 cup.
Information
Category

Appetizers, Finger Foods

Cuisine

North American