Easy Turkey Stock Recipe
Kick Gravy up a Notch With Fast and Easy Turkey Stock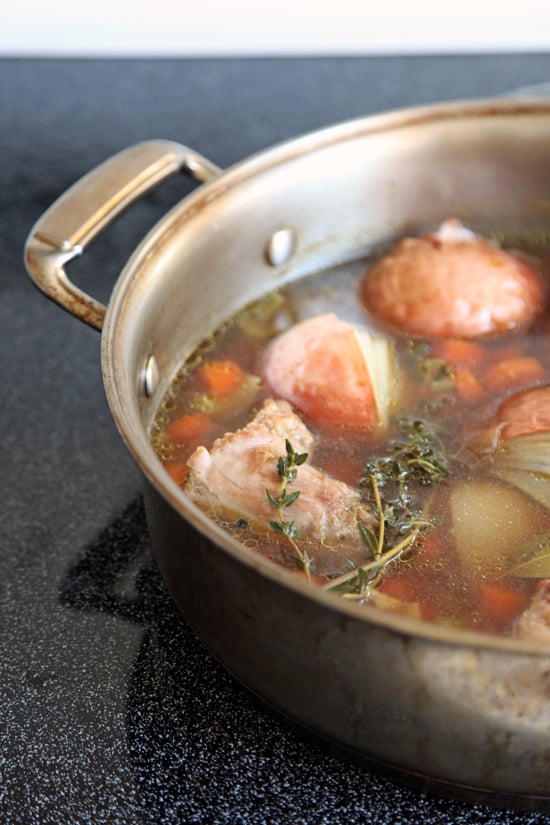 In past Thanksgivings, homemade turkey stock has been conspicuously absent from my kitchen game plan. Despite my usual insistence on simmering up stock for other applications, I never quite felt up to the task of making turkey stock. Perhaps I reasoned that it would take me away from the laundry list of other kitchen rituals involved with the big day, or maybe I was put off by my assumption that it required an excess of planning.
Either way, I've learned my lesson. It turns out that all it takes is a few minutes spent chopping, one or two absent-minded stirs of the pan, and less than an hour of unattended time for the requisite ingredients to make friends and mingle away on the stove. The result speaks for itself; never in my many gravy-devouring years have I tasted a batch that is as intensely turkey-flavored, complex, or as all-around delightful. It's more than worth the minimal effort in my book.
Keep reading for the fast and easy recipe.
Turkey Neck Stock
Adapted from Gourmet
Notes
If you have a very sharp cleaver, break down the turkey neck into 1-inch segments before adding to the pan, otherwise, add it whole (most chefs knives are not sturdy enough for the task). While this stock can be prepared up to three days ahead of time (stored in the refrigerator) it requires little time or devoted attention to make, and therefore can be prepared while the turkey roasts.
Ingredients
1 tablespoon neutral oil, like canola or grapeseed
Neck and giblets (excluding liver) from a turkey
2 celery ribs, coarsely chopped
2 carrots, peeled and coarsely chopped
1 onion (not peeled), quartered
1 3/4 cups reduced-sodium chicken stock
4 cups water
1 bay leaf
1 teaspoon black peppercorns
1 sprig fresh thyme
Directions
Heat the oil over medium-high heat in a dutch oven, or large straight-sided skillet (6+ quart capacity), until it shimmers.
Add the turkey parts, celery, carrots, and onion to the pan and brown, turning occasionally, for about 6 minutes.
Deglaze the pan by adding the chicken stock and using the bottom of a flat-sided wooden spoon to scrape up the brown bits. Add the water, bay leaf, peppercorns, and thyme and bring to a boil, then reduce the heat to maintain a bare simmer, and cook for about 45 minutes.
Use a spider skimmer to remove the larger pieces, then strain the stock through a fine mesh strainer into a large heat-safe bowl, pressing on any remaining solids to ensure you get all of the liquid. Reserve until it's time to make gravy.
Information
Category

Soups/Stews, Stock/Broth

Cuisine

North American

Yield

Makes about 1 quart stock