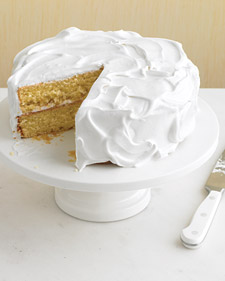 This Friday a group of my closest friends will join me at my vacation house in the mountains. It's going to be a whirlwind weekend filled with amazing eats, snowboarding, and a birthday celebration. My girlfriend Katie is turning 29 and I'm making her cake.
When I asked her what kind of cake she wanted (and explained that the sky's the limit!), she simply replied, "I want a vanilla cake. Is that boring?" Hardly. A basic vanilla cake with whipped frosting is elegant and classic. To make it extra special, I'll place 29 candles on it. Want to see the recipe I'm using? Keep reading.


Ingredients
For the cake:
1 cup (2 sticks) unsalted butter, room temperature, plus more for pans
2 1/2 cups all-purpose flour (spooned and leveled), plus more for pans
1/2 teaspoon baking powder
1/2 teaspoon baking soda
1 teaspoon salt
1 1/2 cups sugar
2 large eggs plus 3 large egg yolks
2 teaspoons pure vanilla extract
1 cup low-fat buttermilk
For the whipped frosting:
3 large egg whites
3/4 cup sugar
Pinch of salt
1/3 cup water
1/4 teaspoon pure vanilla extract
Directions
Preheat oven to 350 degrees. Butter and flour two 8-by-2-inch cake pans, tapping out excess flour.
In a medium bowl, whisk flour, baking powder, baking soda, and salt.
In a large bowl, using an electric mixer, beat butter and sugar until light and fluffy. With mixer on low, beat in eggs and yolks, one at a time. Beat in vanilla. Alternately beat in flour mixture and buttermilk, beginning and ending with flour mixture; mix just until combined.
Divide batter between pans; smooth tops. Bake until cakes pull away from sides of pans, 32 to 35 minutes. Let cool in pans 10 minutes. Run a knife around edges of pans and invert cakes onto a wire rack. Let cool completely.
Make the whipped frosting: In a heatproof bowl set over (not in) a saucepan of simmering water, combine 3 large egg whites, 3/4 cup sugar, a pinch salt and 1/3 cup water. Cook over medium, stirring constantly, until sugar has dissolved (or mixture registers 150 on an instant-read thermometer), 2 to 3 minutes.
Transfer to a large bowl. Using an electric mixer, beat on medium-high until glossy, stiff peaks form (do not overbeat), about 3 minutes; reduce speed to low, add 1/4 teaspoon pure vanilla extract, and beat just until combined.
Place one cake, bottom side up, on a cake stand. Tuck strips of parchment paper underneath. Using an offset-spatula or table knife, spread top with whipped frosting. Top with remaining cake; frost top, then sides.
Serves 12.
Make ahead: Store unfrosted cakes at room temperature up to 1 day. Once frosted, serve within a few hours.
Information
Category

Desserts, Cake

Cuisine

North American