Easy Vegan Dinner Party Menu and Recipes
Come Party With Me: Vegan Dinner — Menu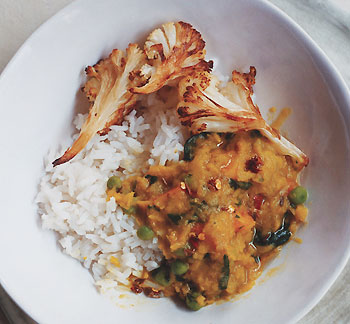 Much to my dismay, my sister and girlfriends are going on a 10-day detox where they'll eat vegan and give up alcohol. Since I'm not participating (what can I say? I can't live without cheese and a glass of wine!), I'll get in on the fun by hosting a vegan dinner. This flavorful meal that's chock-full of vegetables starts with a chickpea, mint, and parsley spread slathered on pita bread. For the first course I'll offer a colorful beet salad with tangerines.
The star of the show is a curried red lentil stew with vegetables and rice. It's a menu that's hearty, healthy, and downright scrumptious, so get the recipes after the break.
Ingredients
1/2 cup olive oil, plus more for drizzling
1 medium onion, coarsely chopped
4 small garlic cloves, coarsely chopped
2 cups chickpeas, rinsed and drained
1/3 cup fresh mint, coarsely chopped
1/4 cup fresh flat-leaf parsley, coarsely chopped
2 tablespoons plus 1 teaspoon fresh lemon juice
1 1/4 teaspoons coarse salt
Freshly ground pepper
2 to 4 warmed pitas, for serving
Directions
Heat 1/4 cup oil in a saucepan over medium heat. Add onion, and cook until softened, about 8 minutes.
Add garlic, and cook, stirring, 2 minutes. Add chickpeas, and cook 3 minutes. Remove from heat; let cool 15 minutes.
Add chickpea mixture, mint, parsley, lemon juice, and salt to a food processor, season with pepper, and puree. With machine running, add remaining 1/4 cup oil in a slow, steady stream, mixing until emulsified. Spread can be refrigerated in an airtight container up to 3 days.
Transfer to a serving bowl, and drizzle with oil. Serve with pitas.
Makes 2 cups.
Information
Category

Appetizers, Spreads

Cuisine

Mediterranean/Middle Eastern
Ingredients
24 baby orange beets
2 tablespoons pine nuts
1/4 cup plus 1 teaspoon vegetable oil
8 tangerines
4 small shallots, thinly sliced
3 tablespoons raspberry vinegar
Salt
Directions
Preheat the oven to 375°. Put the beets in a roasting pan, cover with foil and bake them for about 1 hour, until they are tender. When they are cool enough to handle, peel and quarter the beets.
In a pie plate, toss the pine nuts with 1 teaspoon of the vegetable oil and toast them in the oven for about 3 minutes, until the pine nuts are golden brown.
Using a sharp knife, peel the tangerines. Working over a medium bowl, slice in between the membranes to release the tangerine sections. Squeeze the juice from the membranes into a small bowl; you should have 1/2 cup.
In another small bowl, toss the sliced shallots and raspberry vinegar with a pinch of salt and let stand for 5 minutes. Stir in the 1/2 cup of tangerine juice and the remaining 1/4 cup of vegetable oil and season the dressing with salt.
Arrange the beets and tangerine sections on plates and drizzle with the dressing. Top with the toasted pine nuts and serve.
Serves 8.
Make Ahead: The roasted beets can be refrigerated overnight. Bring to room temperature before proceeding.
Information
Category

Vegetables, Salads

Cuisine

North American
Curried Red-Lentil Stew With Vegetables
From Gourmet
Ingredients
6 tablespoons vegetable oil
1 medium onion, finely chopped
1 1/4 teaspoons salt
1 (2- by 1-inch) piece peeled fresh ginger, quartered
5 large garlic cloves, coarsely chopped
5 1/3 cups water
1 1/2 teaspoons curry powder
3/4 teaspoon ground turmeric
1/2 teaspoon ground cumin
1 cup red lentils, picked over and rinsed
3 medium carrots, quartered lengthwise, then cut crosswise into 1/2-inch pieces
3 cups chopped trimmed spinach leaves (3 ounces)
1 cup frozen peas (not thawed)
1/2 cup chopped fresh cilantro
1/4 teaspoon cumin seeds
1/4 teaspoon dried hot red-pepper flakes
basmati rice; roasted cauliflower fresh cilantro sprigs, for serving
Directions
Heat 1/4 cup oil in a 4- to 5-quart heavy pot over moderate heat until hot but not smoking, then cook onion with 1/4 teaspoon salt, stirring occasionally, until golden, 8 to 10 minutes.
Meanwhile, purée ginger, garlic, and 1/3 cup water in a blender. Add purée to golden onion and cook, stirring, until water is evaporated and oil visibly separates from onion mixture, about 5 minutes.
Add curry powder, turmeric, and cumin and cook over low heat, stirring, 1 minute. Stir in lentils and remaining 5 cups water and simmer, covered, stirring occasionally, 30 minutes.
Add carrots and remaining teaspoon salt and simmer, covered, stirring occasionally, until carrots are tender and lentils have broken down into a coarse purée, 15 to 20 minutes.
Stir in spinach and peas and simmer, uncovered, stirring occasionally, until peas are tender, about 3 minutes. Stir in cilantro and season stew with salt and pepper. If necessary, add enough water to thin stew so that it can easily be ladled over rice.
Just before serving, heat remaining 2 tablespoons oil in a small skillet over moderately high heat until hot but not smoking, then cook cumin seeds and red-pepper flakes, stirring, until fragrant and a shade darker, 30 to 45 seconds (be careful not to burn spices). Pour hot spice oil in a swirl over stew.
Serves 4-6.
Make Ahead: Stew, without spinach, peas, cilantro, and spice oil, can be made ahead and chilled, uncovered, until completely cooled, then covered up to 5 days, or frozen 3 months. Reheat over moderately low heat, thinning with water to a pourable consistency and stirring frequently, before adding remaining ingredients.
Information
Category

Other, Main Dishes

Cuisine

Indian