An Easy Way to Shred Meat
Simple Tip: Use a Standing Mixer to Shred Meat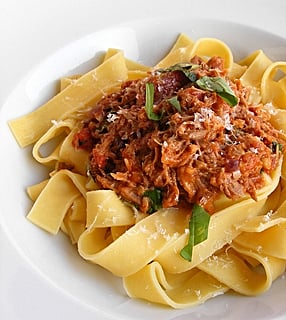 I knew little about the process of making duck confit and rillette — that is, until I watched chef Matt Bolton make the two at this year's Chefs' Holidays. It was a revelation to realize how something as simple as preserving meat in its own fat could produce such tender results.
Another groundbreaking concept? The idea that the paddle attachment of a standing mixer can be a boon for things savory as much as sweet. To shred the confited duck for his rillette, the chef didn't bother with a fork, knife, or cutting board; he simply dumped the meat in his mixer (with the paddle attachment), turned it on, and within moments had perfectly shredded duck meat.
Have you ever used a mixer to shred meat?
Source: Flickr User FotoosVanRobin