Easy Weeknight Meal: Ham and Cheese Quesadillas
You'd be hard pressed to find a simpler dinner than these quesadillas served alongside melon. The quesadillas, with their flour tortillas encasing oozy, gooey melted mozzarella, are inspired by Mexican and Italian cuisines. Next time, for even more of an Italian twist, I'll swap the ham for prosciutto to balance out the mozzarella, which is mild and doesn't contain much salt. The cantaloupe proves to be a sweet, aromatic complement to the prosciutto. Although you can use any type of mozzarella, I recommend the fresh kind over the low-moisture variety because it melts differently. Since I had them on hand, I replaced the mozzarella with bocconcini, or small mozzarella balls. Regardless of what mozzarella you use, I recommend patting it dry with a cloth or paper towel, so your cheese doesn't seep moisture, resulting in a soggy quesadilla. To get the recipe,
.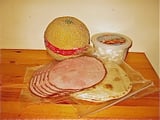 Ingredients
4 10-inch flour tortillas
1 pound fresh mozzarella, thinly sliced
1/2 pound thinly sliced deli ham
1 cantaloupe, cut into small wedges
Directions
Heat broiler.
On one half of each tortilla, layer the mozzarella and ham.
Fold the other half of each tortilla over to cover and place on a broilerproof sheet pan.
Broil until the cheese has melted and the tortillas are browned, 2 to 3 minutes per side.
Cut into wedges and serve with the cantaloupe.
Serves 4.
Nutrition per serving
Calories 680 (47% from fat); Fat 35g (sat 19g); Cholesterol 109mg; Carbohydrate 50g; Sodium 1427mg; Protein 35g; Fiber 3g; Sugar 12g
Information
Category

Other, Main Dishes

Cuisine

North American