Bringing your lunch to work for a week is a wonderful way to save money and fuel up on major flavor. These inviting dishes may inspire you to start packing a brown bag, even a few days out of the week. Take a look!
— Additional reporting by Nicole Perry
Chickpea, Farro, and Greens Salad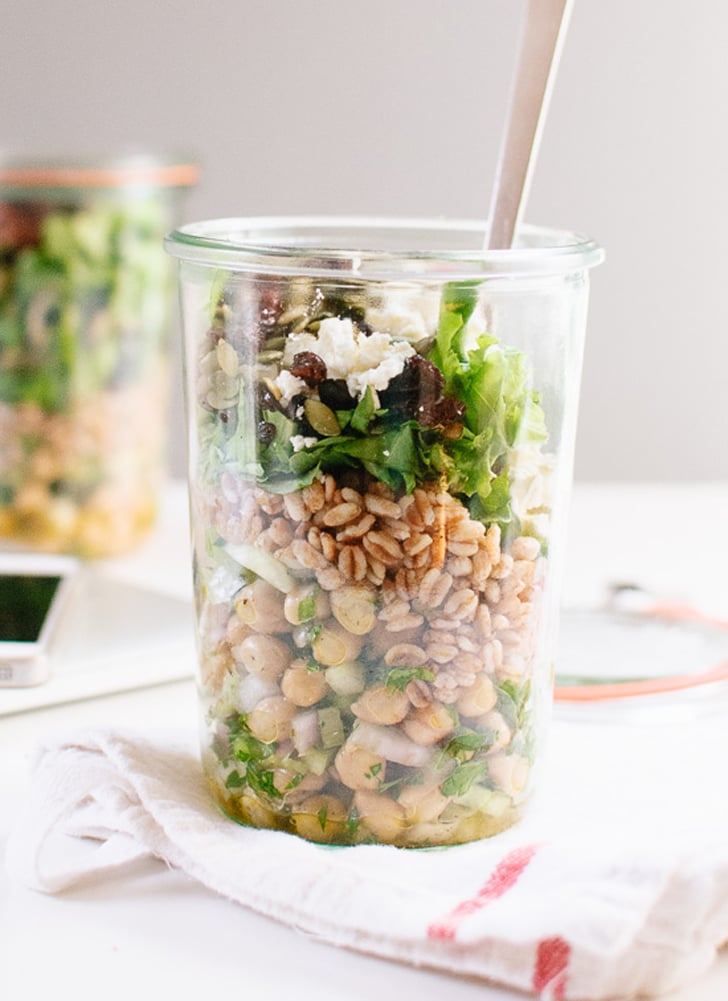 A Greek-inspired salad of chickpeas, farro, greens, olives, and feta [1] will inspire lunch-envy from your co-workers.
Vegan Mushroom Soup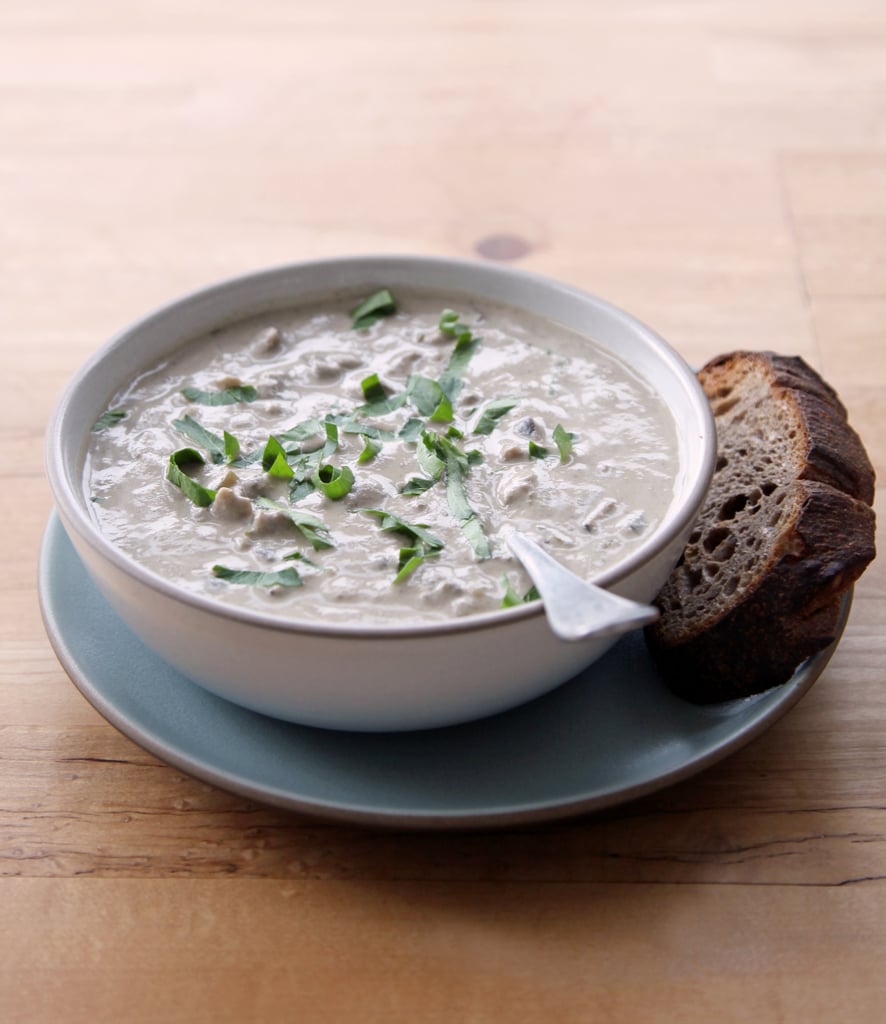 Cashew cream adds lush texture to wild-mushroom soup [2].
"Everything" Salad: Quinoa, Raisins, Pine Nuts, and More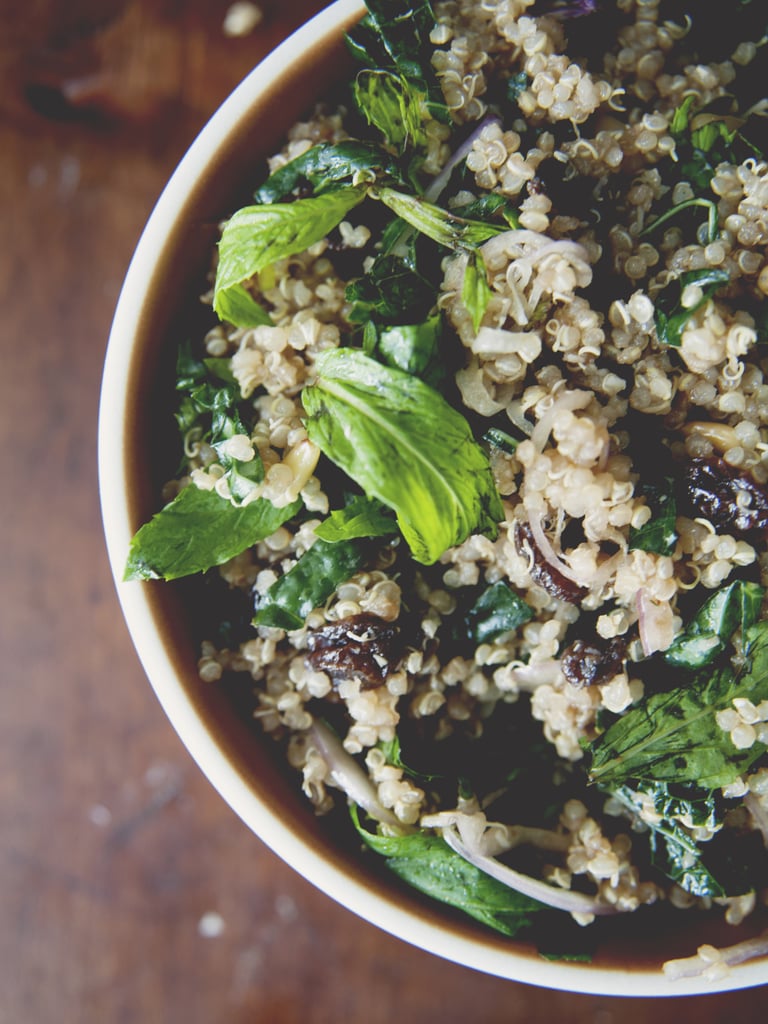 This salad really does have everything! Kale, mint, raisins, pine nuts, parmesan cheese, and other scrumptious ingredients work together to turn your meal [3] into a beautiful orchestra of flavors.
Slow-Cooker Beans and Quinoa With Scallions, Cheddar, and Hot Sauce
A big batch of slow-cooker beans and quinoa [4] yields enough for a whole week of lunches. (Hot sauce, scallions, and cheddar ensure you won't be sick of it by Friday.)
Kale Caesar Salad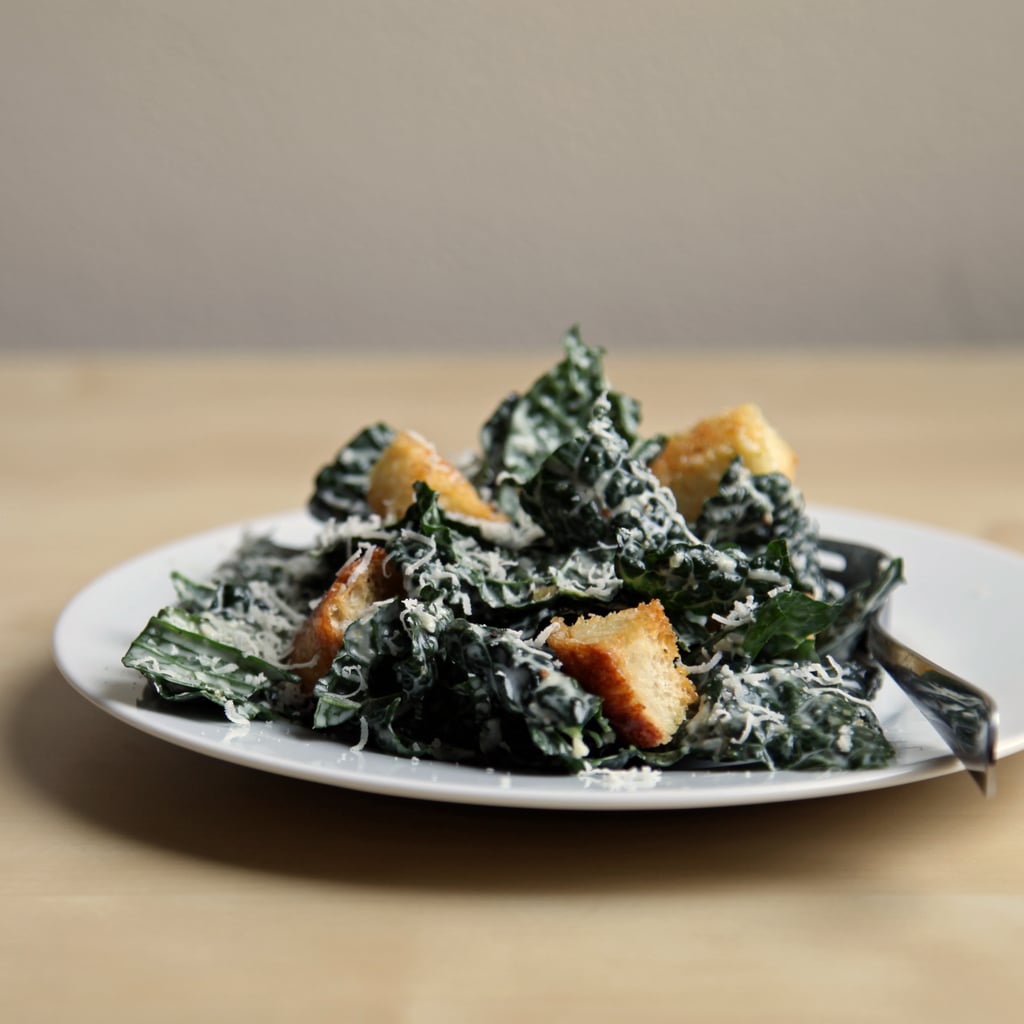 If you love caesar salad but need a change of pace, then look no further [5]. Kale adds a bit of bite to enliven an otherwise classic caesar. Just make sure to pack the croutons separately so they don't get soggy.
Rainbow Quinoa Salad With Honey-Citrus Vinaigrette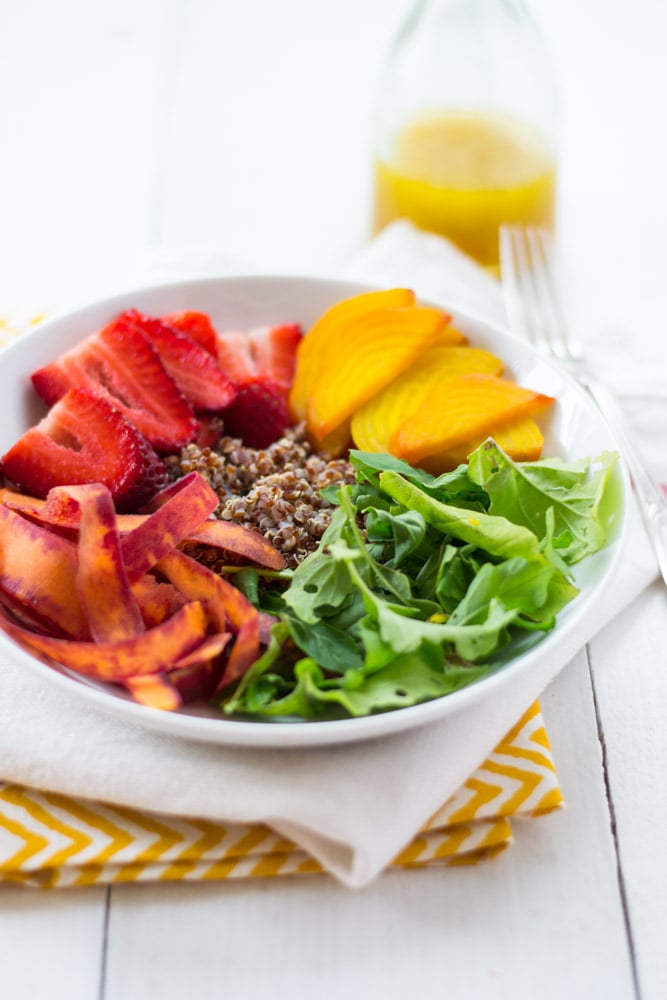 A rainbow in a bowl, this citrus quinoa dish [6] incorporates plenty of fresh produce. Prepare to make your co-workers jealous when you bust this out at lunch.
Turkey Club Sandwich
It's classic and comforting — and you can wrap a turkey club [7] in foil to go. Plus, it doesn't hurt that the smoky turkey and bacon complement the buttery flavors of the avocado and cheddar cheese perfectly.
Black-Bean Salad
Corn kernels, black beans, and confetti-like diced bell peppers, radishes, and red onion combine into a hearty, salsa-like salad [8].
Quinoa Chili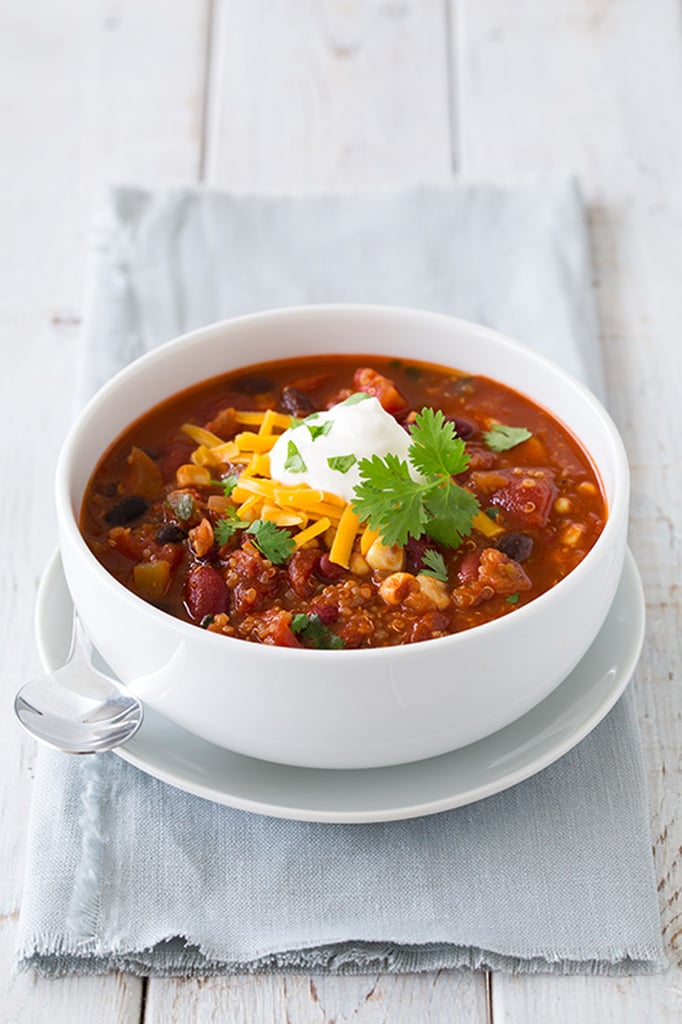 Instead of beef, chicken, or turkey, this loaded chili is bulked up with quinoa [9] for a vegetarian-friendly recipe.
Thai Peanut Quinoa Salad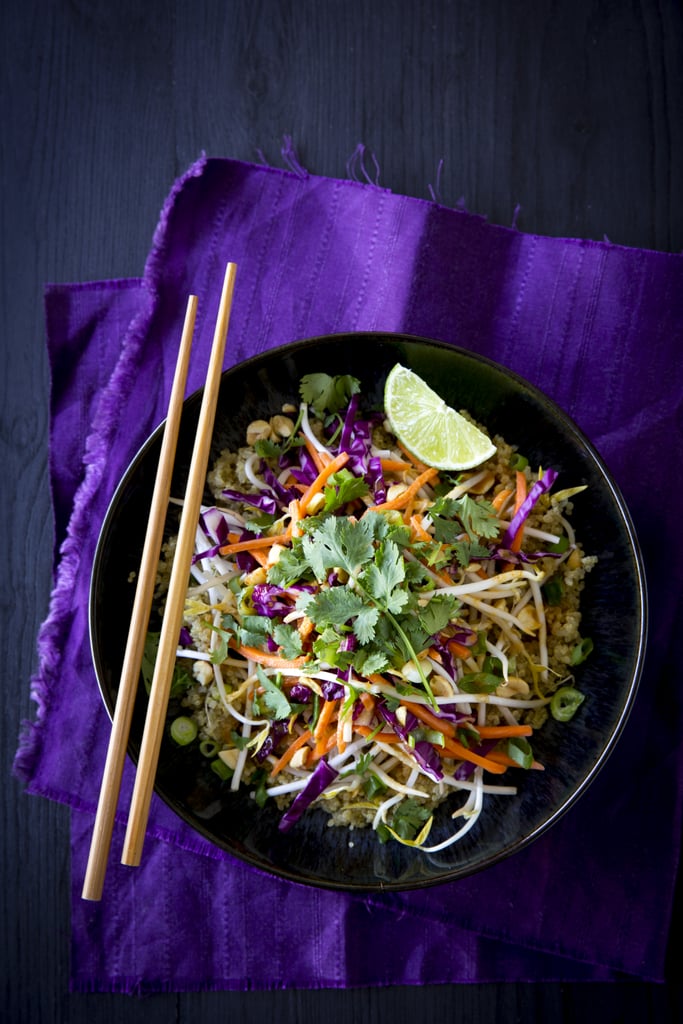 If you like pad thai, then you'll love this Thai-influenced quinoa recipe [10]. It contains all of the best elements of the classic dish, such as peanuts, cilantro, and bean sprouts, with a fun twist: it substitutes quinoa for rice noodles.
Kale and Wild Rice Casserole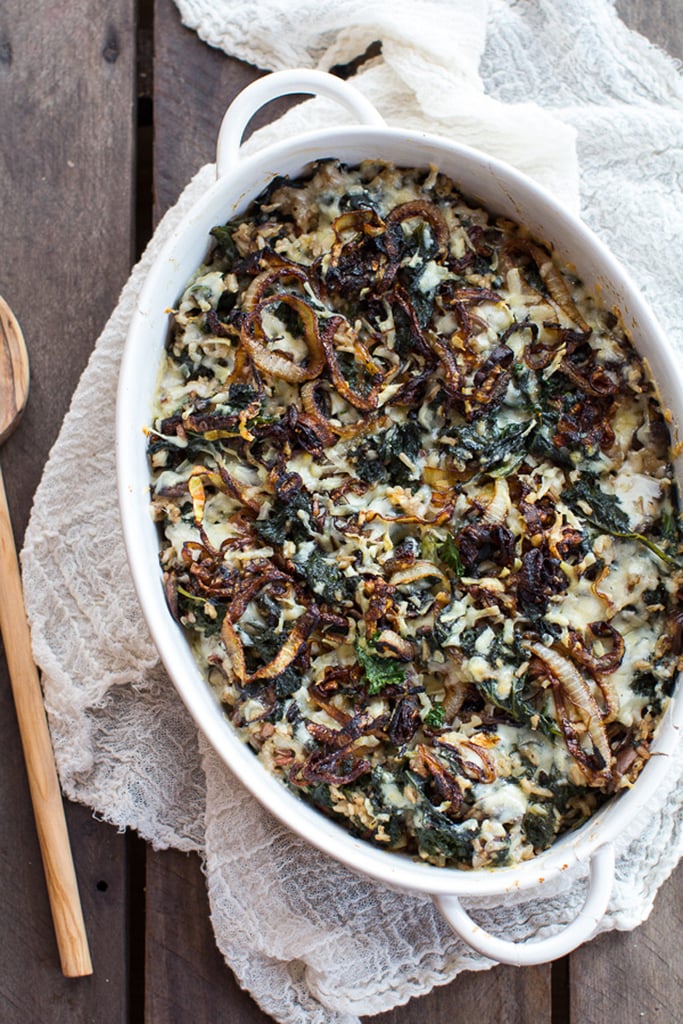 Gruyère, mushrooms, and caramelized onions add umami oomph to a kale and wild rice casserole [11]. Reheat a leftover slice for a lovely lunch.
Steak Noodle Salad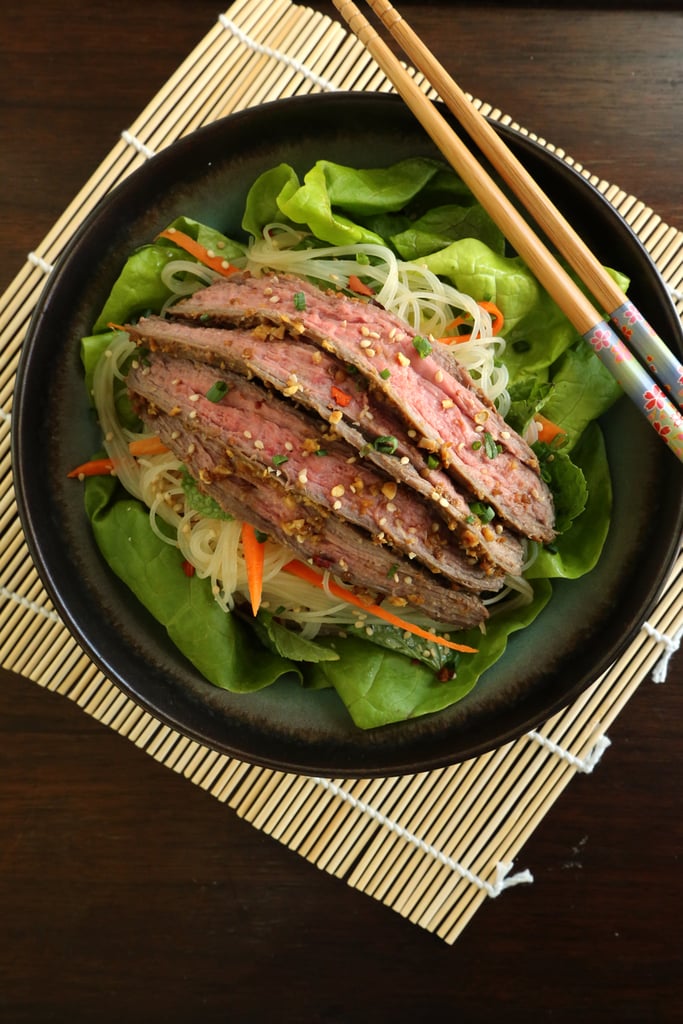 Adding steak to a heaping pile of greens and noodles is a delicious way to use up leftover beef. Follow this recipe [12] and toss the noodles in the dressing the night before. That way, it's easy packing the next morning.
Quinoa Mason Jar Salad With Sweet Potatoes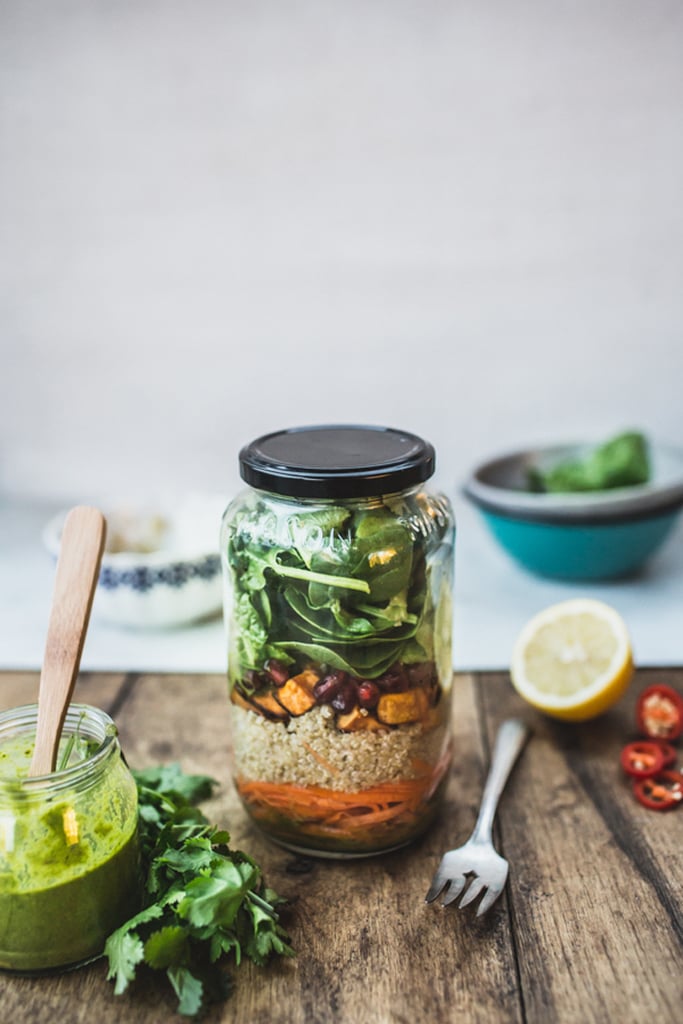 Add this quinoa mason jar salad [13] with sweet potatoes and a Thai-style dressing to your lunch rotation.
Slow-Cooker Gigante Beans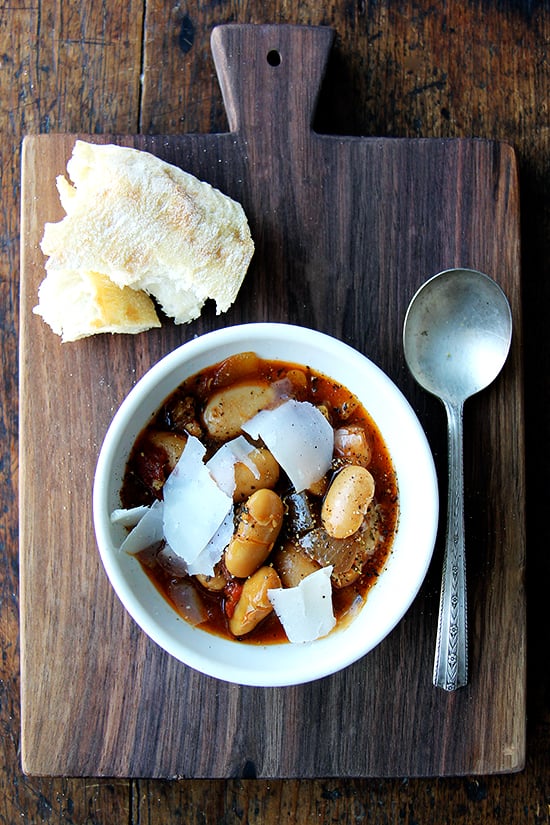 Pack a hunk of bread alongside this slow-cooker white bean recipe [14] for mopping up its brothy sauce.
Spicy Tahini Soba Noodle Salad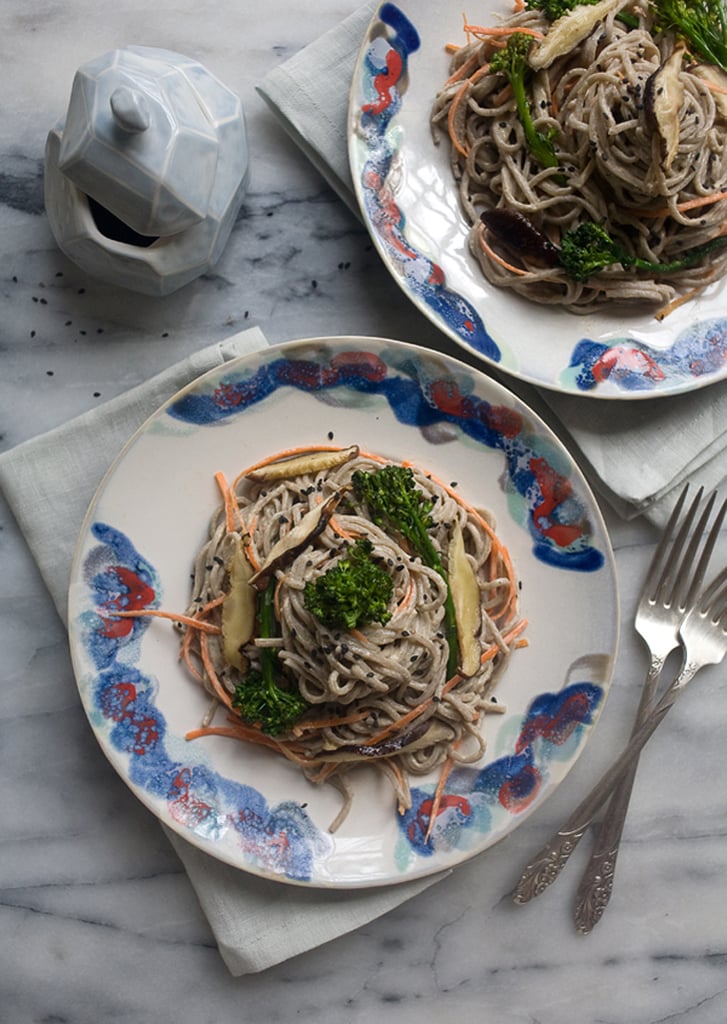 If you love the rich nutty flavor of peanut noodles, try this spicy tahini soba noodle salad [15]; sesame-based tahini has a similarly rich flavor to peanut butter.
Marinated Chickpea Salad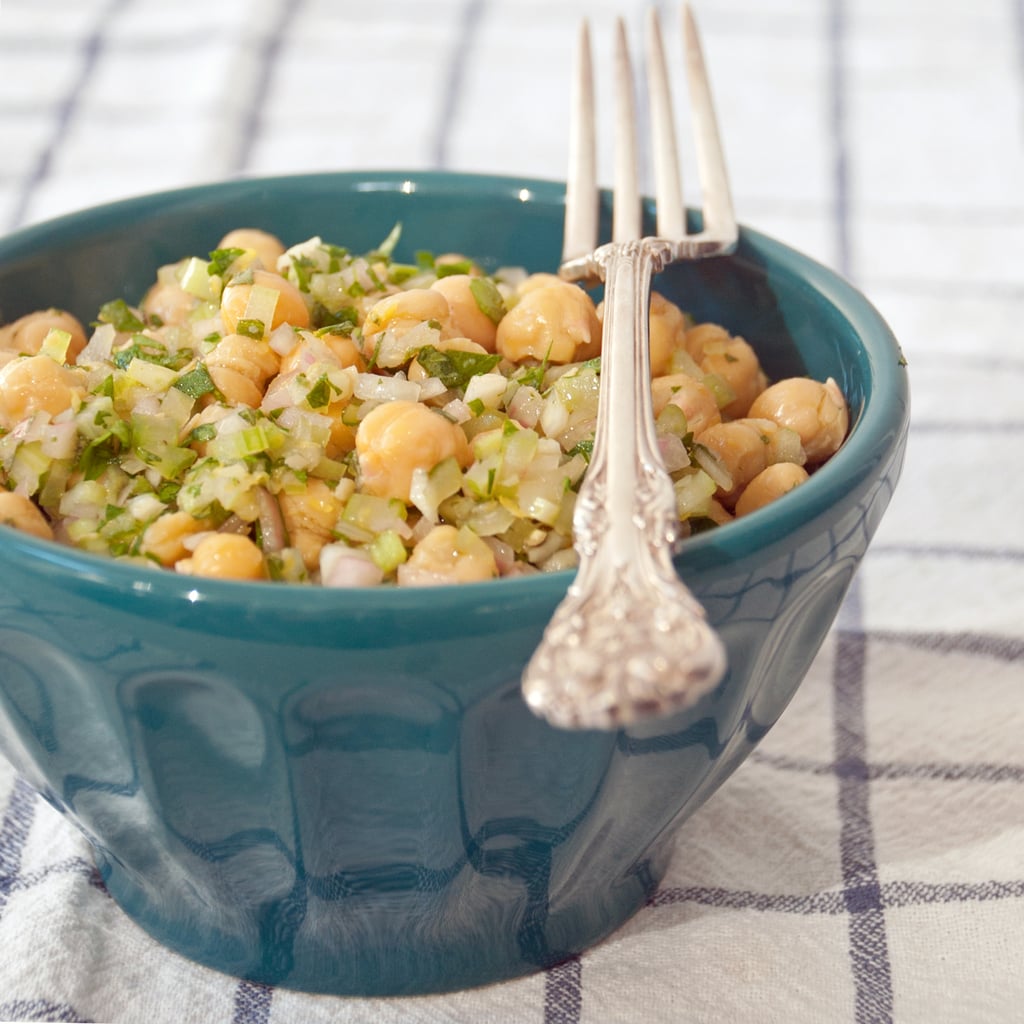 This zesty marinated chickpea salad [16] is basically two recipes in one. It's great as a stand-alone salad, but it can also be combined with roasted bell peppers and olives between bread [17] for a memorable sandwich.
Turkey Sandwich With Manchego
Nothing says work lunch more than a turkey sandwich. We love this version [18] that combines layers of turkey meat with watercress, manchego, and pear butter.
Millet, Lentil, and Pomegranate Salad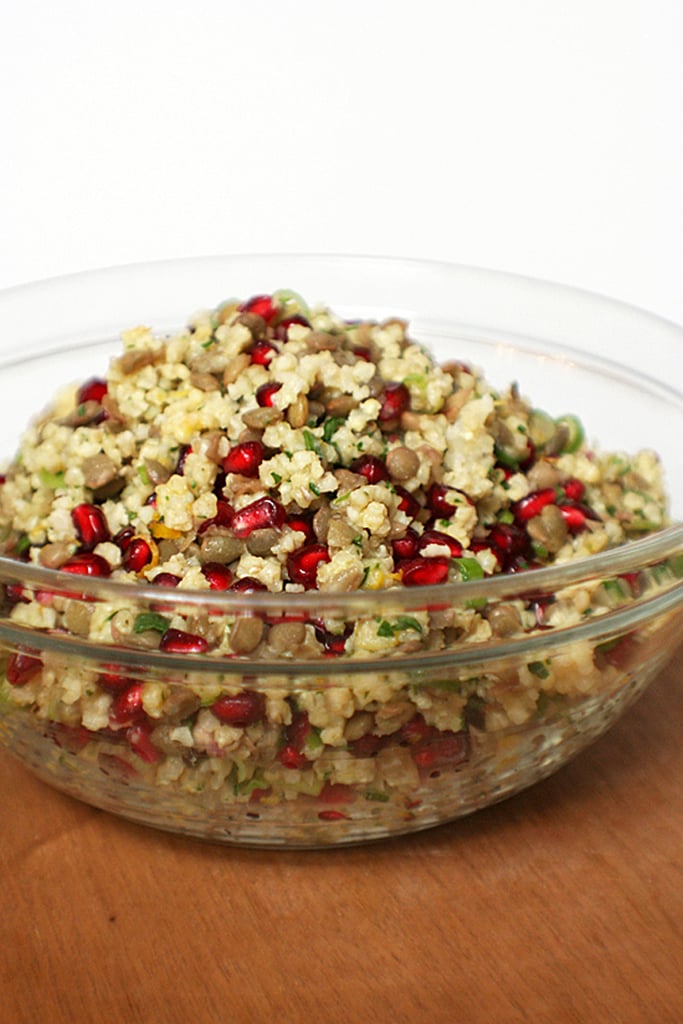 If you can't find millet, substitute brown rice in this satisfying millet, lentil, and pomegranate salad [19].
Chicken Kale Salad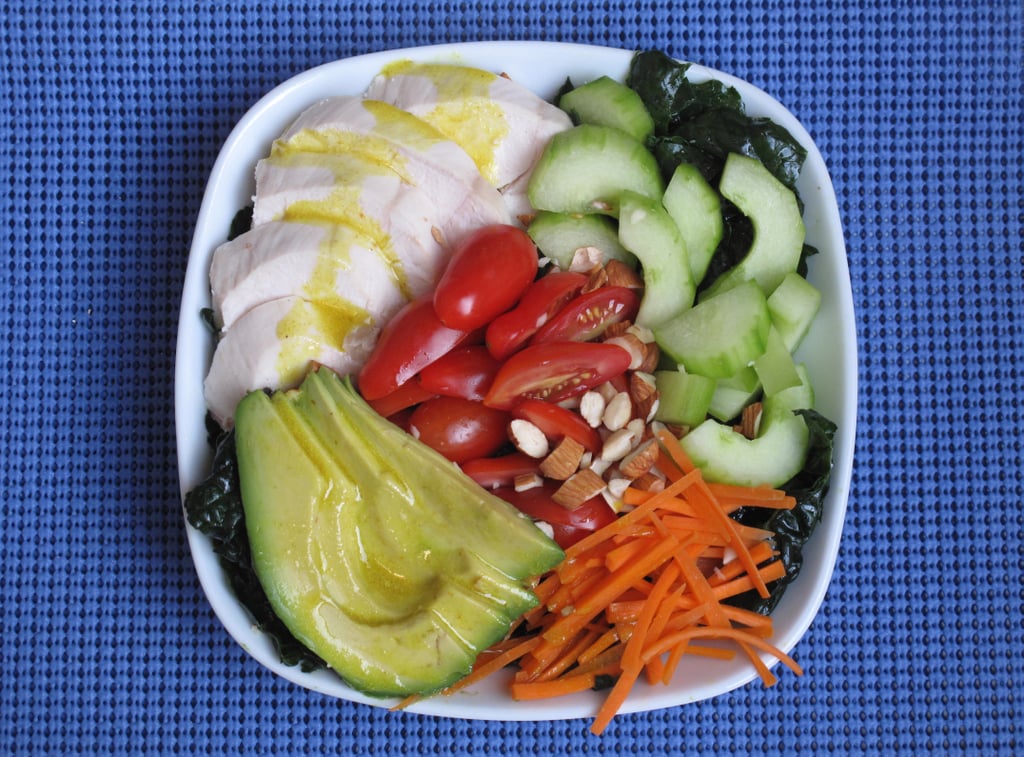 The ingredient list of this chicken salad with kale [20] calls for a variety of colors and textures — think crunchy cucumber, creamy avocado, leafy kale, and comforting quinoa with a lemon-flavored dressing that will easily make your co-workers jealous.
Roasted Sweet Potato and Quinoa Salad With Mango Balsamic Vinaigrette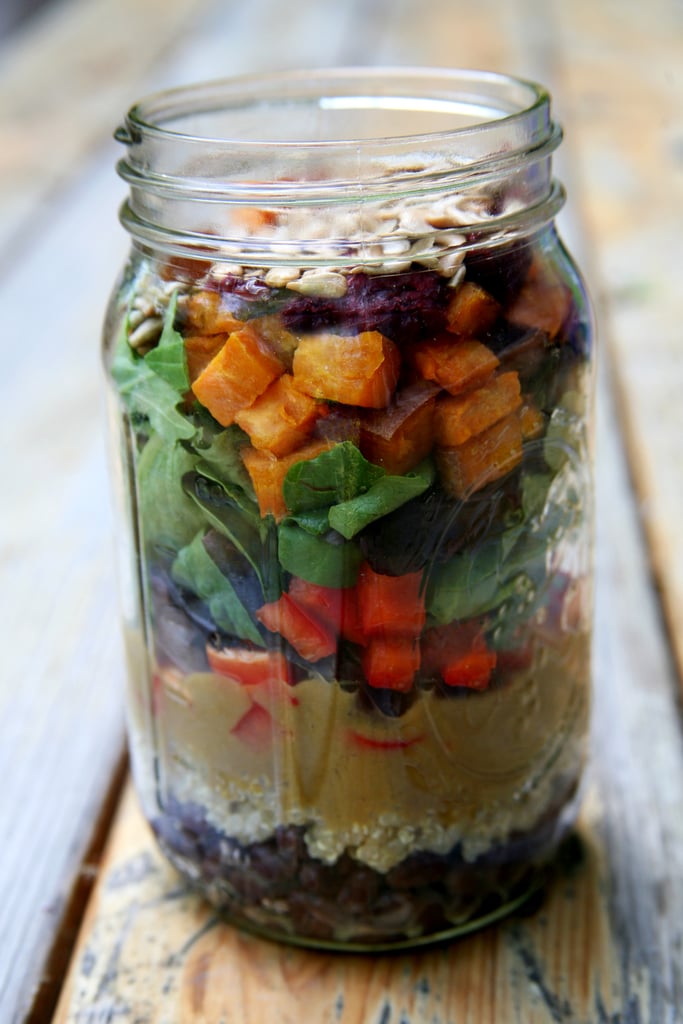 If you've yet to get on board with the mason jar salad trend, this roasted sweet potato and quinoa option [21] is a great place to start.
Quinoa Salad With Cherries and Feta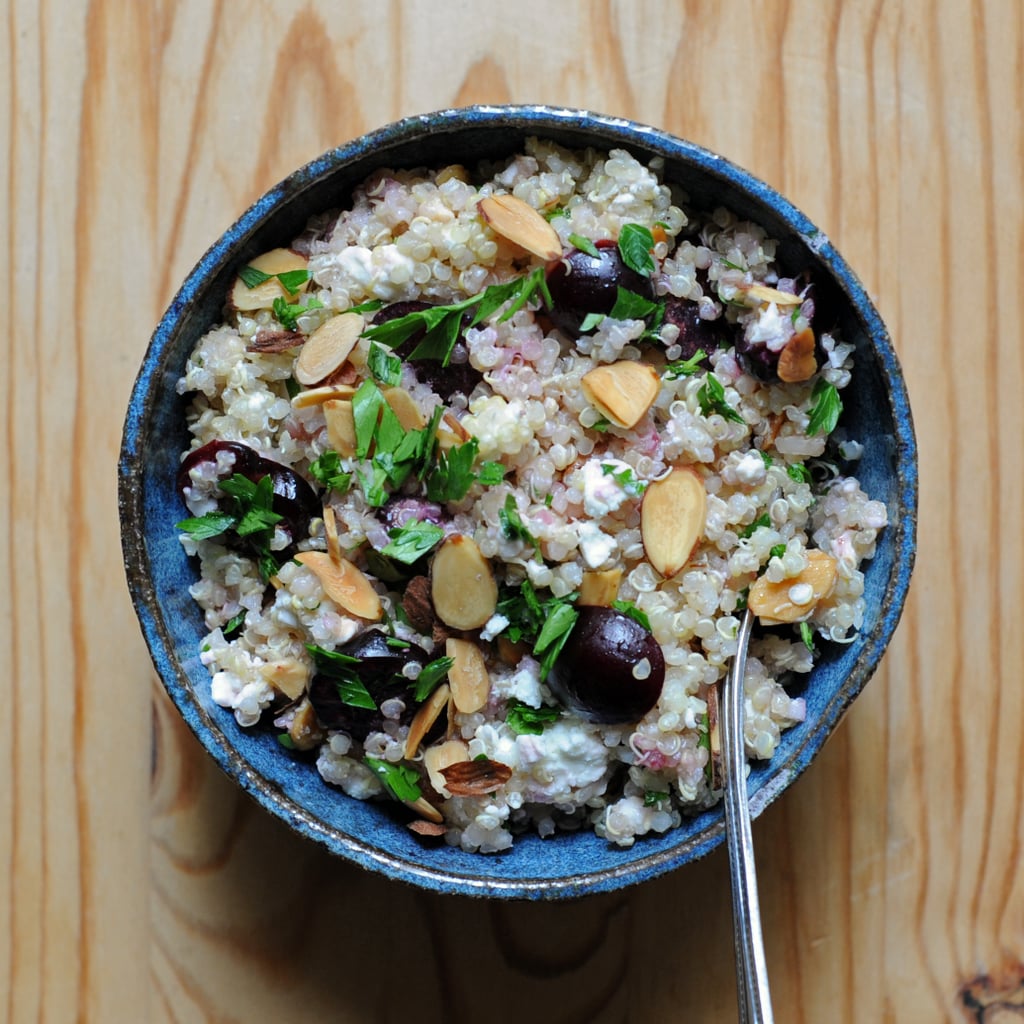 Make use of cherries when they're in season with a quinoa salad with cherries and feta [22]. The juicy-salty combo mixes with parsley, shallot, and almonds for a brown-bag lunch like you've never tried.
Mediterranean Quiche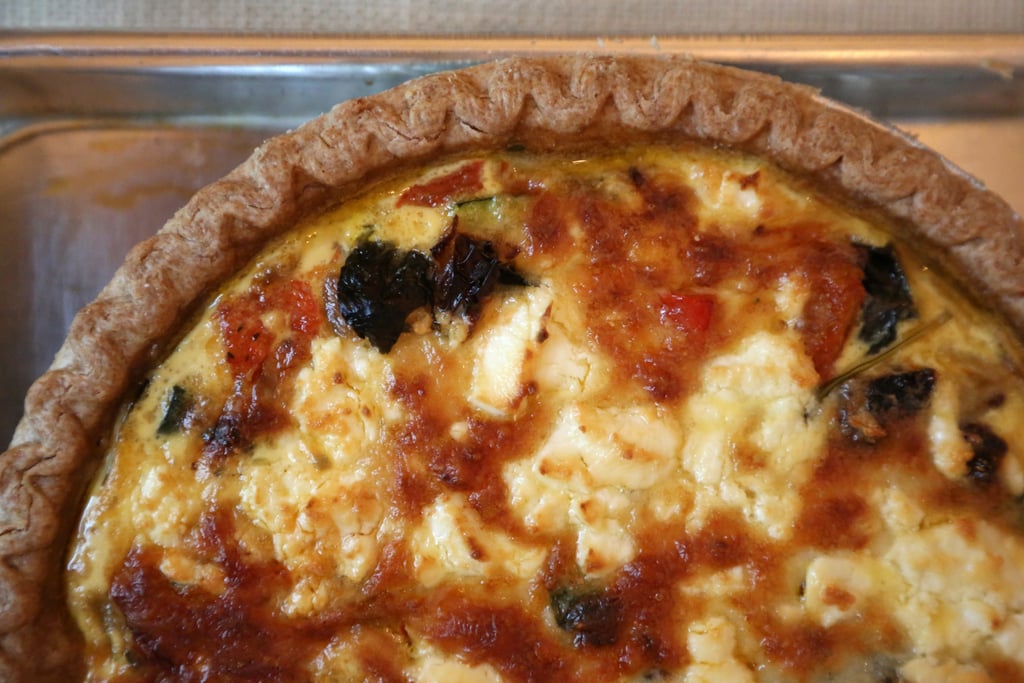 Plenty of vegetables — caramelized onions, bell peppers, zucchini, and sun-dried tomatoes — bulk up this crave-worthy Mediterranean quiche [23].
Chopped Salad With Balsamic-Dijon Vinaigrette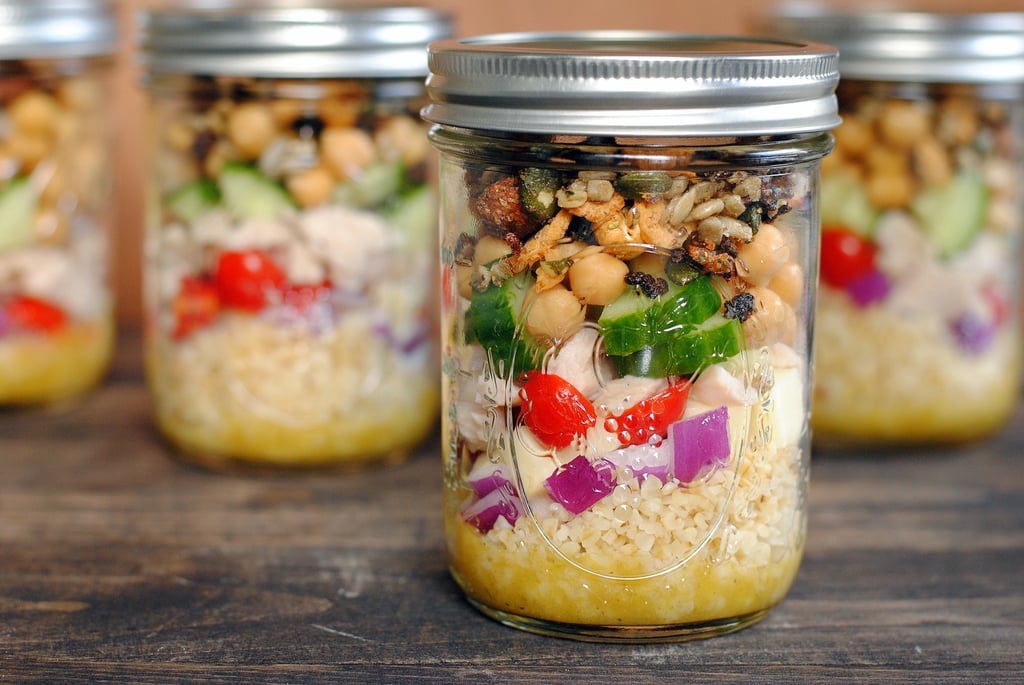 Instead of getting a takeout chopped salad, whip up this homemade take [24] that packs chickpeas, turkey, mozzarella, bulgur, cucumbers, and more into each bite.
Farro Salad With Citrus Vinaigrette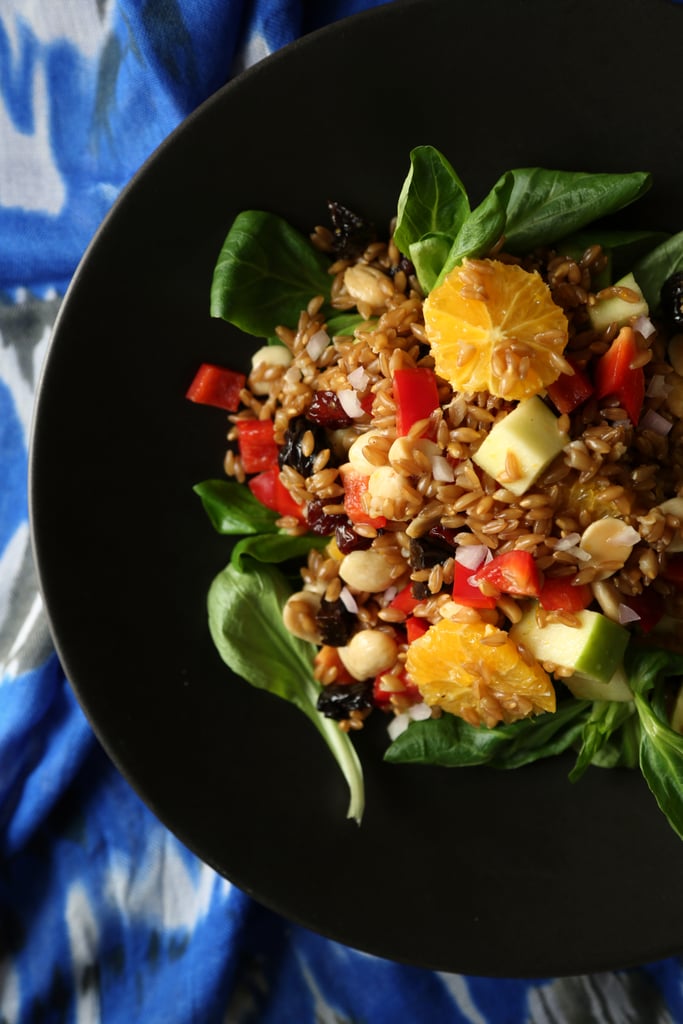 A hearty farro salad [25] is guaranteed to give you the energy needed for a long day at work. The citrus vinaigrette dressing and fruit add a lively spring to this salad's step.
Barbecue Black-Eyed Peas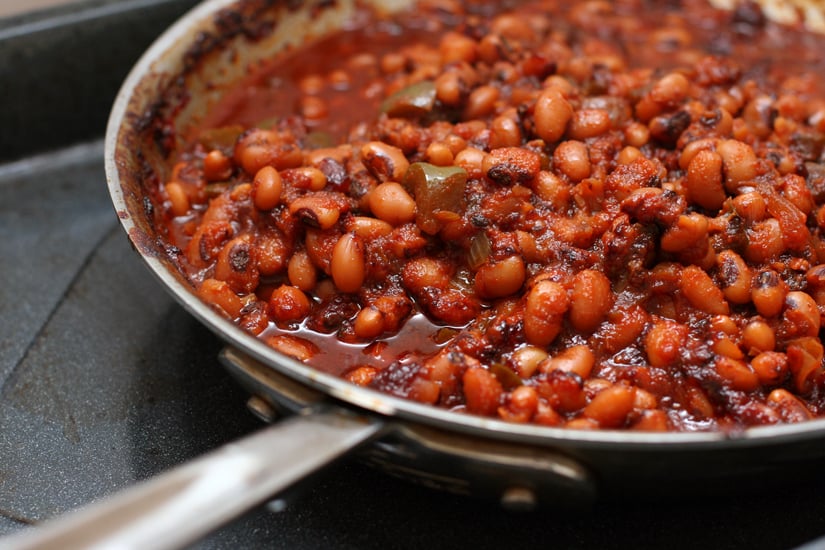 Bold and saucy, barbecue black-eyed peas [26] make for a solid lunch when paired with millet, brown rice, or quinoa.
Zucchini Noodle, Quinoa, and Pea Salad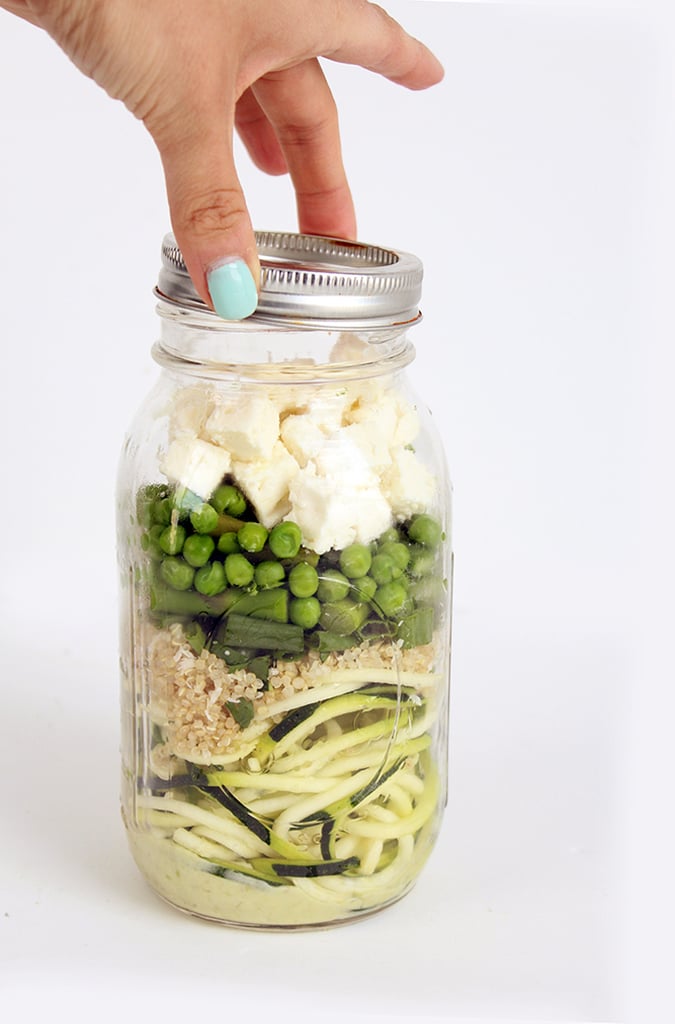 This zoodle, quinoa, pea, and feta salad [27] is so fresh and so green.
Quinoa Tabbouleh Salad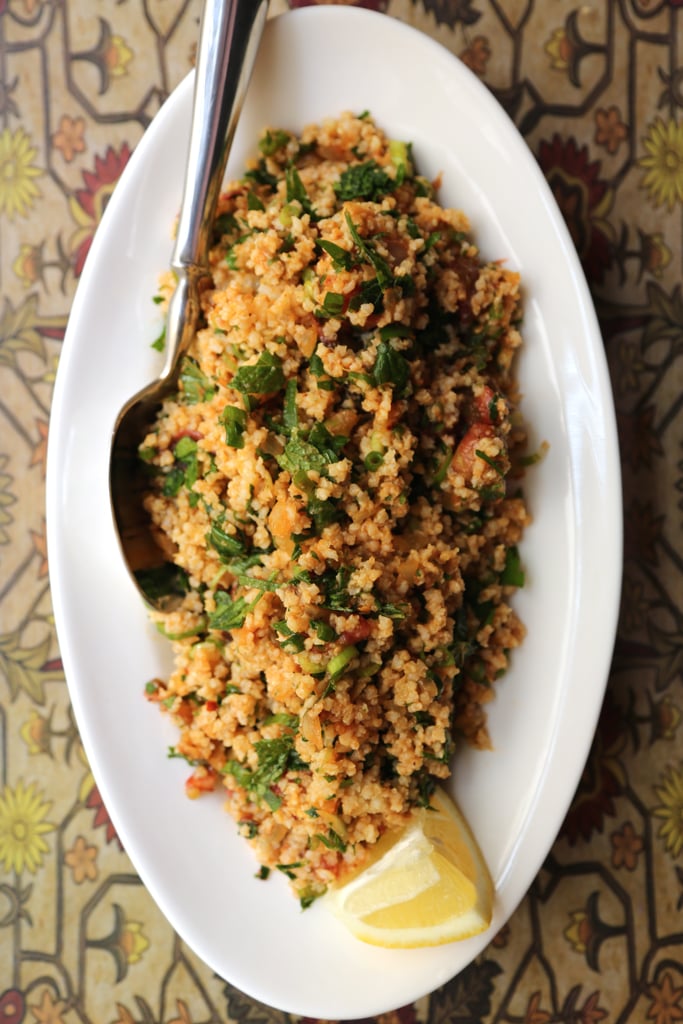 For a sturdier spin on classic tabbouleh, use quinoa instead of bulgur [28].
Cobb Salad Wrap
Forgo the sandwich altogether and wrap a Cobb salad [29] instead. Just grab some flatbread and you'll be on your way to some bacon, chicken, blue cheese, egg, and avocado goodness in no time!
Quinoa Salad With Almonds, Pomegranates, and Arugula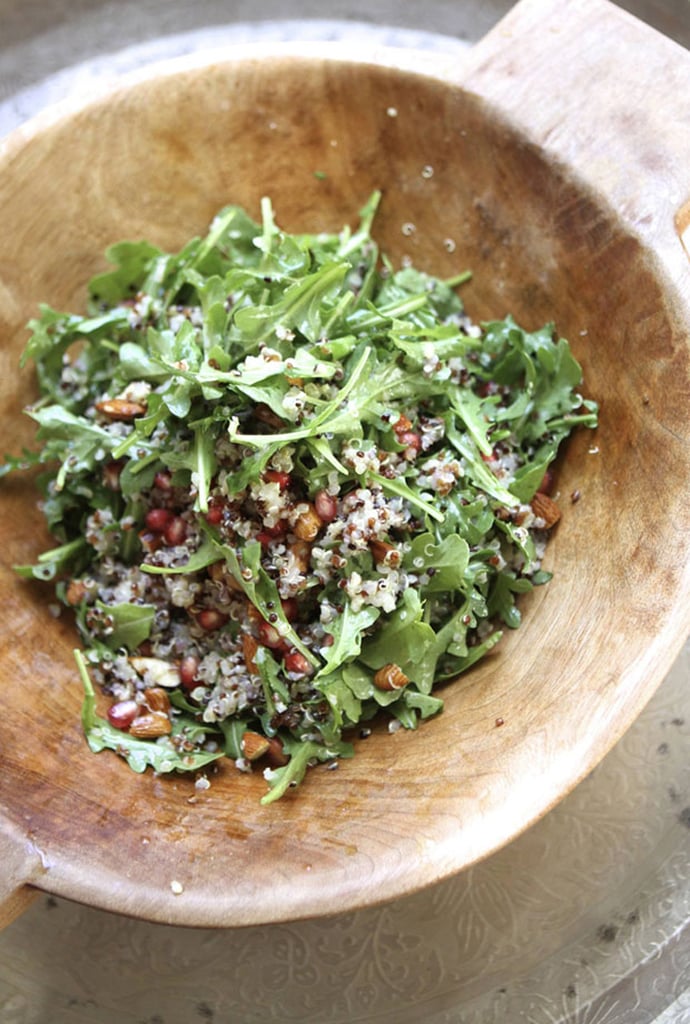 If you bring this quinoa salad [30] for lunch, be sure to pack the arugula separately and add it before eating, lest it wilt.
Vegan Pumpkin Chili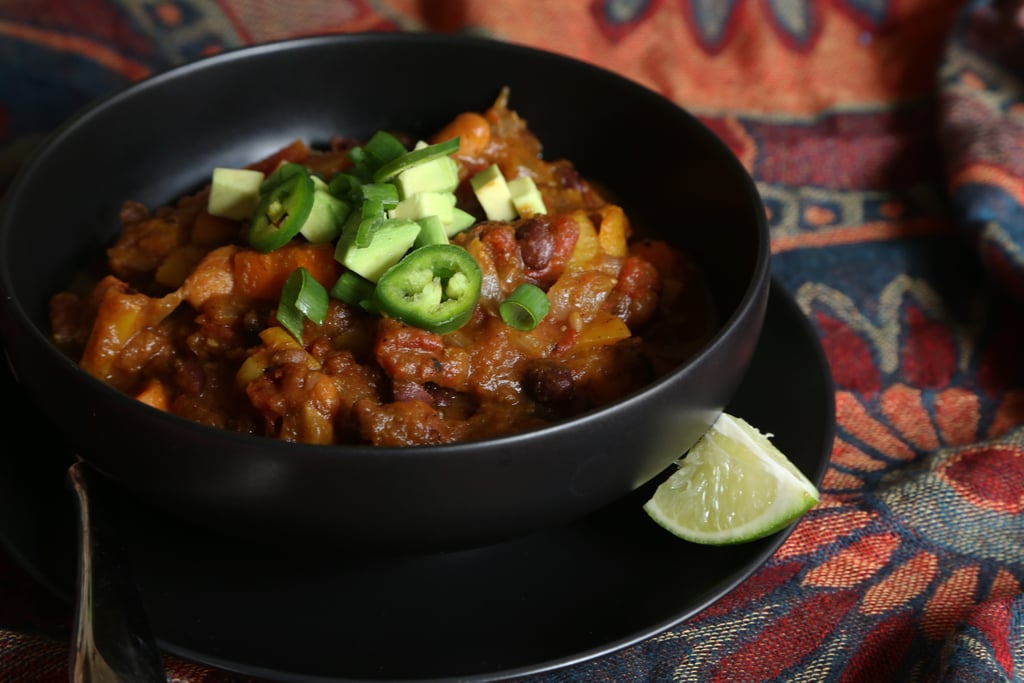 This vegan chili [31] is a year-round option thanks to canned pumpkin.
Sun-Dried Tomato Pasta Salad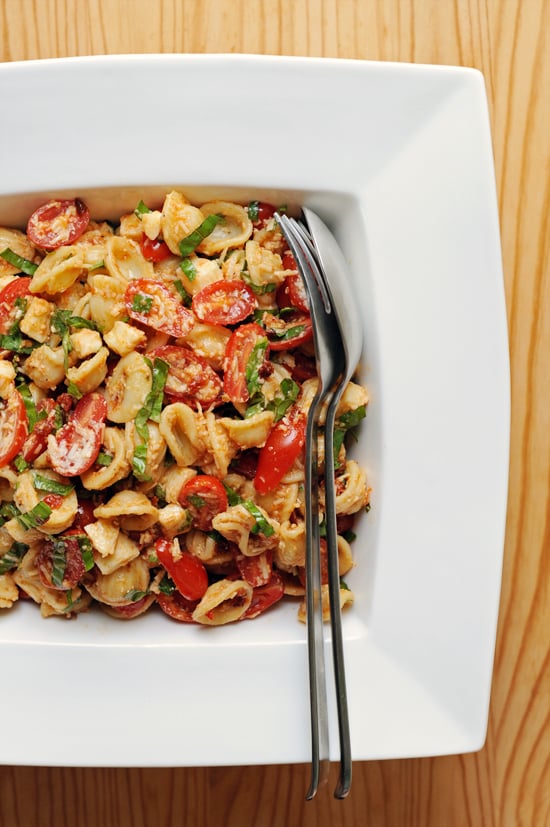 With its piquant flavors and toothsome texture, sun-dried tomato pasta salad [32] is sure to rise you out of a midday slump.
Photo: Nicole Perry
Spicy Peanut Soba Noodle Salad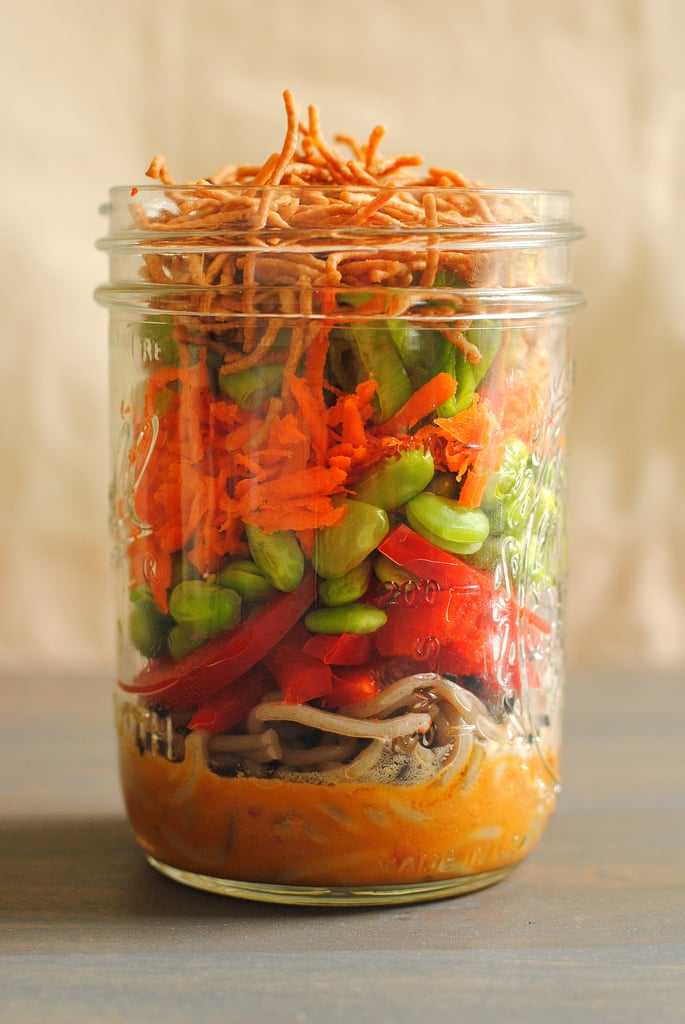 This edamame- and carrot-packed spicy peanut soba noodle salad [33] will keep you full all afternoon long.
Chicken Spaghetti Casserole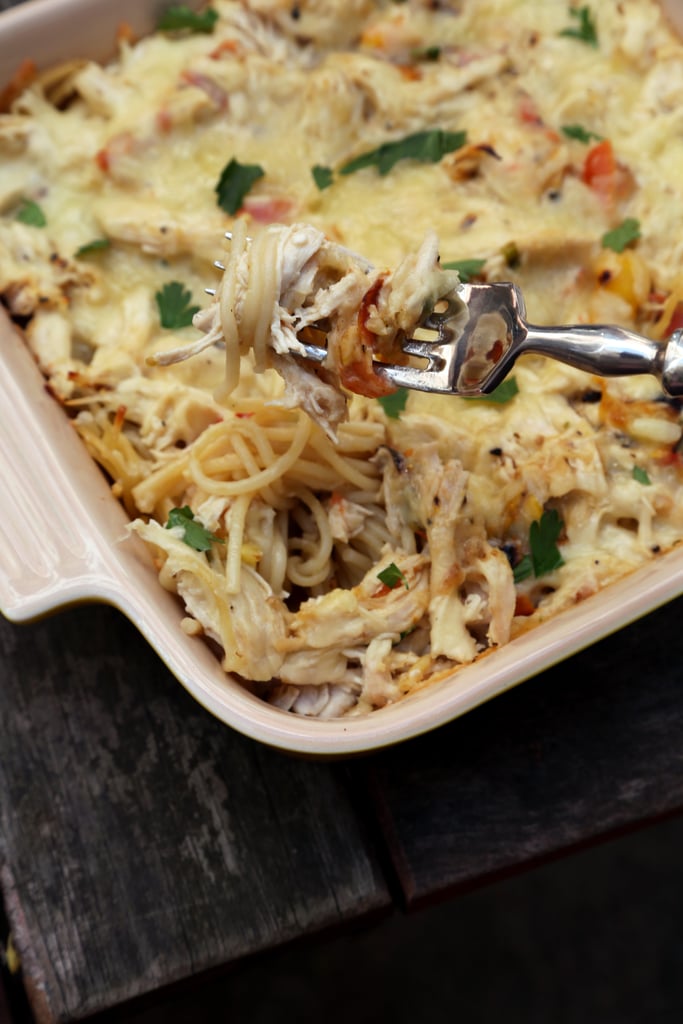 Pop this chicken spaghetti casserole [34] into the oven for dinner and look forward to enjoying what's left for lunch the following day.
Chicken Caesar Kale Mason Jar Salad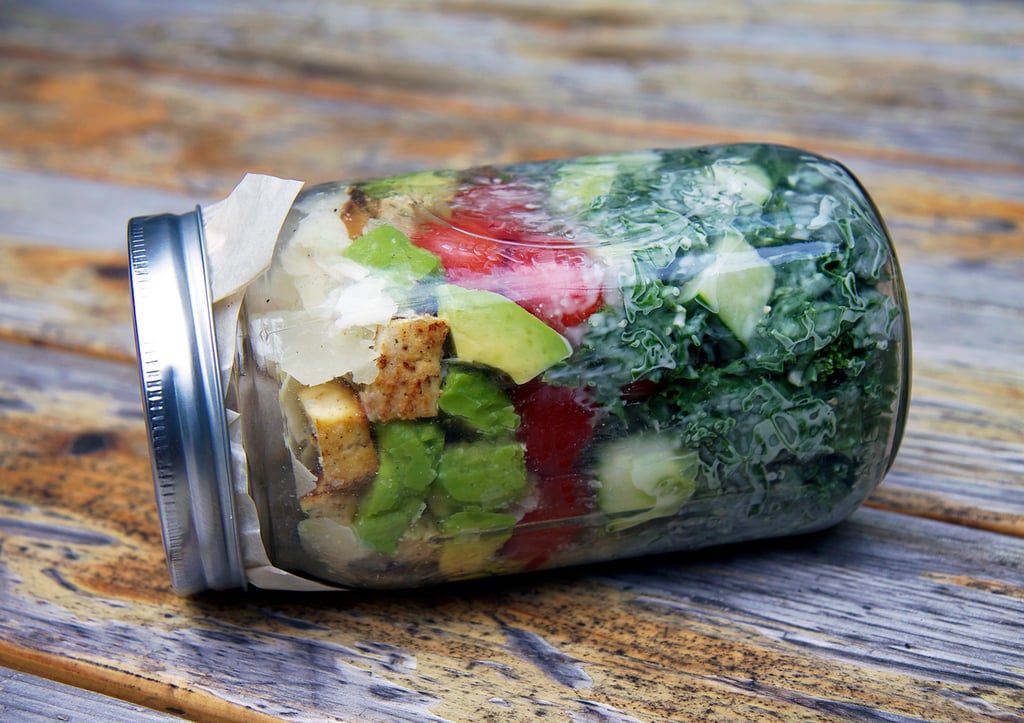 Keep your croutons crunchy and your lettuce wilt-free by packing this chicken and kale caesar [35] for lunch at the office.
Pesto Pasta Salad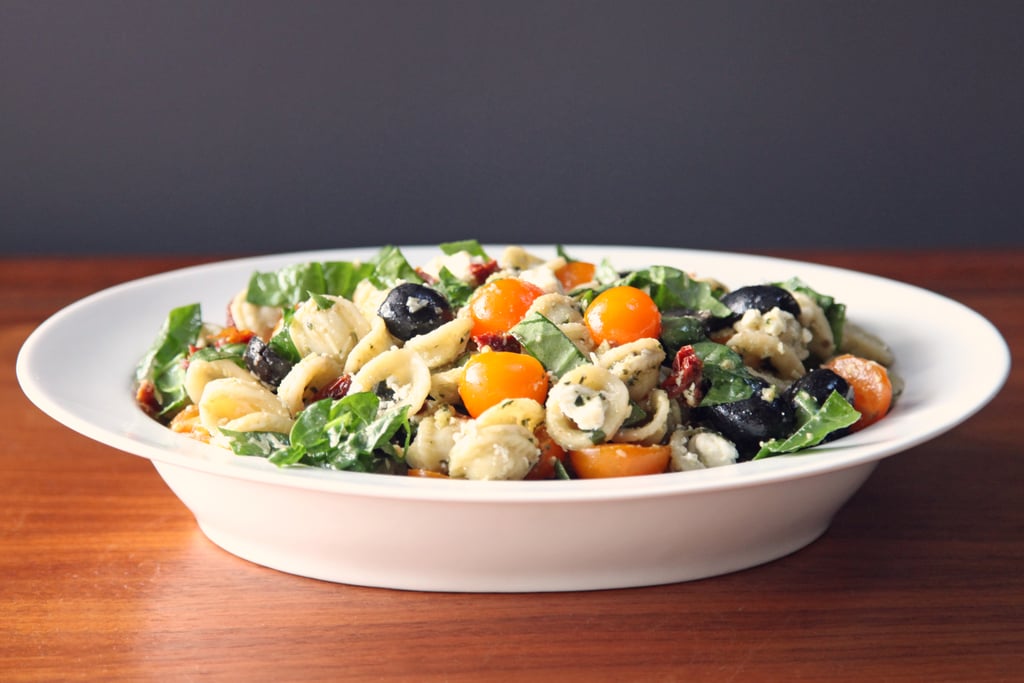 Antipasto elements, including olives, feta, and sun-dried tomatoes, enliven pasta salad [36].
Spicy Tomato Soup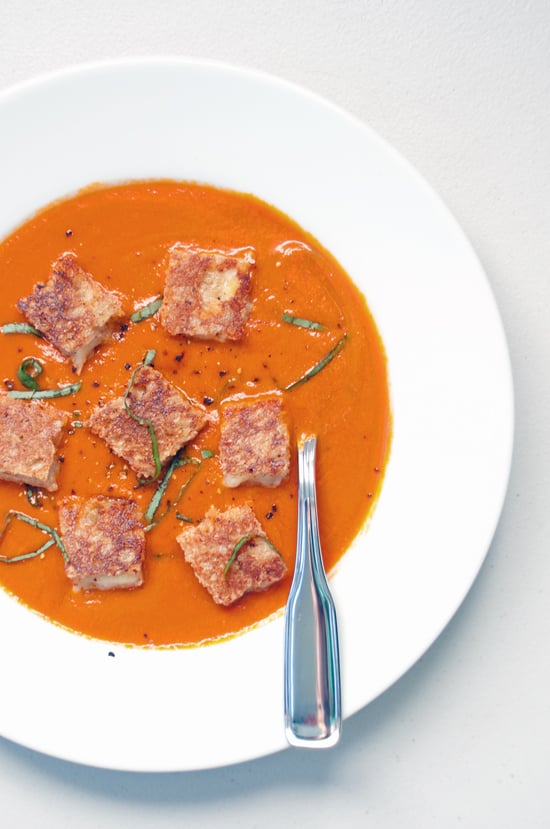 While your office probably doesn't have a stovetop or oven, chances are there's a functioning microwave. Make a pot of spicy tomato soup [37] and reheat it at work. (Swap crumbled Cheez-Its for the grilled cheese croutons since leftover grilled cheese isn't great.)
Guacamole Mason Jar Salad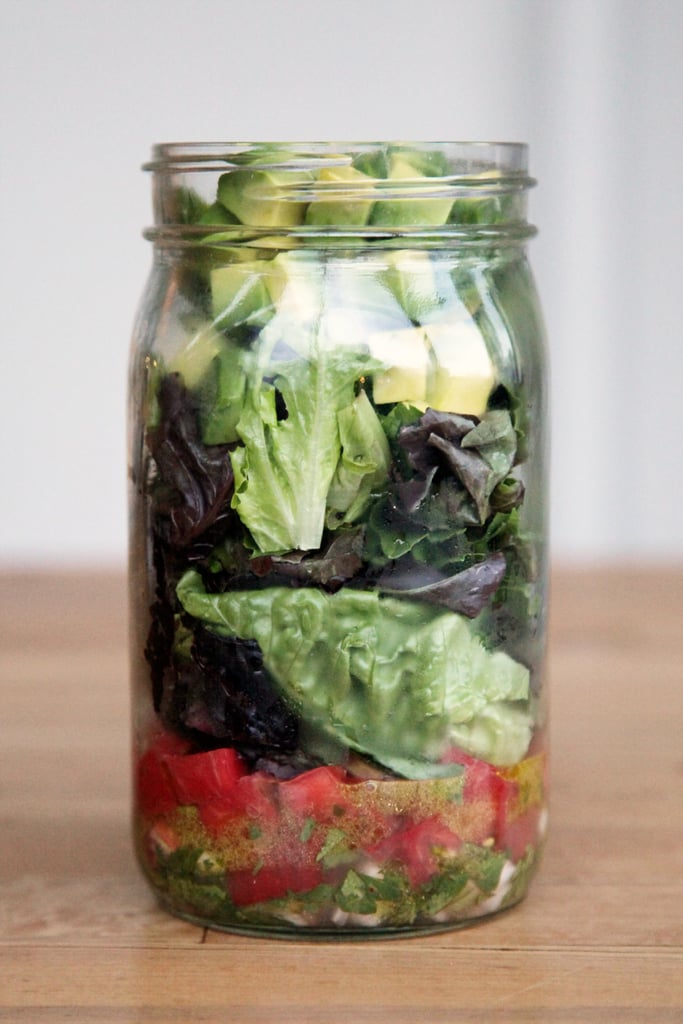 Step away from the chips and guac! This zesty guacamole mason jar salad [38] offers a satisfyingly tangy crunch with every single bite.
Slow-Cooker Chili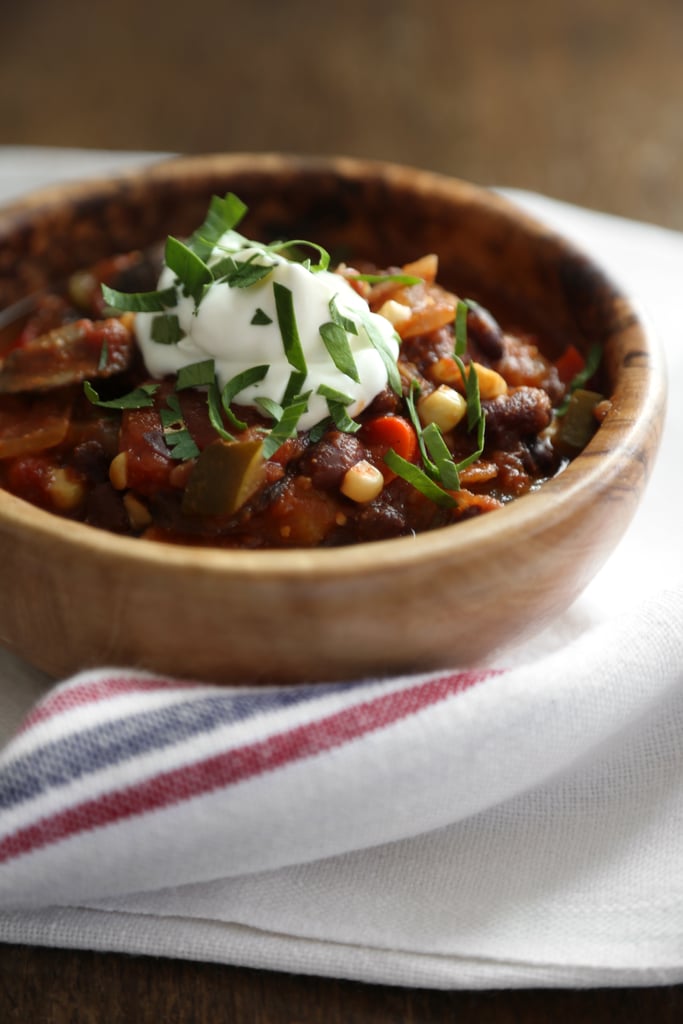 Low effort to make (it's a straightforward, set-it-and-forget-it slow-cooker recipe) and great as leftovers, this hearty chili [39] is a no-brainer inclusion to this list.
Grilled Chicken, Beet, Apple, and Spinach Salad With Strawberry Vinaigrette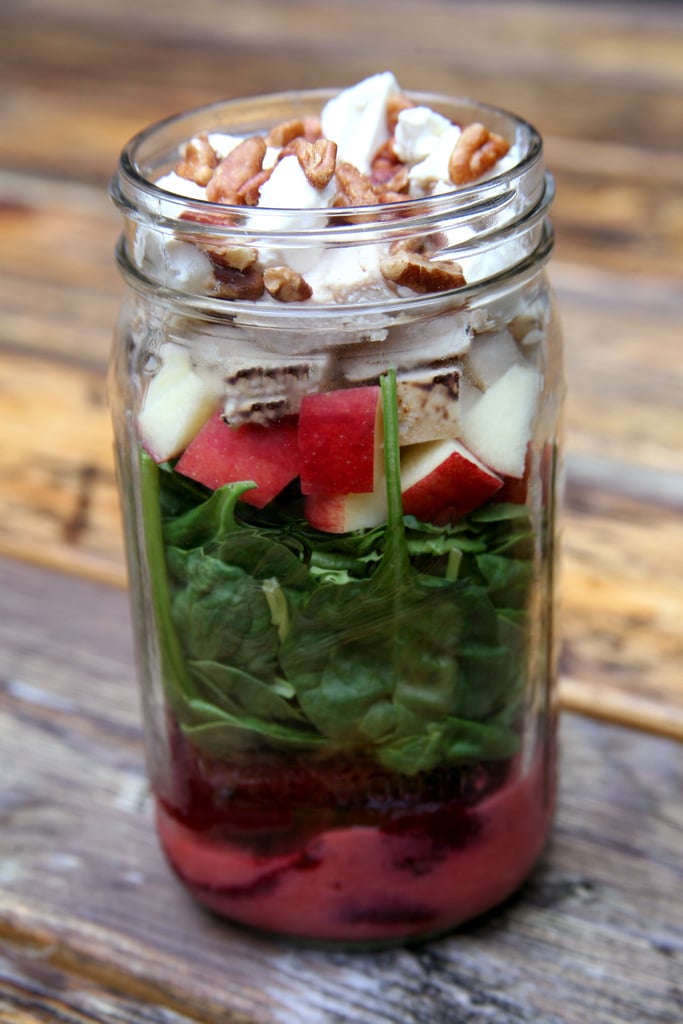 If your ideal salad is a mix of savory and sweet, this grilled beet and apple salad [40] offers the ideal fruity twist on traditional greens.
Shredded Brussels Sprouts and Kale Salad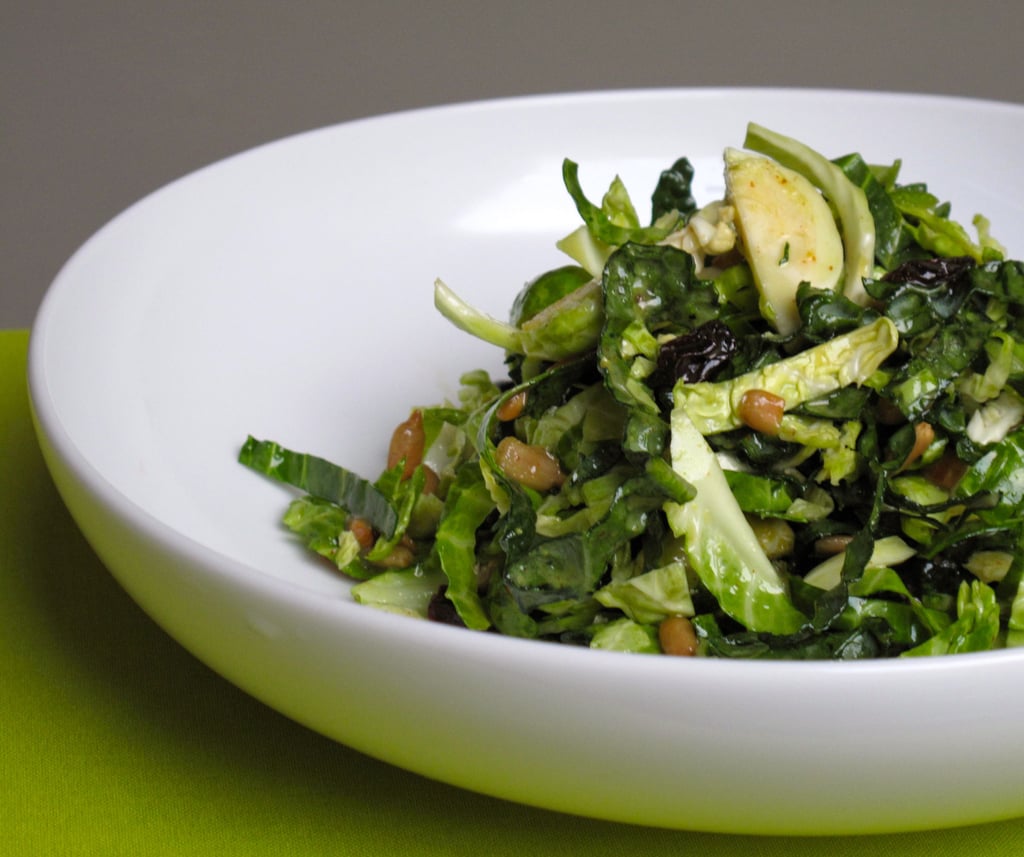 More fibrous leafy vegetables like brussels sprouts and kale hold up well overnight, even when dressed, like this salad [41] with sunflower seeds, dried cranberries, and a maple-mustard vinaigrette.
Mediterranean Orzo Salad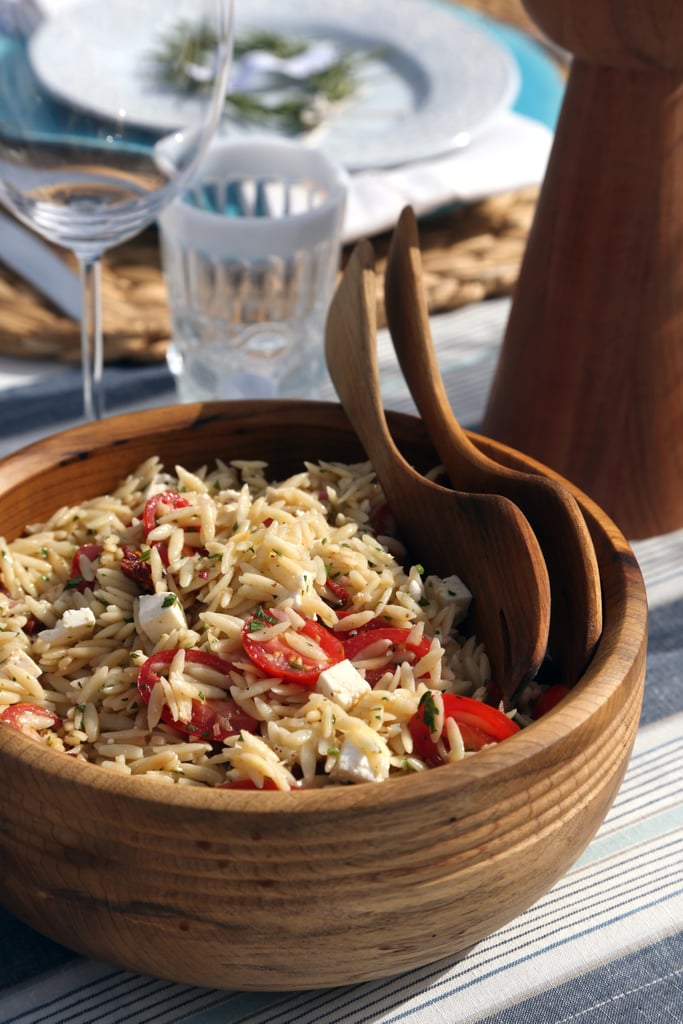 Like all pasta salads, this Mediterranean orzo-based version [42] tastes better after the ingredients have a few hours (at least) to mingle.
Caramelized Shallot and Mushroom Quiche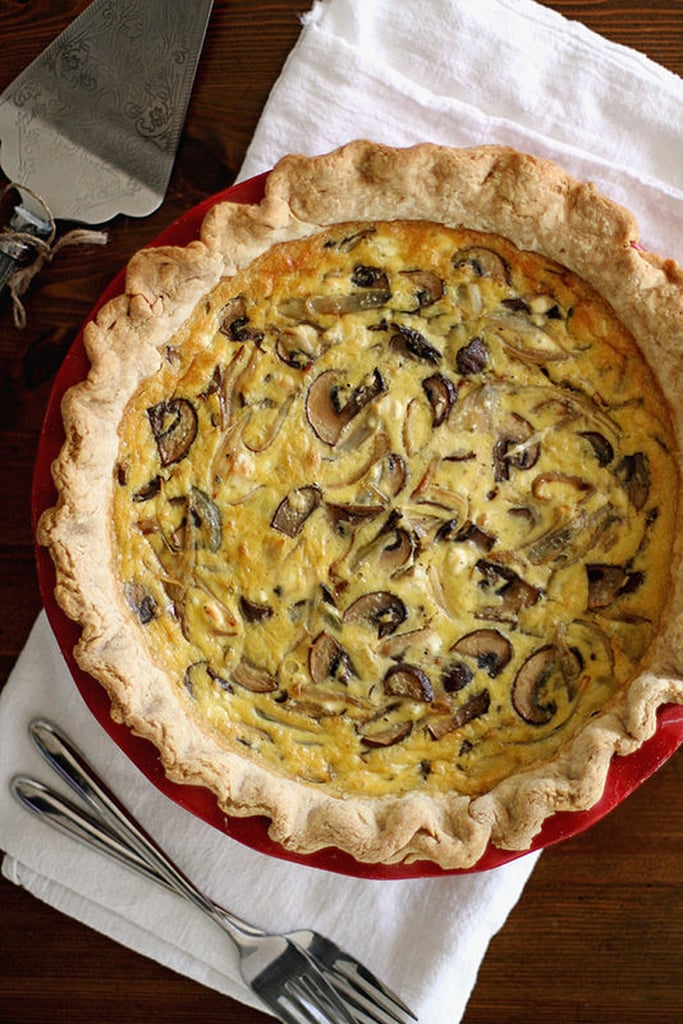 Treat yourself to a slice of caramelized shallot and mushroom quiche [43].
Marinated White Bean Salad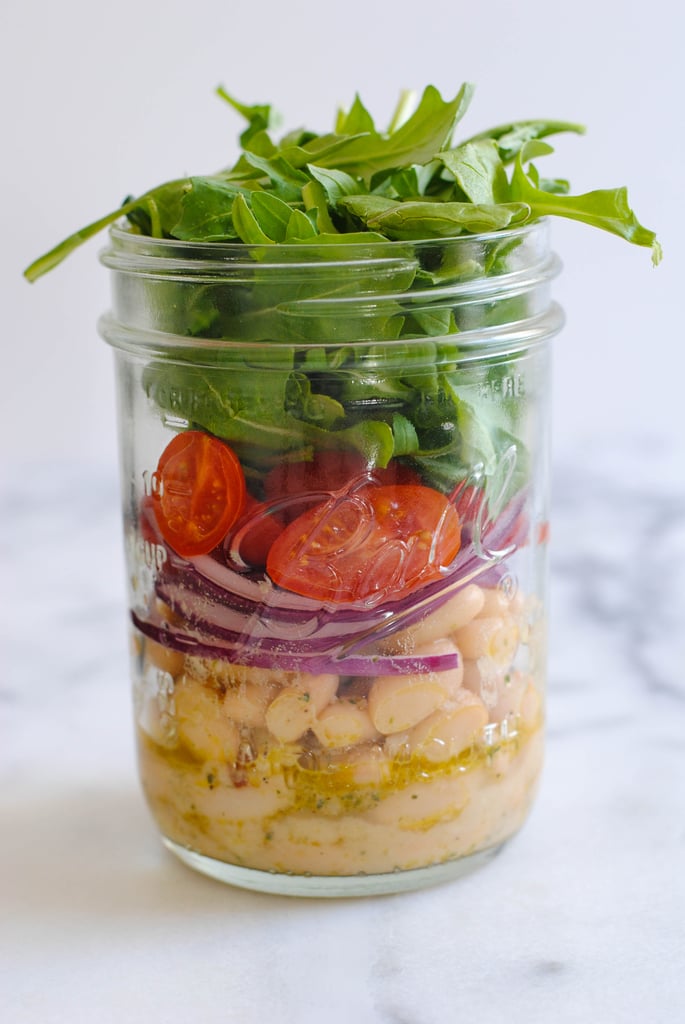 You'll look forward to lunch all day when this marinated white bean salad [44] is packed in your work bag.
Cobb Salad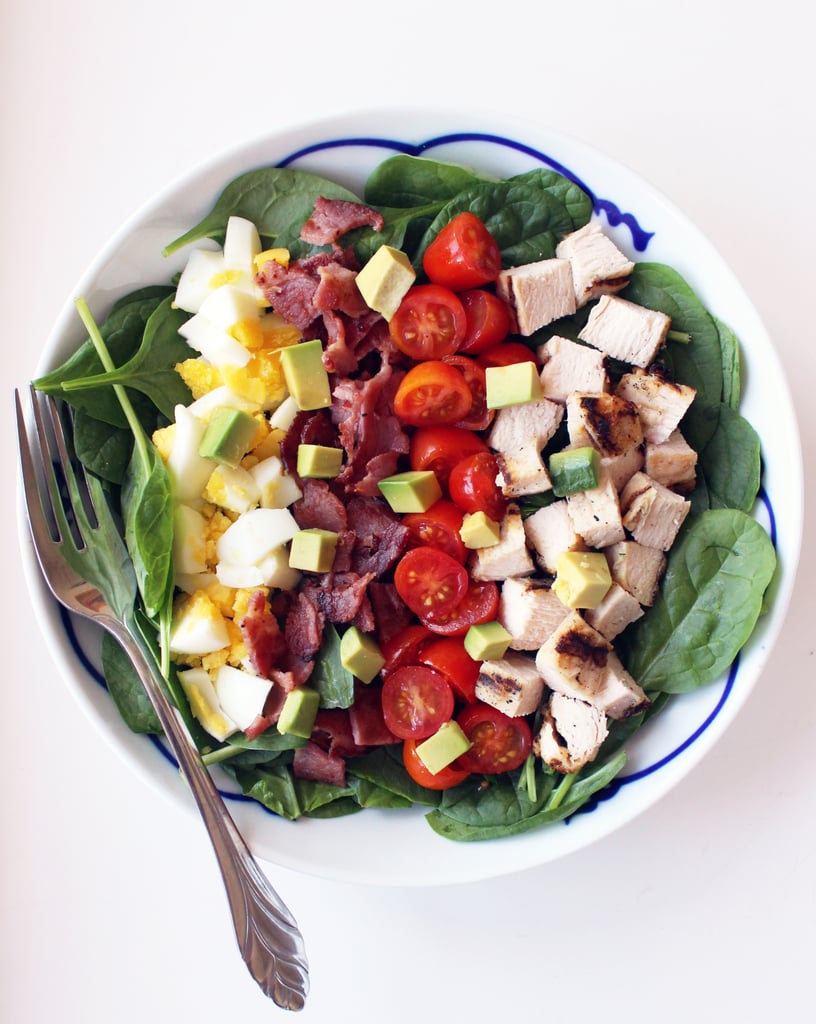 For a lighter take on cobb salad, try this fresh recipe [45]. Craving something a bit heartier? Go classic [46].
Sesame-Ginger Soba Noodle Salad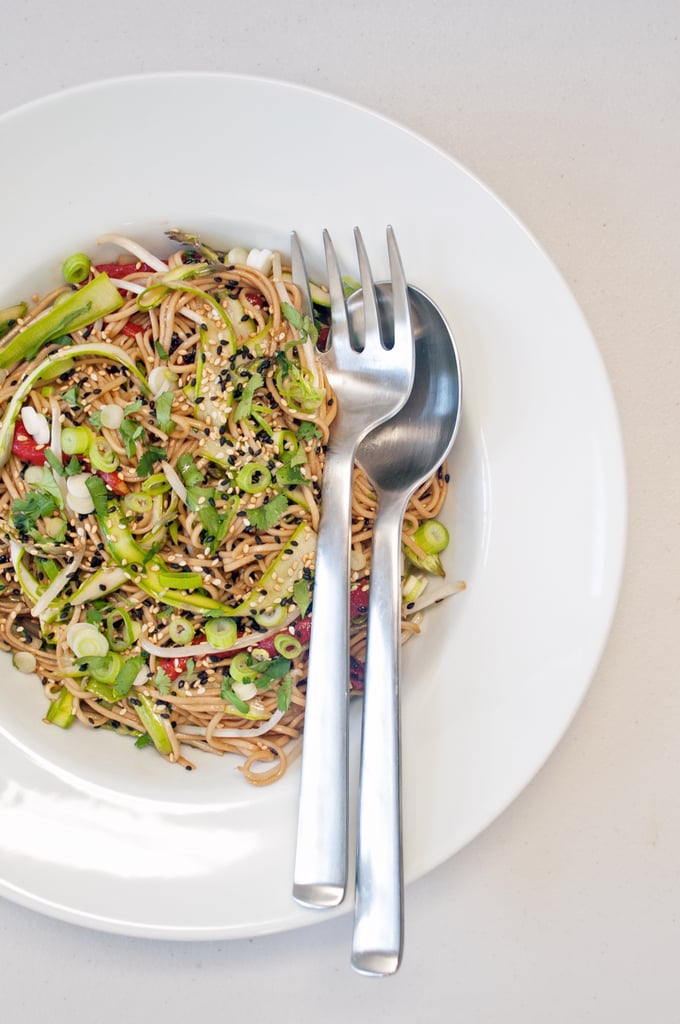 This sesame-ginger soba noodle salad [47] is full of Southeast Asian flavor.