Edamame Hummus Recipe (Bon Appetit)
Old Fave, New Twist: Edamame Hummus
Hummus is one of my party-spread staples, but the beige-colored chickpea spread doesn't exactly brighten up a table. For a fresh, green take on this Middle Eastern classic, swap out the blah-looking garbanzos for vibrant edamame and frozen peas.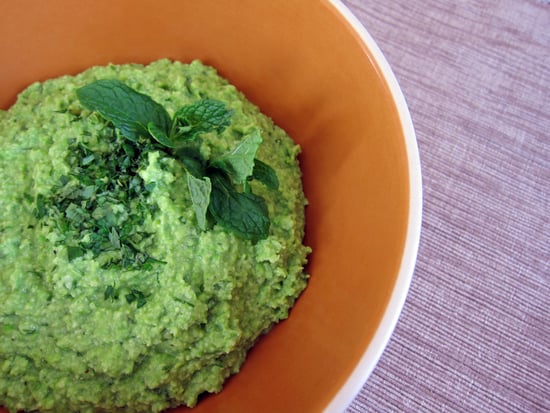 Perked up by mint, cilantro, and plenty of garlic, the flavors will appeal to fans of traditional hummus without feeling too familiar. Serve it alongside endive, celery sticks, or pita for dipping or use the healthy vegan dip as a spread for sammies. The recipe makes a whopping six cups, so you'll have plenty for a party and then some.
Get the edamame hummus recipe now.
Ingredients
2 10-ounce packages frozen shelled edamame (soybeans)
Kosher salt
2 10-ounce packages frozen peas
1/2 cup fresh lemon juice
2 teaspoons minced garlic
1/2 teaspoon ground coriander
1/4 teaspoon ground cumin
3/4 cup extra-virgin olive oil plus more for drizzling
1/4 cup chopped fresh cilantro plus more for garnish
1/4 cup chopped fresh mint plus more for garnish
Freshly ground black pepper
Endive spears
Directions
Cook edamame in a large pot of boiling salted water until tender, 3–5 minutes. Using a slotted spoon, transfer to a large bowl of ice water. Return water in pot to a boil and add peas; cook until heated through, about 1 minute. Transfer peas to bowl with edamame; let cool. Drain well.
Working in batches, pulse edamame and peas in a food prcoessor until a coarse purée forms, about 30 seconds.
Transfer to a medium bowl. Stir in juice and next 3 ingredients. Gradually stir in 3/4 cup oil; mix well. Stir in 1/4 cup cilantro and 1/4 cup mint. Season with salt and pepper. DO AHEAD: Can be made 2 days ahead. Cover and chill.
Transfer to a serving bowl; drizzle with oil and garnish with more herbs. Serve with endive spears.
Makes about 6 cups.
Information
Category

Dips, Appetizers

Cuisine

North American