Edible Flower Salad
Pink Grapefruit and Purple Pansies Brighten a Valentine's Day Salad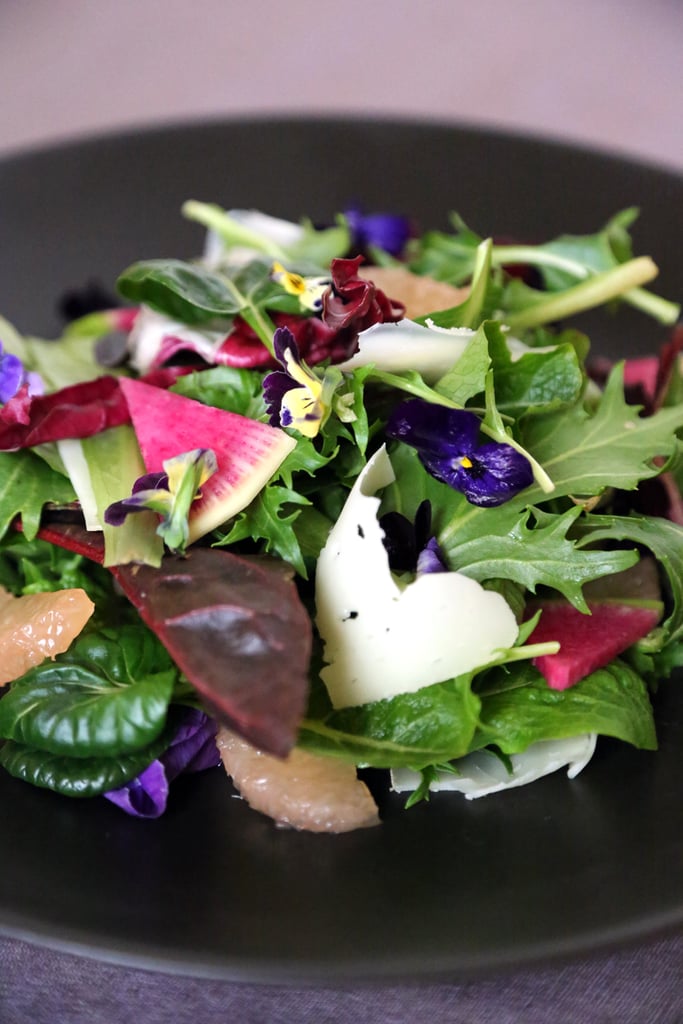 Some people care to receive flowers for Valentine's Day, but if you're like me, you would prefer an edible arrangement. While this salad isn't technically a bouquet of any kind, it does contain a colorful sprinkle of edible flowers. I chose purple pansies, snapdragon, and violets to keep in line with the Valentine's Day color scheme, but you can use bright yellow marigolds, orange nasturtiums, and other known edible flowers too. You'll find the flowers are mild in flavor and taste much like greens (slightly peppery and leaf-like).
Slices of pink grapefruit also adorn the salad. If you do not like the bitterness of grapefruit, try salting it before tossing the slices in with the greens. It neutralizes the tartness, letting the essence of the grapefruit flavor shine through. Slices of watermelon radish add a bit of crunch and vibrant color. Compared to other radishes out there, watermelon radish is mild in spiciness, plus it's fun to chomp on a naturally neon pink food!
Finally, Point Reyes Toma, a semihard cow's milk cheese, provides a creamy, buttery counterpart to the salad. Everything is tossed in a very simple vinaigrette to let the fresh ingredients dazzle your taste buds.
Click here to see the recipe.
Edible Flower Salad With Grapefruit and Watermelon Radish
From Anna Monette Roberts, YumSugar
Notes
Once the grapefruit is supremed, juice the remaining membranes and reserve them for the salad's vinaigrette.
Ingredients
3 tablespoons olive oil
1 tablespoon white wine vinegar
1 grapefruit, supremed and remaining membranes juiced
Salt, to taste
1 5-ounce bag mixed greens
1 watermelon radish, peeled and cut into 1/8-inch wedges
4 ounces of Point Reyes Toma or Gruyère, sliced thin
1 3/4-ounce package of edible flowers, like Jacobs Farm
Directions
In a small bowl, whisk together olive oil, vinegar, and grapefruit juice. Salt to taste.
In a large salad bowl, combine mixed greens, watermelon radish, and grapefruit. Toss salad in dressing, adding one tablespoon at a time, until leaves are lightly coated.
Transfer salad to a large plate and garnish with cheese and edible flowers.
Serves 2-4.
Information
Category

Cheese, Side Dishes, Salads

Cuisine

North American