Eggcellent Frittata With Asparagus, Leeks, Mushrooms After drooling over Sugar staffer Garrick's Hash Brown quiche, it left me craving one of my favorite egg dishes, a fast fritatta. Served with a side salad, this simple, yet scrumptious, dish is perfect for brunch and any upcoming Easter celebrations. In general, frittatas are incredibly versatile: the different combinations of vegetables and cheese are virtually endless. My delectable variation uses sauteed leeks, browned mushrooms, crunchy asparagus, and nutty fontina. To get started on your own eggcellent frittata,
.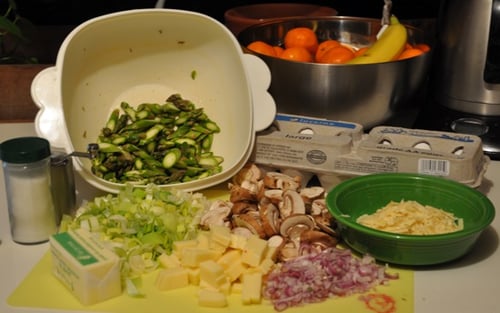 Savory Leek, Mushroom, Asparagus Frittata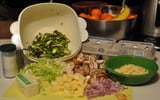 Ingredients
2 tablespoons (1/4 stick) butter
1 cup chopped leeks (white and pale green parts only)
1 large shallot, finely chopped
1 12-ounce bunch thin asparagus, trimmed, cut on diagonal into 1-inch pieces (about 2 1/2 cups)
1 cup sliced stemmed shiitake mushrooms*
8 large omega-3 eggs
1 cup diced fontina cheese, divided
1/2 teaspoon salt
1/2 teaspoon ground black pepper
1/4 cup grated parmesan cheese
Directions
Preheat broiler. Melt butter in heavy broilerproof 10-inch-diameter nonstick skillet over medium heat. Add leeks and shallot and sauté 4 minutes.
Add asparagus and mushrooms, sprinkle lightly with salt, and sauté until tender, about 6-8 minutes.
Whisk eggs, 3/4 cup Fontina cheese, 1/2 teaspoon salt, and 1/2 teaspoon pepper in medium bowl. Add egg mixture to skillet; fold gently to combine. Cook until almost set.
Sprinkle remaining 1/4 cup Fontina cheese and Parmesan cheese over.
Broil until frittata is puffed and cheese begins to turn golden, about 3 minutes. Cut into wedges and serve.
Serves 4-6.
*I used crimini mushrooms instead of shiitake mushrooms.
Information
Category

Breakfast/Brunch, Omelet/Frittata

Cuisine

Italian