Eggplant Parmesan Appetizer Skewers
So Neat: Bite-Sized Eggplant Parm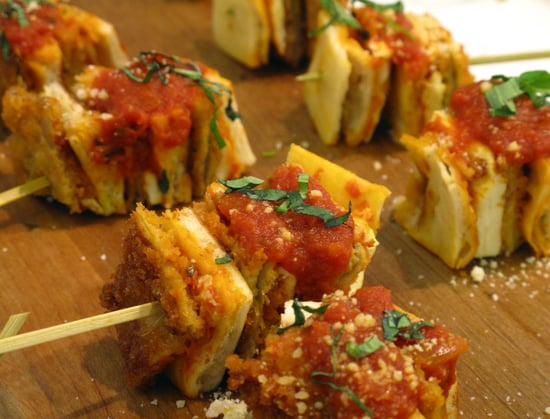 Eggplant parm is one of our favorite vegetarian entrées, and we love how it's ideal for feeding a crowd. But did you know that it makes fancy-looking party bites, too?
I came across the creative idea at Carts in the Parc, where FoodParc vendor Fornetti was serving bite-sized antipasto skewers — along with miniature stacks of eggplant parmesan. The execution was elegant, but the idea simple: construct a towering sandwich of battered, fried eggplant slices, mozzarella cheese, and flatbread, then skewer and slice into one-inch mouthfuls. Serve each skewer on its side to show off its layers of flavor and texture, and top it off with marinara sauce and a chiffonade of basil.
Two important takeaways: serve the skewers on their sides to show off their impressive construction, and insert some sort of bread to help secure everything in place. Oh, and takeaway number three: everything tastes better on a stick — eggplant parm included.