Elegant Summer Dinner Party Menu
Come Party With Me: Bachelorette Dinner — Menu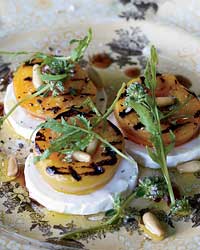 While some people host a crazy weekend in Vegas and others opt for an activity-based bachelorette party featuring belly dancing, my friend Melissa is doing a low-key weekend in Calistoga to say goodbye to her singledom. Her maid of honor has rented a beautiful house with a grill and garden, and she's planned a weekend of sunbathing and wine tasting.
On Friday night when we arrive, instead of going out for a night on the town, we'll spend the evening by the pool enjoying a leisurely and luxurious dinner. Naturally, I'm in charge of the cooking! To start, I'll put together a cheese platter with homemade hummus and pita chips on the side.
When we sit down to dinner, I'll serve grilled shrimp with roasted garlic-herb sauce, orzo and zucchini salad, and grilled apricots with arugula and goat cheese. These recipes make a wonderful Summer menu perfect for any outdoor occasion, so take a look at them now.
Grilled Shrimp With Roasted Garlic-Herb Sauce
From Bon Appetit
Ingredients
Roasted Garlic-Herb Sauce
2 heads of garlic, top 1/4 inch of each cut off and discarded
1 teaspoon plus 2/3 cup olive oil
1 cup coarsely chopped fresh parsley
4 anchovy fillets, rinsed
2 tablespoons drained caper
2 tablespoons coarsely chopped fresh basil
1 tablespoon grated lemon peel
Shrimp
1 quart water
1/3 cup salt
1/3 cup (packed) golden brown sugar
1 1/2 pounds uncooked large shrimp, unpeeled
1/4 cup olive oil
2 tablespoons dry white wine
2 garlic cloves, minced
1 tablespoon chopped fresh parsley
1/4 teaspoon dried crushed red pepper
Directions
Make sauce: Preheat oven to 375°F. Place heads of garlic in small glass baking dish. Drizzle with 1 teaspoon oil. Cover baking dish with foil. Roast until garlic is tender, about 1 hour. Cool slightly.
Squeeze garlic from skin into small bowl. Mash with fork.
Place mashed garlic, parsley, anchovy fillets, capers, basil and lemon peel in processor. With machine running, slowly blend in 2/3 cup oil. Season sauce with salt and pepper. (Can be made 1 day ahead. Chill. Use at room temperature.)
Make shrimp: Stir first 3 ingredients in medium bowl until sugar dissolves. Add shrimp. Refrigerate at least 1 hour and up to 3 hours. Drain and rinse shrimp.
Using shears, cut shrimp shells down center of back all the way to tail section. Using sharp knife, cut shrimp in their shells along the full length of the back (do not cut all the way through). Remove vein and pull off legs. Open shrimp.
Whisk olive oil, white wine, garlic, parsley, and crushed red pepper in clean medium bowl. Add shrimp and stir; let stand 30 minutes.
Prepare barbecue (medium-high heat). Place shrimp, flesh side down, on grill. Grill shrimp until pink and cooked through, about 2 minutes per side. Transfer to platter and serve, passing Roasted Garlic-Herb Sauce separately.
Serves 6.
Information
Category

Main Dishes, Shellfish

Cuisine

North American