Emeril Lagasse TimesTalks Quotes
Emeril Explains "Bam!" and Charms the Hell Out of Us
In the early days of chef stardom, Emeril Lagasse would get off work at his New Orleans restaurant at 2 a.m., catch a flight for New York at 7 a.m., and film 14 shows in two days. Between shoots, his small crew would eat and go back to filming, full and sleepy. "I realized, I'm, like, alone here. Everyone is sleeping," Lagasse joked at his TimesTalks event on Saturday. "So, bam!" It was his way of waking up the camera crew.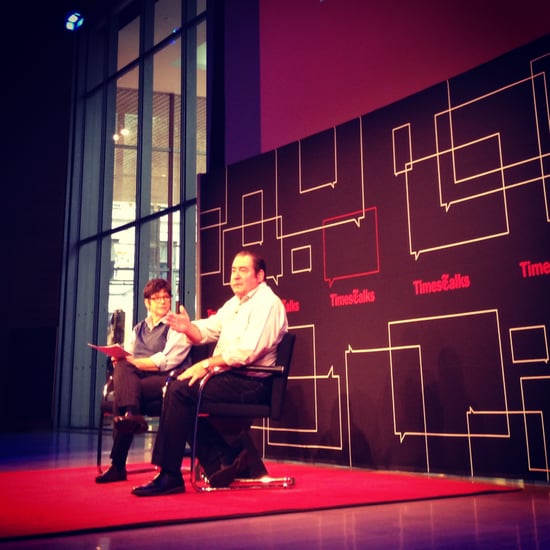 On stage during the New York City Wine & Food Festival and in our one-on-one interview before the event, Lagasse wasn't the spastic ball of energy he is on TV. He was far more reserved yet still oozing with charisma. When he said he just wants to hire people "who want to make people happy," it sounded sincere.
Yes, he makes millions of dollars and he basically built the Food Network on his personality. But when we asked him what brings him the most joy, he said it's still the restaurant work. "That's my backbone. That's what really pushes the buttons for me," said Lagasse. "Taking care of people and cooking for people. That's what does it."
Lagasse doesn't understand how cooking became a competitive sport or when culinary school evolved into such a massive force, but he's a great admirer of the talent on Top Chef. And he told us, "Everything has to evolve. It certainly in 20 years has evolved a lot." Do today's chefs put less focus on technique and history? "I think they want it. I just don't think they're getting it," he said. Lagasse's advice to young chefs is to find a mentor and focus on learning.
For the best morsels from Lagasse's TimesTalk, keep reading.
On his early days
In conversation with food writer Kim Severson at the TimesTalks event, Lagasse's face lit up when he talked about working brunch service at Commander's Palace in New Orleans, where two cooks did nothing but poach eggs, and "eye-openers" were "a great excuse to drink at 10 a.m."
On his first restaurant
Lagasse opened Emeril's in hopes of creating a neighborhood in the then-very-up-and-coming Warehouse District. To encourage repeat customers and open communication, Emeril's featured an open kitchen with counter seating. He said he "wanted single diners to be able to eat [alone] at a white tablecloth restaurant and not feel intimidated."
On his restaurant group
With 1,400 employees and 13 restaurants, Lagasse said he can tell within the first five minutes if he should hire someone. "I can teach someone to cook," he said, "but you gotta have the want." He's been working with most of his executive chefs for 20-plus years, he visits different restaurants in his empire every week, and he still tastes every special before it goes on the menu.
On opening a restaurant in NYC
Emeril changed the subject when asked why he has never opened a restaurant in New York City. "I had a food truck once for a day. It was pretty successful." But, of The New York Times's scathing review of Guy Fieri's restaurant, he joked that he keeps a copy "to remind myself why I shouldn't open a restaurant in New York."
On Paula Deen
"I like Paula Deen," Lagasse said. "I think she's a great lady. She'll be back — I'll promise you that." When Severson pointed out that Deen said things in the past that you're just not supposed to say anymore, he replied, "You can't throw pots and pans in the kitchen anymore either."
On where he likes to eat in New York
Lagasse said you can't go wrong with anything by Thomas Keller, Daniel Boulud, and Mario Batali. Or for the lucky ones, "my apartment on the East Side's not too bad." Oh and he likes his street-cart hot dogs with mustard — and maybe onions "on a good day."