Emeril's Tips For Cooking White Rice
Emeril Lagasse Cooks Up the Perfect Pot of Rice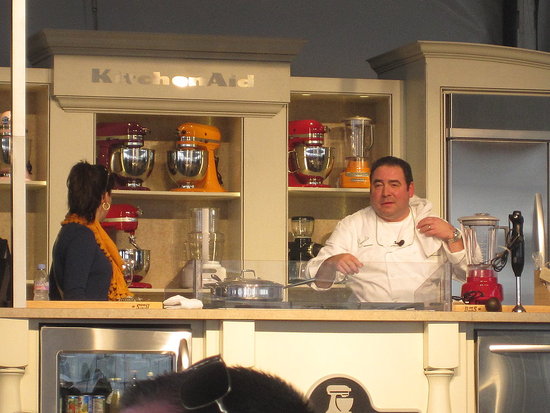 While I've watched his television shows countless times, before the South Beach Wine and Food Festival, I had never seen Emeril Lagasse live. I wasn't disappointed: his demonstration was packed and the energetic chef was absolutely fabulous! He made Brazilian fish stew and talked about the importance of tasting your food while cooking. He also recommends seasoning everything with salt and pepper, including the individual vegetables in a salad. Lagasse served the stew with plain white rice and spent a lot of time discussing this sometimes overlooked side dish. To see his technique for cooking the best pot of rice ever,
.


Start with a good pot that has a lid. Emeril says, "There's no need for a fancy machine like a rice cooker."
Add butter or oil to the pan and heat until melted.
Add the rice, salt, and pepper to the butter. Let it cook for several minutes, until the "rice is coated in oil or butter."
If using any seasonings — "saffron, arugula, smoked paprika, garlic, etc." — add it to the rice now, while sautéing.
Pour in the liquid. You should always have three parts liquid to one part rice. "The liquid usually covers the rice in the pot by 1/4 an inch."
Cover with the lid and cook, leaving it alone, for 20 minutes. "The reason we have lids is to hold condensation. Don't keep opening it while it's cooking!"
After 20 minutes the rice is ready. Fluff with a fork and enjoy.
Have you ever seen Emeril live? What did you learn from the master chef?