Essential Asian Ingredients
Andrew Zimmern's Must-Buy Asian Ingredients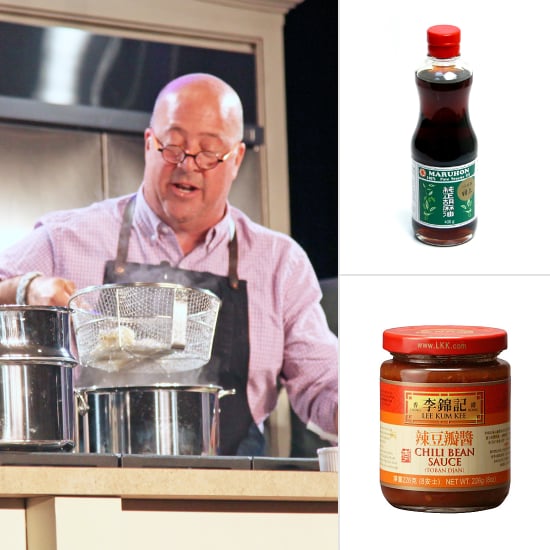 Asian supermarkets can be equal parts intoxicating and intimidating to those unfamiliar with their wares. Thankfully, Andrew Zimmern has come to the rescue: After demoing how to make classic Chinese dishes like dumplings and hand-pulled noodles at the Food & Wine Classic in Aspen, Zimmern answered a few crowd questions; one regarded his five must-buy ingredients from the Asian supermarket. Rather than stop at five, Zimmern enthusiastically rattled off seven; keep reading to see what he suggests seeking out.
Star anise ($7): this ingredient is one of the components of Chinese five-spice seasoning, and is also employed in a variety of marinades, sauces, and more.
Doubanjiang ($4): a Chinese fermented bean paste is a "crucial ingredient" missing from American cooks' pantries.
Dark soy sauce ($12 for 2 bottles): thicker and more robust than standard soy sauce, it's an essential element in sweet aromatic soy sauce, a condiment Zimmern likes to keep on hand.
Chinese rice wine (look for it in Asian supermarkets): Zimmern urged the crowd to spend a few extra dollars and seek out really good rice wine as you get what you pay for. Splurge just a little bit more for higher quality (expect to spend about $6, versus $3).
Peanut oil ($4) and sesame oil ($9): once again, Zimmern stressed seeking out higher-quality, slightly more expensive versions of these ingredients, as their quality varies.
Fermented black beans ($8): not the black beans common in Latin American cuisine but rather dried, fermented soybeans, these are intensely flavorful, and add savory depth to dishes like ma po tofu.
Still intrigued? Learn even more about common Asian pantry ingredients.