Exclusive Interview With Blue Ribbon's Bromberg Brothers
Blue Ribbon's Bromberg Brothers Talk Restaurants and Trends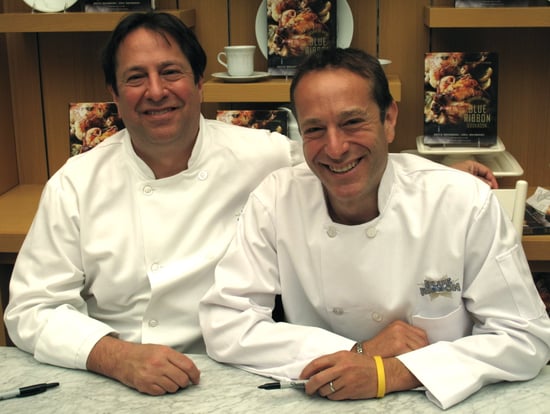 If you've ever dined at one of New York's many Blue Ribbon restaurants, then you'll know why Bruce and Eric Bromberg's new Blue Ribbon Cookbook is an undeniable must-have. The Brombergs made a splash eighteen years ago when they opened Blue Ribbon Brasserie, which serves up classic dishes with a twist in a casual, elegant setting. Today, the siblings oversee nine restaurants, including the massively popular Blue Ribbon Sushi and Blue Ribbon Bakery.
I sat down with Eric Bromberg and his younger brother Bruce while they were in town for a demo and book signing, and the duo, who were surprisingly laid-back for New Yorkers, weighed in on their success, the restaurant industry, and the future of Blue Ribbon. Hear what they had to say when you read more.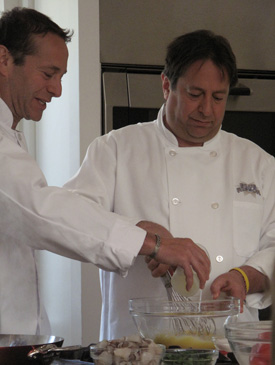 YumSugar: Why did you write a cookbook?
Eric Bromberg: The same reason why we cook: to share our food with as many people who are willing to try it. We love making people happy with food.
Bruce Bromberg: The idea probably came before the making of our restaurants; growing up, we were obsessed with The New York Times Cookbook and Joy of Cooking. It probably took on a concrete form 10 years ago; not the recipes, but the inspiration and the memories.
YS: Have you been seeing recovery in the restaurant sector? What's the key to your success in such a tough industry?
EB: Yes. More people aren't just going out, but they also seem to be relaxed and having a better time.
BB: We do what we love, and that has resonated. We don't chase fads, or what's hot today. Secondly, I think our rapport, both with clientele and staff, comes through in our food.
YS: OK, so you aren't into fads — but have you noticed any recent restaurant trends?
BB: Specialization in one item; an interest in the craft. [You'll see] butcher shops, or a store that just makes pickles, or only one sandwich. A European market sense has taken root here in the US.
EB: It's not just little spots; retailers have been trying to branch into specialty shops. People want to see someone behind their food.
YS: What's next? Any chance we'll ever see a Blue Ribbon here in San Francisco?
BB: If it was going to be any other city, this is pretty high up on the list. We love San Francisco, and our dad lives in Sea Ranch. We'd have to get used to closing earlier, though.
YS: Are there other restaurateurs that you admire?
EB: There are so many restaurateurs that we admire: Daniel [Boulud], Thomas Keller, Cindy Pawlcyn. But probably the biggest is Rocky Aoki, who started Benihana. When we were kids, we wanted to be Benihana chefs.
YS: Where do you eat outside of Blue Ribbon?
Both: R&G Lounge. We were just there and had duck tongue, jellyfish, and calf's tongue oden. We love ethnic, off-the-beaten-track places, like Jing Fong in New York — it's a banquet palace for dim sum. And Jonathan Waxman's Barbuto; it's casual, and uses fresh ingredients.