Fabio Viviani New TV Show Interview
Fabio Viviani on Upcoming Ventures and the Health Trends That Bug Him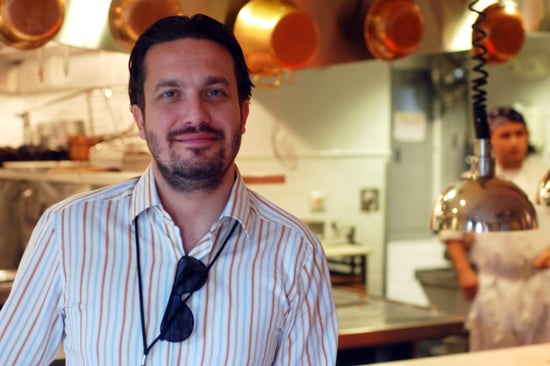 Photo: Camilla Salem
Recently, we had the chance to spend some quality time with Italian charmer Fabio Viviani. After homemade pasta and cappuccinos for breakfast, and a series of hilarious one-liners, we grabbed a table at Casa Tua in Miami, and got to dishing. Even though he'd been out until 4 a.m. the night before, he had plenty to say about reality TV, the world of vegan cuisine, and his take on health food.
YumSugar: You rose to fame on Top Chef. Do you have any further plans for reality TV, on Bravo or anywhere else?
Find out his answer, plus other things he's been up to, when you keep reading.
Fabio Viviani: There are a few things in the works. So, yes, chances are that you're going to see me getting up in the morning, you're going to see me doing some sports, some hobbies I have, but my show will be more about everything that's going on in my life rather than let's see who Fabio's dating, or let's see who Fabio's barking at.
YS: Your Café Firenze Cookbook was a big success. Are you thinking about doing another book deal?
FV: No, I'm thinking about giving away books for free. If you go on my website, you download them for free. Then at the end of the year, I will collect every book for free and make a collection or something. I'm writing another book with my mom, called My Son Is on Google: Recipes and Memories From an Italian Mom, which is my life story, from when I was born to a month before the book will be published, on what I went through in life to get from Florence to the United States, and what I went through in Florence. I was a terrible human being between 2 years old and 14. I was horrible.
YS: In what way?
FV: I was the son that you wish to your worst enemy.
YS: Is there anyone special in your life right now?
FV: Well, I got a divorce recently. Took me almost three years. I am dating, but you know, that aspect of my life will stay exactly what it is: private, because that's one thing — I can't f*ck it up. No more. So, one day, when I'm comfortable enough with everything that's going on, she will be seen with me. For now, we could be in the same room and no one will ever know.
YS: Regarding food, is there anything you're really into experimenting with?
FV: I am actually trying to get more vegan-friendly, because 28 percent of my fan base, it's vegan, and for some f*cked up reason, they still like me. I mean, come on, I am everything but vegan, let's be realistic.
YS: So you're a classicist, you believe in re-creating your grandmother's cooking. What is a food trend that drives you crazy right now?
FV: Molecular gastronomy.
YS: What else?
FV: Anything that is too health nut. You know, organic, everything organic, vegan, everything fresh, outside. Not gonna happen. Ninety-five percent of the population cannot afford a 100 percent organic diet because it's too overpriced. You gotta eat good, eat healthy, do your food. Don't get fixated on those things.
YS: How do you stay in shape?
FV: I work 18-hour days. I really do. I train here and there a little bit, but do I have time to get up and do push-ups? No. I gotta be here. Plus, I think I have good genes.
— Additional reporting by Susannah Chen