Fabio Viviani Quotes
Fabio Viviani: His Best One-Liners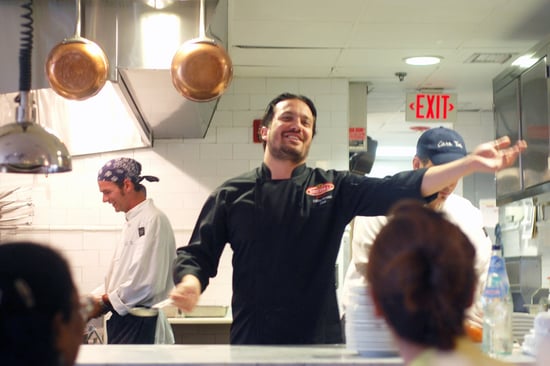 After a very late night the evening before, we were kicking ourselves for signing up for a Bertolli demo with Fabio Viviani at 9 a.m. the next day. But he greeted us with coffee (scratch that — cappuccinos!), and gave us a warm Italian welcome (you'd have never known that he'd gone to bed at 4:30 a.m.). "I'm not famous enough to have my own party in South Beach, but I do like to cook," Fabio said, as he introduced himself humorously before making fresh pasta. After that, we knew we'd be OK.
In fact, we were more than just OK — we were in stitches with the former Top Cheffer's zingers. To see a few of his best quotables from the morning, keep reading.
On his way of making pasta: "There is no grandma stuff with the flour and the egg and the hole. This is 21st-century cooking!"
On the "Italian tablespoon": "You are aware of a measurement unit that until today you didn't know existed."
On making fresh pasta: "I don't know if you realize you are now in the five percent of the population that can now make fresh pasta."
On olive oil: "It's a weird statement, but olive oil is fruit juice, because the olive is the fruit of the tree."
On chopping versus mincing garlic: "Don't be too picky about the stuff you do. I lost Top Chef — twice. How can we be picky?!"
On scrubbing mushrooms: "Don't spend three hours scrubbing mushrooms with a toothbrush — that's just plain stupid."
On sauce reductions: "If you want to be fancy, reduce the balsamic. That's how we charge you 10 extra dollars in restaurants. The reason that I don't have three-star Michelin is because I don't do this."
You know you have a favorite Fabio line of all time — share it with us below!
Photos by Camilla Salem