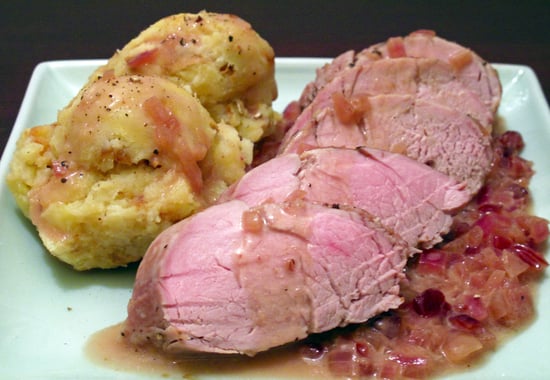 I recently spilled the beans about my ambivalence over turkey; it's my Ming Tsai's latest book, tastes just like Thanksgiving, no turkey required. Want the recipe? Keep reading. Simply Ming One-Pot Meals by Ming Tsai and Arthur Boehm
Ingredients
2 medium pork tenderloins (about 2 pounds), silverskin removed*
1/3 cup kosher salt, for brining, plus more for seasoning
1/4 cup sugar
2 medium sweet potatoes
2 tablespoons coarsely ground black pepper
2 tablespoons grapeseed or canola oil, plus more as needed
1 large red onion, minced
1/2 cup coarsely chopped dried cranberries, preferably Craisins
1/2 cup naturally brewed ponzu
One 14-ounce can coconut milk, shaken
1 tablespoon unsalted butter
*If you're unfamiliar with this skill, ask your butcher to remove the silverskin for you.
Directions
At least 2 and up to 4 hours in advance, brine the pork: in a bowl large enough to hold the pork and the brin, combine the 1/3 cup salt, the sugar, and 8 cups of water. Stir to dissolve the salt and sugar, and add the pork. If the pork isn't covered, add more water and refrigerate for 2 to 4 hours.
Preheat the oven to 450 degrees F. Bake the sweet potatoes until they are soft, about 40 minutes. Do not turn off the oven.
About 15 minutes before the potatoes are done, rinse the pork and pat dry. Season lightly with salt and coat with the pepper. Heat a medium sauté pan over medium heat. Add the oil and swirl to coat the bottom. When the oil is hot, add the pork and sauté on all sides, 2 to 3 minutes. Transfer the pan to the oven and roast for 6 to 8 minutes for medium, or to an internal temperature of 150 degrees F. Alternatively, insert a paring knife into the thickest part of the meat. If the juices run clear and the knife feels hot, the pork is done. remove the pork to a cutting board and let rest.
Add a touch more oil to the pan and swirl to coat the bottom. When the oil is hot, add the onions and dried cranberries and sauté, stirring, until the onions have browned lightly, 4 to 5 minutes. Add the ponzu, deglaze, and reduce the liquid by half, about 1 minute. Whisk in the coconut milk and butter and season with salt and pepper.
Cut the pork into 12 slices. Divide the sauce among four individual serving plates. Scoop out the potato from its skin and divide it among the plates. Surround each scoop of potato with 3 slices of pork and serve.
Serves 4.
Information
Category

Main Dishes, Pork

Cuisine

Other Asian