Fall Salad Ideas
6 Ways to Make a Fall Salad Memorable
Although salads have a summertime reputation, don't write them off for the rest of the year. Your farmers market, supermarket, and garden are filled with seasonal produce and flavors to create a surprising and hearty salad. Using a combination of dark leafy greens, spices, and Fall-feeling toppings like pumpkin seeds can create a satisfying main dish for weeknight dinners without a fuss. Consider these unique Fall twists the next time you go to toss!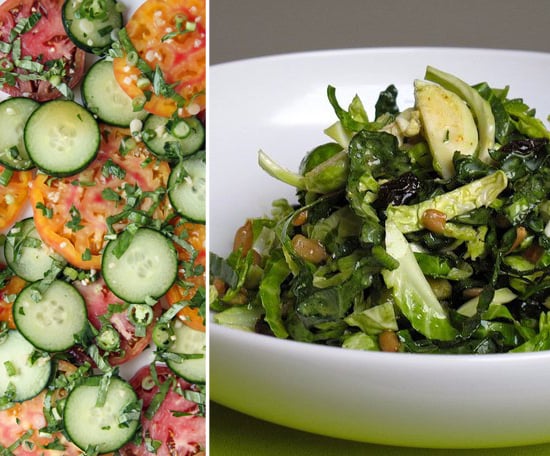 Keep leafy greens raw: If you're afraid you'll miss the crisp, cool texture of romaine lettuce, think again. While we're used to cooking leafy greens like kale, many varieties of brassica don't need to be braised to create a delicious base for any salad; just massage the dressing into hearty greens like chard. Consider the earthy flavors of kale and arugula for Fall salads, as well as cabbage and spinach.
Don't forget fruit: Fall farmers markets are filled with fruits, so why not toss them into your salad for extra crunch and flavor? Apples and pears, or even the apple pear, are the favored fruit, though dried cranberries, pomegranate, and persimmon also pop.
Top it off: A seasonal topping, such as toasted pumpkin seeds, pecans, or toasted sesame seeds, can provide added depth and texture.
Choose autumnal protein: For salads served as a main dish, punch up the protein with comforting, cool-weather staples. A harvest salad with lentils or beans makes a delicious seasonal meal. For meat lovers, roast a chicken or pork tenderloin at the beginning of the week and use it to make a satisfying salad entrée for weeknight dinners.
Use transitional veggies: You can probably still find tomatoes at your market until October, so don't overlook a heaping bowl of tomato salad. Closer to Winter, toss in veggies like brussels sprouts, which are surprisingly satisfying when served raw and tossed with kale.
Drizzle a special dressing: To complete your harvest salad, toss a dressing unique to the season. A maple vinaigrette is tangy and sweet, as is a Thanksgiving-inspired dried-cranberry dressing. You can also add a variety of spices to a simple vinaigrette or oil-based dressing to top off your dish!