Fall Salad Recipe With Arugula, Persimmons, and Pomegranates
Fall Into Salads: Arugula With Persimmons and Pomegranate Seeds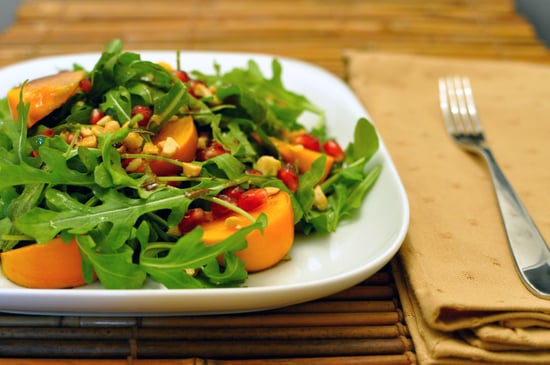 After a long and filling Thanksgiving weekend, it's time to move away from the decadent traditional dishes and toward something a little lighter, like a raw salad. I jazzed up arugula by adding Fuyu persimmons and pomegranate seeds. To top these Fall favorites, I whipped up a quick vinaigrette of pomegranate molasses, fig balsamic vinegar, and lemon olive oil. Don't fret if you are without these specific ingredients; you can easily substitute with a touch of pomegranate juice, regular balsamic vinegar, extra-virgin olive oil and fresh lemon juice. Ready to brighten up your next meal? Then get the recipe!
Arugula With Persimmons and Pomegranate Seeds
From Lauren Hendrickson
Ingredients
3 cups of arugula, cleaned
4 Fuyu persimmons, sliced into wedges
1 pomegranate, cleaned and seeded
1/4 cup cashews, finely chopped
1 tablespoon pomegranate molasses
2 tablespoons fig balsamic vinegar or balsamic vinegar
3 tablespoons lemon olive oil or olive oil
Juice of half of a lemon, more if using regular olive oil
Salt and pepper to taste
Directions
Place the arugula on a plate and top with sliced persimmons. Sprinkle with pomegranate seeds and cashews.
In a small bowl, stir the pomegranate molasses, fig balsamic vinegar, and lemon juice. Slowly whisk in the lemon olive oil until well-blended. Season with salt and pepper.
Drizzle the dressing over the salad, toss lightly, and serve.
Serves 4.
Information
Category

Vegetables, Salads

Cuisine

North American