Fall Into Salads: Butternut Squash, Pomegranate, and Walnuts
Today is the first official day of Fall, and it's finally time to put away those light Summer recipes and start using Fall's favorites! Over the weekend, I combined butternut squash and pomegranate to make a scrumptious, hearty salad. With the creamy squash, crisp pomegranate seeds, and tart roasted-walnut vinaigrette, each bite was perfectly balanced. This salad is simple, but requires a little time to prepare the squash. It makes a delicious side or vegetarian meal. Next time I plan on heating the dressing, so when I pour it over the salad the lettuce will wilt. If you want to add this salad to your first Fall feast,
.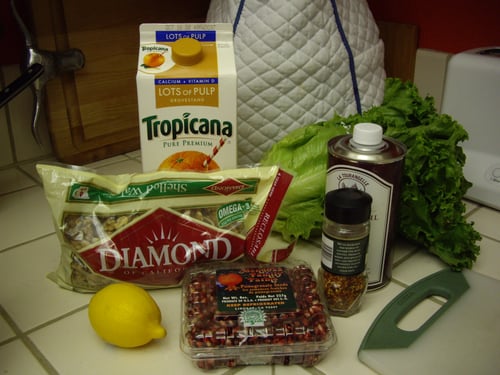 Butternut Squash, Pomegranate, and Walnut Salad
Adapted from Epicurious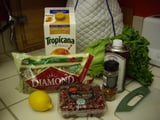 Ingredients
4 1/2 to 5 cups 1/2-inch cubes peeled, seeded butternut squash (from a 2-pound squash)
2 tablespoons extra-virgin olive oil
1/4 cup brown sugar
1/2 tsp dried crushed red pepper
Coarse kosher salt
4 tablespoons orange juice
1 1/2 tablespoons walnut oil or other nut oil
3 teaspoons fresh lemon juice
8 cups lightly packed arugula, spinach, or green-leaf lettuce
1/2 cup walnuts, toasted, coarsely chopped
1/2 cup pomegranate seeds (tips on seeding)
Directions
Preheat oven to 450°F. Toss squash, olive oil, brown sugar, and crushed red pepper on large rimmed baking sheet. Sprinkle with coarse salt. Roast 15 minutes. Using spatula, turn squash over. Roast until edges are browned and squash is tender, about 15 minutes longer. Sprinkle with coarse salt. DO AHEAD: Can be made 2 hours ahead. Let stand at room temperature.
Once squash is finished baking, place walnuts on a lined cookie sheet and bake for about 5 minutes. Using a spatula, periodically stir the walnuts, so they do not burn. Remove when fragrant.
Whisk orange juice, walnut oil, and lemon juice in large shallow bowl. Season to taste with salt and pepper.
Add lettuce, walnuts, and pomegranate seeds; toss to coat. Season to taste with coarse salt and pepper. Spoon warm or room temperature squash over salad.
Serves 8.
Information
Category

Vegetables, Salads