The Famous Suicide Stack at Heart & Soul Cafe in Cave Creek, AZ
Would You Attempt Eating a "Suicide Stack"?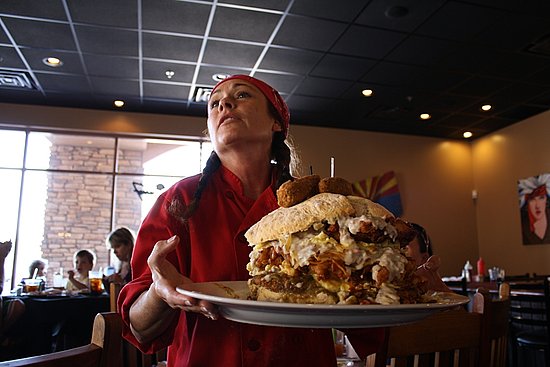 While in Arizona for the weekend, our pal Justin Esch (the brainchild behind BaconSalt and Baconnaise) stopped into Cave Creek's Heart & Soul Café and did the unthinkable. He ordered The Famous Suicide Stack.
What's that, you ask? It's a $49, 25-pound behemoth with 13 layers of biscuit, chicken fried steak, green pork chili, scrambled eggs with cheese, chicken fried ham steak, gravy with pinto beans, hash browns, jalapeño cheese sauce, more scrambled eggs with cheese, buttermilk fried chicken, country pork gravy, another layer of biscuits, and deep-fried stuffed jalapeño peppers as a topping. "My son, who weighs 20 pounds, was with us, and the stack weighed more than him," Justin declared.
Looks like something straight out of This Is Why You're Fat. Would you eat it, or are you over this kind of stuff?
Photo courtesy Justin Esch